By Michael Flanagan
Hometown Weekly Sports Editor
Wellesley girls soccer took some steps forward last season, finishing the regular season 7-6-3 and earning a preliminary-round victory against Durfee (1-0) in the Division I South playoffs. This season, the Lady-Raiders will look to build off of their success in 2017, but they will have to do it under first-year head coach Roger Bothe, as Cat Whitehill stepped away this past offseason.
Leading the Lady-Raiders into battle in 2018 will be a pair of senior captains in Avery Mohan and Maddie Fleming, the latter of whom recently-returned from injury.
"I think our main goals are to improve our speed of play and improve our record," said rising senior forward Brooke Baker. "With a new coach this year, it opens up an opportunity for him to coach us in a way that he feels will bring us the farthest in the state tournament, so we are all really excited and eager to get the season started."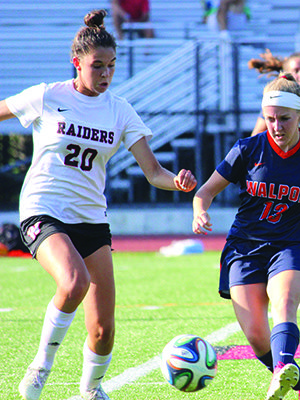 Defensively, Wellesley returns an experienced group of players headlined by Abby Comella and Bella Kogon.
"Abby and Bella bring height, speed, and strength to our defensive side," said Baker. "They will definitely be two key pieces to the defense this season."
At midfield, Wellesley features several key returning players in Bridget Noonan, Olivia Francis, and Mohan, all of whom should make significant contributions this season, according to Baker.
"Olivia, Bridget, and Avery will be controlling the field and setting the whole team up for fluid transitions all season," said Baker.
At forward, Baker will serve as one of Wellesley's core pieces making crosses from the right side, while Fleming hopes to return as one of the team's top goal-scorers after missing all of last season with a concussion.
"We are really happy to have Maddie back," said Baker about her fellow senior counterpart. "She was out all last year with a head injury, so having her back and scoring goals is going to be great."
For funny and incisive sports analysis, follow Mike Flanagan on his personal Twitter at @fLAno0.