Pictured cutting the ball to the basket, Montrose senior guard and Walpole native Devyn Gianino (4) took home All-Conference honors for her efforts on the hardwood this past season.
By Mike Flanagan
Hometown Weekly Sports Editor
The Montrose varsity basketball team put together a strong campaign in 2019-2020, finishing with a 13-4 regular season record. After winning the IGC Division I Championship for the second consecutive year, the team advanced to the first round of the New England Class D Tournament. Two of the top contributors for the Mavericks are natives of Walpole: senior Devyn Gianino and freshman Sophie Cronin. 
"It was a huge accomplishment for our athletic program to compete at this level," said Athletic Director Julie (Ruggieri) Boynton.
Gianino was named Independent Girls Conference (IGC) All-Star and led the team in assists. Cronin was named All New England (NEPSAC Class D) and an IGC All-Star. Cronin was the team's leading scorer, averaging 12 points per game.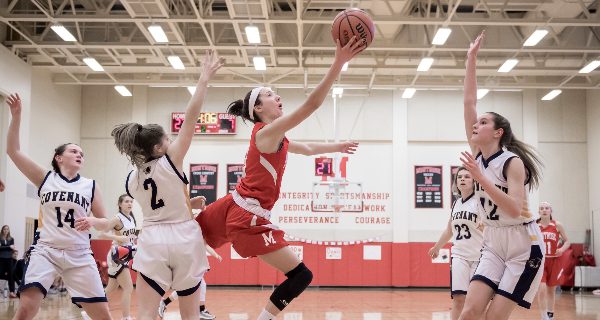 "This season was a huge stepping stone for our program and put our school on the map in the larger NEPSAC league," said Boynton. "I am really excited to see what the future has in store for us. We will miss our seniors tremendously and cannot thank them enough for their leadership this season. With the talent we have returning for next season and many more
years to come, I am confident that we will continue to add to that championship banner in the A&A!"
For funny and incisive sports analysis as well as game highlights, follow Mike Flanagan on his personal Twitter and Instagram @flano0