Although it was senior night, freshman Kaelyn Larkin's two home runs stole the show.
By James Kinneen
Hometown Weekly Reporter
With a restless crowd of youth softball players enduring mid-90s heat to cheer on the Warriors, the Medfield softball team rolled past Ashland 11-3 on Wednesday afternoon. While the western-themed senior night honored both the five current seniors on the roster and the three class of 2020 players in attendance who didn't get to have their senior night due to COVID-19, thanks to two home runs and a solid pitching performance in relief of Chloe Hunt, the day belonged to freshman Kaelyn Larkin.
By the end of the second inning, thanks in part to a Katie O'Connor bunt single and a Larkin standup double, Medfield was up 7-2. Larkin's first home run came with the bases empty in the fourth, before an infield single from Elizabeth Crowley and a couple wild pitches made the game 9-2.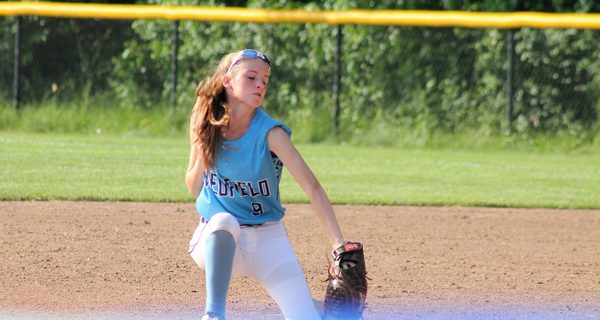 While it was too hot for a "warm up the bus" chant, the smell of a charcoal grill being pre-heated hit the air as the game was well in hand, although a Larkin home run In the fifth hit the centerfield scoreboard to add some flair to the win. Credit should also go to Chloe Hunt for her pitching, which made these insurance runs largely unnecessary.
While the game itself wasn't particularly compelling, there were some senior night additions that made the game fun. Sprinkled throughout the game were fun facts about the seniors, like where they will be going to college and what they enjoy doing in their spare time. The main sign of the western theme - before the seniors donned their cowboy hats, that is - came via the cardboard saloon doors players walked through to get out of the dugout.
After the game, in a classy move, Medfield's seniors gave roses to Ashland's seniors, before they read their speeches to the three class of 2020 seniors who were in attendance. Then, the current seniors put on their cowboy hats, grabbed their balloons and and walked around the bases, hugging teammates and receiving gifts while coaches and team members spoke about them.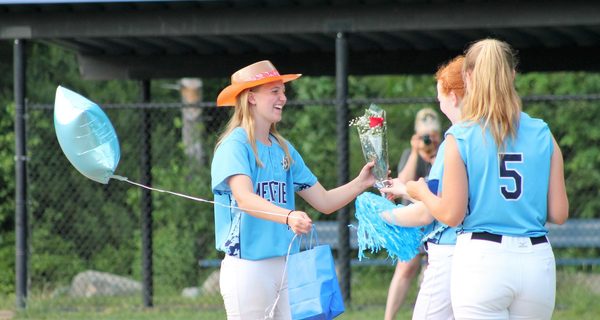 Apparently the most seemingly quiet member of the group, a couple speakers noted that once you get to know her, Amy Boyt is actually not quiet at all. The Cape Cod lover and future Umass Boston graduate was introduced by Megan MacTavish, who applauded her support in saying, "I feel like I can talk to you about anything."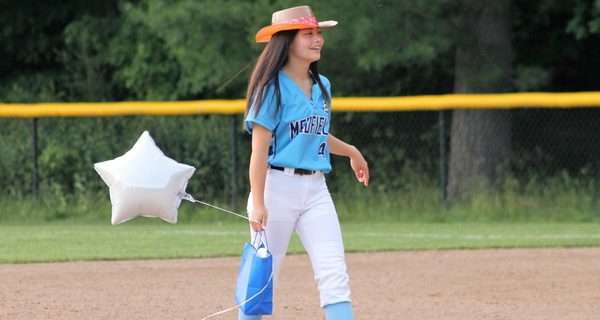 Naomi Lung, whose triple in the first inning gave Medfield its first lead of the day, loves the beach. To that end, next year she will be attending Malibu, California's Pepperdine University. A coach said that he would use tape of Lung to show young players how to get the most out of an at bat, while Andie Brown said one of her favorite parts of playing softball has been seeing the shocked faces of opponents who can't believe how such a small player can hit the ball so far.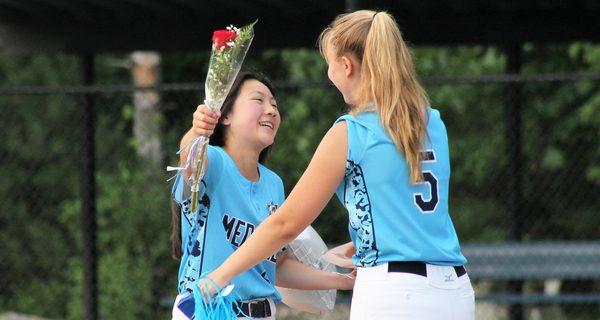 Sabrina Lee jogged around the bases, to everyone's apparent horror. She had dealt with injuries on the year, and the coach introducing her kept asking for her to take it easy, but she wouldn't. Elizabeth Crowley said she has "always been everyone's biggest supporter." Heading to Bentley, Lee's between-the-innings fun fact was that she enjoys playing with her dog, Daisy.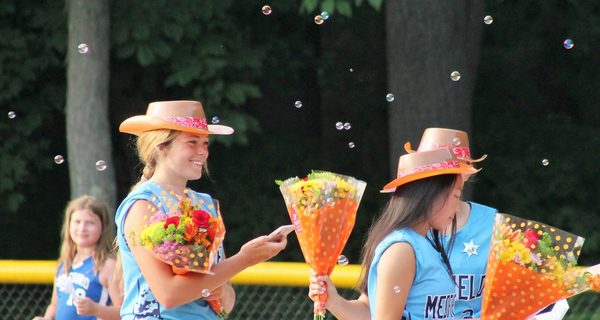 Adelaide Gardiner will be heading to UMass next year. She was known for a bright white batting helmet she wore as a kid, which was often compared to a storm trooper's helmet. Caroline Mills applauded her energy and talked about their rides together, during which they screamed along to One Direction songs.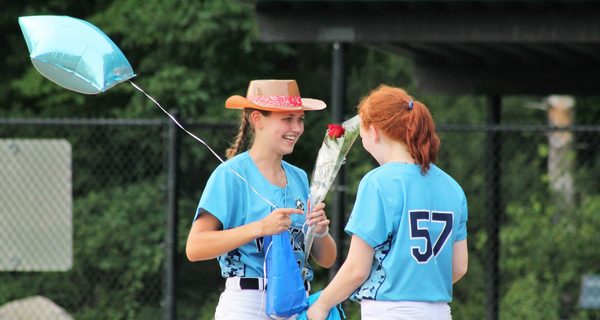 Last but not least was Katie O'Connor, who ended the game via a double play in the outfield - catching a fly ball and throwing a base runner out at first before she could get back to the bag. Next year, she will attend Virginia Tech, but it will be interesting to see if she goes by "Katie O" there, as her coach joked: "I didn't even know her name was O'Connor until today." Introduced by Elizabeth "Bitsy" Crowley, who still holds a grudge against O'Connor's dad for striking her out in little league when parents pitched to kids, Crowley joked about how she and Katie had been talking about this speech for years, before saying how much she'd miss playing with her.