When your team's undefeated and you win your doubles match 6-0, 6-0, what's not to smile about while speaking with your coach?
By James Kinneen
Hometown Weekly Reporter
On an overcast Friday afternoon, the Medfield girls tennis team lost four sets over the course of five matches, moving their record to 10-0 on the year. While Millis' record dropped to 2-7, the Mohawks have nothing to hang their heads about, since Medfield has dominated many teams this year. In fact, in a sport where you can win every team matchup by winning three matches, singles players Ashely Zilora and Julia Wilson are both undefeated on the year.
"Our closest match was when we played Dover-Sherborn and went 3-2 with them," Coach Beth Eby explained. "All of our singles won and both our doubles lost. But Ashley Zilora, number one, is undefeated. Julia Wilson, our number two, is undefeated. And everybody has played well - they've come to practice, they've learned, they've worked together. They're just such a unified team, and a great bunch of women."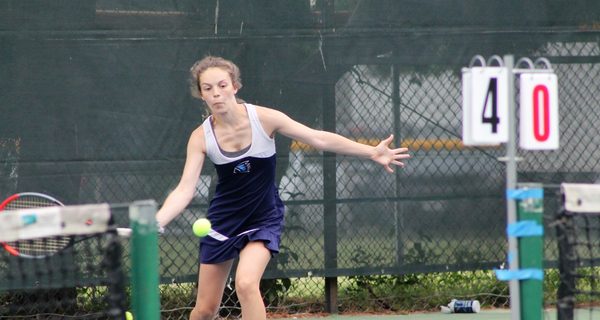 Coach Eby was supposed to coach the girls team last year after coaching the boys JV team, only to see the season cancelled due to COVID-19. She explained that tryouts were cut from a week to four days due to rain, and that the girls had to shake off their rust early, with their first match coming against Westwood.
"I think I was dreading that, but I think it brought out the girls' A-game, and they just really played well."
Medfield likely didn't need their A-game in the five-matches-to-none victory over Millis. Zilora dominated; second doubles won 6-0, 6-0; Molly Wagenseller, a senior captain who came to the tennis team straight after volleyball season (where she drew lots of praise from her coach) had her opponent struggling to return hard serves; and the first doubles team's 6-1, 6-3 victory was the closest match of the day.
When asked who has stuck out to her, Eby noted the defensive style of Julia Wilson, who frustrates other players with her aesthetically unpleasing, but very effective style of play.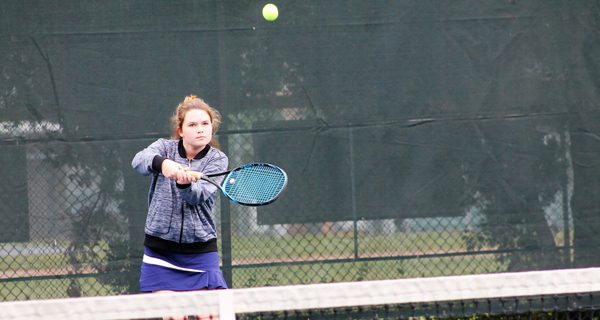 "My number two, Julia Wilson is a scrappy player who has frustrated people who might have had prettier groundstrokes or lots of private lessons, but she never gives up, lobs the ball, always gets it back and people get so frustrated. And I'm very proud of my doubles, all of them because they've learned to work together and be partners with various players."
As for the team's overall areas of improvement she's looking at going forward, Eby noted: "You want them to improve stroke production, you want them to work as a team. I happen to love coaching doubles and getting them to work together as a team instead of as two singles players. But I've loved every minute of the season and I don't want it to end."
Unfortunately, the season will end on June 10, which will be when Medfield recognizes its seniors. However, Eby noted there will be playoffs and a state championship - although she said the details are unclear and she is worried about how late in the summer it will go, and if any of her players will be away at that time.
But that is a problem for another day. And probably a far bigger one than any problems Millis could give the Medfield Warriors on Friday.