The Medfield Warriors 6th grade girls select A team won the Division 2 Massachusetts Tournament of Champions (MTOC) with a hard-fought, come from behind, 3-2 win over Pepperell on June 24 in Lancaster. The Warriors won eight straight games against teams from all over the state to capture the title.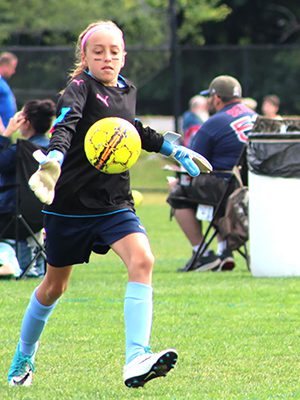 After a strong regular season in which the Warriors finished 8-1-1 in division 2A, the team qualified for the BAYS playoffs to compete for the right to represent BAYS in the state tournament. The Warriors defeated Northborough, 6-1, and Brookline, 4-3 in penalty kicks, to reach the playoff final, where they overcame a strong and physical Arlington team in a tense 4-3 thriller in Medfield that was again decided by penalties. The victory advanced the Warriors to the MTOC.
The MTOC tournament is held at New England's largest soccer complex in Lancaster, MA, and includes around 200 teams in age groups from grades 6 to 12.
Featuring an airtight defense and solid goaltending, the girls did not allow a goal during the round robin portion of the tournament, defeating Burlington Friday night, 2-0, with scoring tallies coming from Bridget Deignan and Molly Chin. Moving on to Saturday morning's game, the Warriors took out a formidable Worcester team, 3-0, on strikes from Kelly Blake, Emily Soucy and Bridget Deignan. Moving to the Saturday afternoon game, the squad was able to defeat Lenox, 4-0, with goals coming from Alexis Barton, Sophie Compston, Molly Chin and Bridget Deignan. The girls won their pool and would advance to the "Final Four."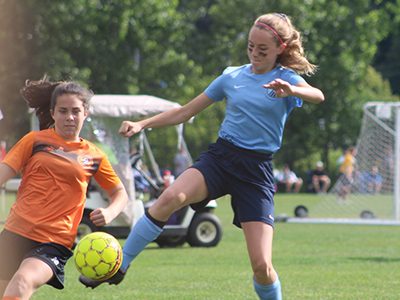 Moving on to Sunday's Final Four, the team got first-half strikes from Kelly Blake and Bridget Deignan in the morning semifinal, and held on to outlast a tough Cold Spring/Belchertown team, 2-1. The win punched the Warriors' ticket to the final.
In the afternoon final, Medfield faced a very strong squad from Pepperell. The final game was one for the ages. Facing a 2-0 halftime deficit, the girls dug deep and left it all on the field. They were able to get three unanswered second-half goals, with the final goal coming in the last two minutes, for the 3-2 victory. It was an emotional roller coaster ride that resulted in a much-deserved state championship victory.
Throughout the weekend, the team was led by the solid goaltending from Fia Flamand, who allowed only three goals over five games, stingy defense from Mandy Glynn, Sarah Hedges, Ava Walsh, Allison Garvey, strong midfield play from Emily Soucy, Alexis Barton, Kelly Blake and Sophie Compston, and timely offense from Bridget Deignan, Molly Chin and Sadie Cumming. It was an tremendous all-around team effort that led to the title.