There aren't many art shows where the same wall will feature a first grader's unique, glasses wearing fish, a high school freshman's layered portrait, a third grader's Monet inspired landscape and an alternative take on the "Anne of Green Gables" cover from a high school sophomore.
By James Kinneen
Hometown Weekly Reporter
Until Sunday, April 25, the Zullo Gallery is hosting the 26th annual version of the Medfield Public Schools Student-Faculty Art Exhibit. With artists ranging from high school seniors to kindergartners and media ranging from Photoshop to graphite, the show features a huge range of pieces reflecting a diverse set of themes, ideas and abilities.
In terms of local flair, sixth grader Sarah Sahr's watercolor of Medfield Town Hall is by far the most Medfield-centric piece, for a couple reasons. Beyond the obvious, it was actually based on an assignment that tasked students with using Medfield artist Dennis Miller Bunker's work as an inspiration. While Bunker, who was said to have liked Medfield because it reminded him of the countryside of Giverny, France, died in the late 1800's, Sahr's work exemplifies what the town looks like today. While unrelated to our part of the world, other famous-artist-inspired pieces include first grader Nora Chafouk's "Flowers in a Vase", which was inspired by Van Gogh, and second grader Valerie Robertson's "Pop Art!", which was inspired by Roy Lichtenstein.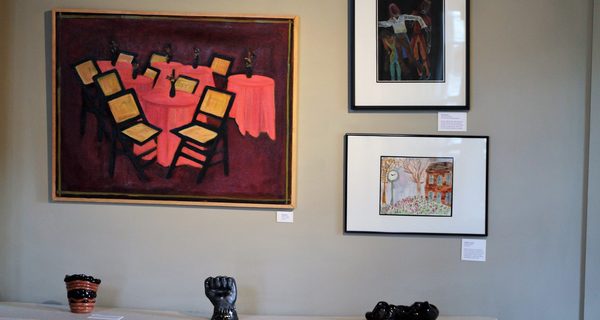 But if timely Medfield images are something you're into, tenth grader Sarah Concagh should also be noted for her image, "Empty Chairs", which is a photograph of the socially distanced chairs set up at the high school. Unsurprisingly given what we're going through, there were hints of COVID-19 in many pieces, most notably the face masks present in Kylie Herbstzubers "Multiplicity", an image she made in photoshop of multiple masked versions of her around school, and Theo Papadinoff's layered portrait of a girl in a K-N95 mask.
Graphic design was well represented in a handful of unique ways. Mosbah Tayara and Emery Swirbalus both were tasked with creating album covers, although it's unlikely these modern high schoolers have ever bought an album. As for the bands they chose to represent, Tayara went with Green Day while Swirbalus opted for Sir Chloe. While the works can be viewed online, it can be tough to gauge scale, as is the case with Swirlbaus' large piece, "Run Rabbit", a "conceptual self-portrait that reverses the role of the rabbit as a confident, threatening aggressor." Rather than an album cover, Kate Armstrong created an alternative cover for "Anne of Green Gables."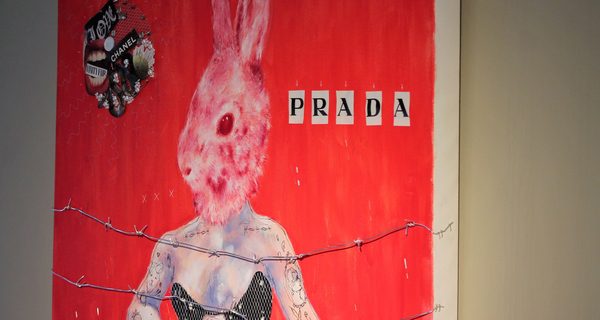 As for the overtly political, eleventh grader Anna Gelormini made an RGB portrait. One of the most impressive pieces is a ceramic sculpture called "Flaming Fist of Anger" by junior Rachel Parry. While reminiscent of BLM's now-famous symbol, it's "a physical interpretation of the way anger feels" in which the artist "represents anger as a fist surrounded by flames of rage."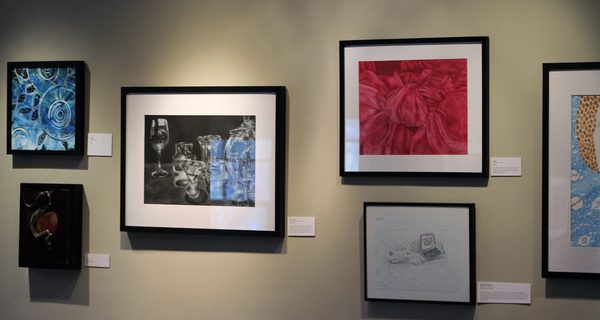 There are also works from teachers, which are available to purchase. Of those, Meg Drew's "Eden" is among the most interesting, using egg tempura and oil to create what looks like a snakeskin wrapped around an apple.
If you're looking to see a hugely diverse selection of art from a large variety of artists - not to mention one being hosted in an actual, physical gallery - the Medfield Public Schools Student-Faculty Art Exhibit, which will run through the end of the weekend, is likely for you.