Although the last half mile is said to be straight uphill, a pair of runners seem unbothered as they cross the finish line.
By James Kinneen
Hometown Weekly Reporter
While Mother's Day is traditionally celebrated with brunch and flowers, Father's Day tends to be far more scattershot, depending on if your dad likes golf, fishing, or something completely different from the usual dad hobbies. But if your father likes to run, get out on the trails, or raise money for charities, Rocky Woods has a solution: the annual Father's Day 5K Trail Race and Fun Run.
Sponsored by a Westwood real estate agency headed up by Alex Jowdy, the annual nature of the event took a hit when COVID forced its cancellation last year. Still, this Sunday marked the second running of the event, which expanded its charitable reach from donating only to the Medfield and Westwood Food Pantries two years ago, to the Medfield, Westwood, and Needham Food Pantries - as well as Medfield Parks and Recreation - this year.
On top of the 5K - which combines Rocky Woods' yellow and blue trails into a course that, according to Jowdy, is "pretty tough" as "the last … half a mile is all uphill" - there was a family-friendly mile run for kids which crossed over a bridge and went around the lake. While it was a warm day, the advantage of the trail running came in that while difficult, the course was shaded, as opposed to 5Ks run on hot pavement with the sun beating down on runners.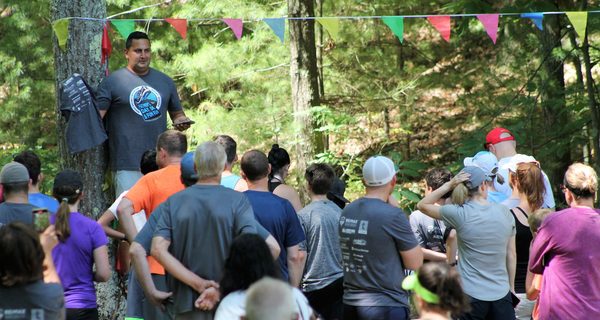 Once the running was done, there was cornhole, a potato sack race, a decorate-a-tie-for-dad craft, kids' tattoos, face painting, a hot dog wagon, an ice cream truck, and a beer truck from Medfield, which Jowdy noted advertised itself as a runner's type of beer. Most runners stuck around after the race, in large part due to how many families were participating, often with the children running one race and their parents another.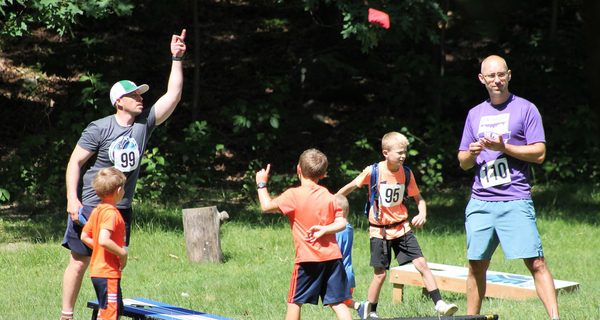 Thanks to what Jowdy deemed "A lot of people who are itching to get out and do something fun," as well as the help the Trustees provided by advertising the event on their website, the event featured over one hundred participants and raised over $4,500, which doubled the 2019 race's numbers.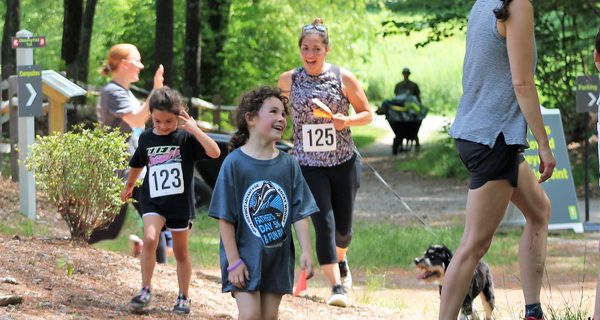 While every participant received a tee-shirt, and the adults all got a ticket for the beer truck, the top three finishers in both the 5K and children's one-mile finishers received prizes, which mainly consisted of gift cards. With the 2019 5K champion not around to defend his title, thanks to having run a triathlon the day before, the finish was a tight one, with first place ultimately going to Westwood's own Micah Citrin, the running Rabbi best known to Hometown Weekly readers as Temple Beth David's resident guitarist.
Finding a fun activity to do with your dad on Father's Day is always difficult, but if your father is looking to get some exercise and raise money for charity, in Medfield, your best bet is the Rocky Woods 5K.