By Amelia Tarallo
Hometown Weekly Staff
As the weeks of shutdowns and self-isolation go on, Medfield TV continues to serve the community, while providing them with additional programming and services to help them get through these difficult times.
While Medfield TV has made this transition seem easy, its staff is working harder than ever before. "We are a small local station covering the events that mean the world to you. It's so unique and is something no one else can offer. So at this time, Medfield TV is working double time, putting in extra effort and just generally being there to help people in any way we can," explains General Manager Brett Poirier.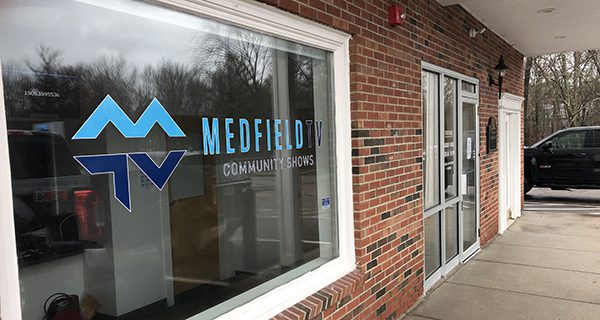 Every Medfield resident has had to shift and cancel some of their regularly-scheduled activities to prevent the spread of the virus. However, Medfield TV's hard work and an upgrade in their playback system have made the transition much easier, allowing the station to help find solutions that allow residents to virtually attend regular events from their couches. "With people not being able to get together, public meetings - like the selectmen meetings - would have been cancelled. But thanks to Zoom and some ingenuity from Town Administrator Kristine Trierweiler, Medfield TV is able to live-stream meetings and include public comment. We also had requests from people who want to still attend church, but obviously can't go to the Mass in person, so we set up an intricate network through St. Edward's Church in Medfield to live stream Sunday Mass at 10:00 a.m. and daily Mass at 9:00 a.m. for people at home. Those air on our Public Channel and our new HD Channel on our watch page," explains General Manager Brett Poirier.
Like most stations, Medfield TV has seen a shift in its programming. For example, Porier and his staff realized that seniors couldn't attend their exercise classes, something vital for their physical and mental health. With the help of Roberta Lynch, the station has televised some of the exercises classes. "At 10:00 a.m. during the week on our Public Channel, seniors can watch and work out through the pandemic from the comfort of their homes," says Poirier.
Along with programming for seniors, Medfield TV has also created some familiar and new shows for kids. Working alongside local storyteller Kurt Jackson, Medfield TV has produced a program based on one of Jackson's classic tales, which will air with some illustrations created by staff member Amanda Timmons. Additionally, Medfield TV has collaborated with local artist Mike Paige to create the Mike Paige Doodle Club, where children can play along as Paige creates a daily doodle every weekday at 2:00 and 3:30 p.m. on Medfield TV's Public and HD channels.
With most of its staff working from home, leaving only one person in the office, Medfield TV's efforts have proven the station's dedication to the town more than ever before. "I always say this to my staff: 'Sometimes you aren't judged on how you are when things go right. It's when things go bad and how you can adapt that defines you.' I think this has proven that Medfield has performed very well during this time, and Medfield TV is happy to be a part in that effort," says Poirier.
While no one knows what these weeks will bring, the Medfield TV team is up to the challenge.