A couple examine some of Dennis Stein's photography ('Tree and Roots' top right).
By James Kinneen
Hometown Weekly Reporter
The Juried Exhibition returned to the Zullo Gallery for the 27th time on July 10, where it will remain until August 22. Featuring a wide range of works and media, this year's juror was Patrick McCay, a Professor at the New England College Institute of Art and Design, who noted: "The show was appropriately commendable with a range of varied mediums, scale and personal expressive concepts. The artists should be commended for seeking to place their work in the context of a competitive juried exhibition."
But while it may not have been appropriate for McCay to point out any favorites or ethical for him to have delved into the backgrounds of the artists, since we have no such qualms and weren't involved in selecting the pieces, we're happy to point out some especially interesting pieces and artists.
This year's piece deemed worthy of being on the event's postcard flyer was Duncan Reid's "Big Blue", an image of an astronaut playing marbles with the earth as one of them. Reid, a graphic artist who has also created stage props, and has worked in theatrical production and sound design, created "Lunar Activity", a collection of pieces that included the astronaut playing marbles, along with some other images he crafted in a similar vein - like "Lunar Kung Fu", which features an astronaut doing martial arts, and "After the Flight", which shows a female astronaut casually sipping tea in her living room while still wearing her space suit.
Likely reflecting a common feeling among the artists, on his website, Reid mentions his work at the Zullo Gallery's Juried show and explains "it's great to finally get out again and take part in a group show once again. I am looking forward to it very much!" He also shouts out the work of his friends Dennis Stein ("Fallen Tree", "Tree and Roots") and Kimberley Stoney ("This Must be the Place"), who are both featured in the same exhibition.
One of the larger pieces on display is Michelle Mullet's "Exclamation!" an enamel and spray-painted on wood panel image of a giant exclamation mark. While Mullet is the artist in residence at Chateau Orquevaux for 2022, readers might be more familiar with her status as a former candidate for state representative endorsed by Elizabeth Warren, Beto O'Rourke, and Bernie Sanders.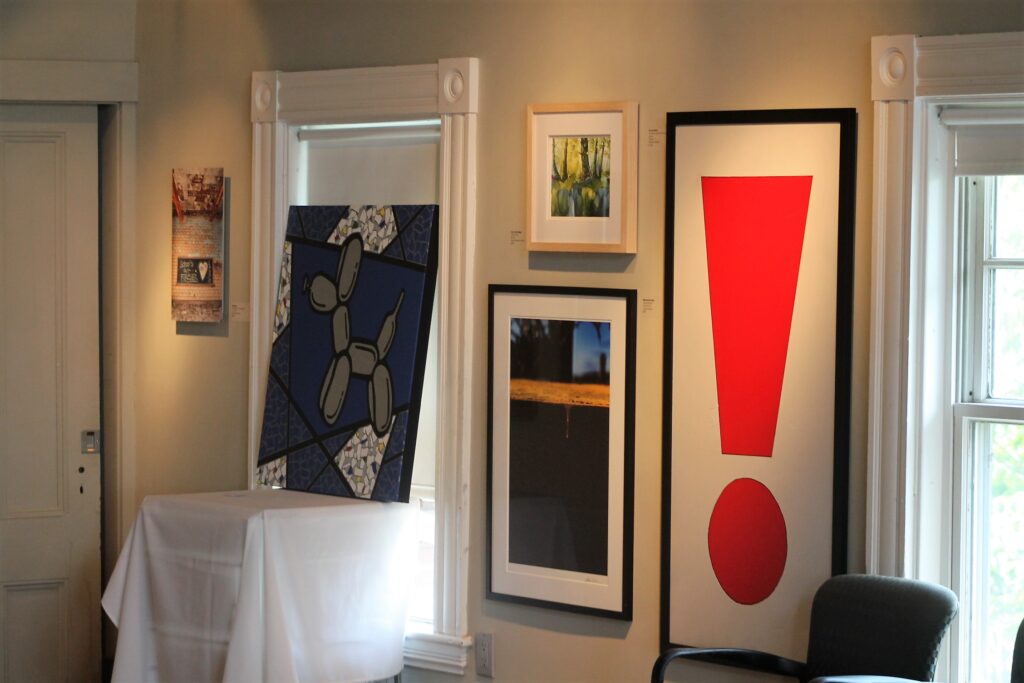 On the other end of the spectrum (by which we mean the size of the art piece, not the political spectrum) was Carol Frieswick's "Strawberries and Cream." Part of her still life collection, it was only six inches by six inches, but contained some very crisp details within the small space. Frieswick started painting as art therapy, and though she has obviously attained a high level of skill notes how many classes she has taken over the years, including recently, while collecting awards for her work.  
Another featured artist with an interesting background is Giulietta Nardone, whose "Afternoon in Burgundy" acrylic piece features a very colorful image of a tree in a field. The multitalented Nardone is also a writer with bylines in The Boston Globe, Skirt Magazine, The Christian Science Monitor and McSweeney's Internet Tendency, who offers "untraining" programs to "tap into your wild, expressive and powerful side, the place where imagination, creativity and greatness live."
One of the more striking images is Lissa Banks' "Parting Company", a seemingly simple image of flowers against a black background that really sticks out in the room because of its bold background. On her website, Banks explained that she was considering pulling the flowers together but that doing so didn't seem right in the era of social distancing.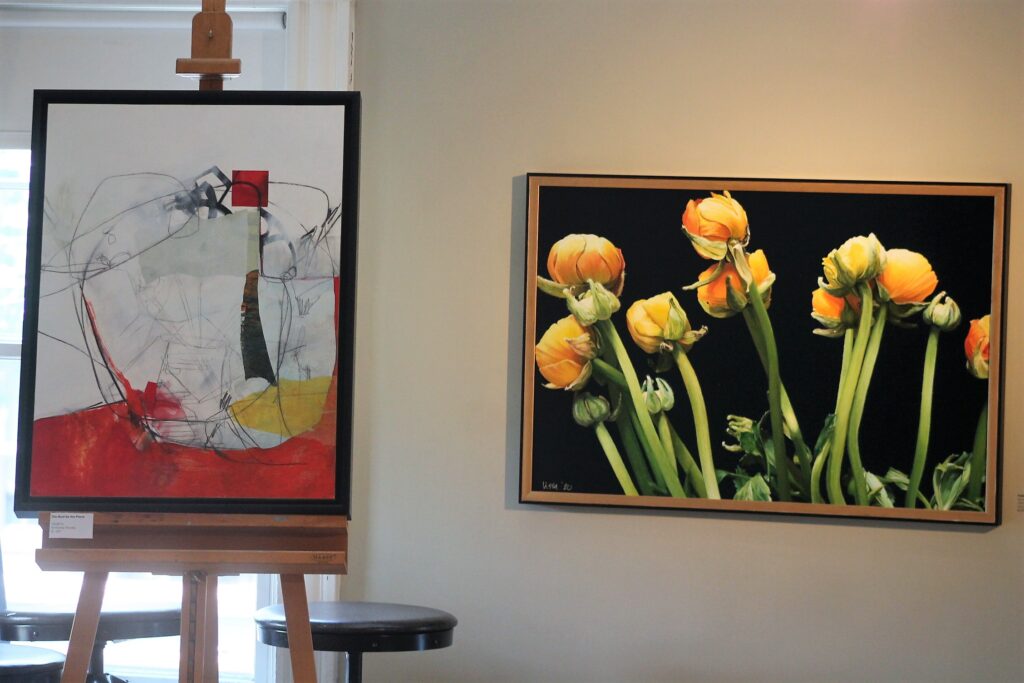 "It wasn't until I was putting the finishing touches on the whole composition that I was struck by their apartness and the way the group to the left seemed to be leaving the stage while the huddled group to the right seem to be choosing a path of their own," she explained on her website. "It brought to mind how we have separated ourselves over these last months, and over these past years, to forge our own narrow paths, and it made me sad. It also reminded me of those who are gone away and will never return, and that made me sadder."
For some local flair, Medfield State Hospital was represented in both photography and paint. First, William Mann's "MSH" captured an image of one of the boarded windows, while Kristie Loncich used pastels to create "Medfield State Hospital", an image of the flowers along one of the walking trails.
While the images can be viewed online, you should really head to the Zullo Gallery to see them in person to get the full understanding of sizes, shapes and textures that doesn't translate quite as well via digital image.