The Medfield class of 2022 had the benefit of a bright, beautiful day as it walked in caps and gowns to its graduation on Sunday, June 5.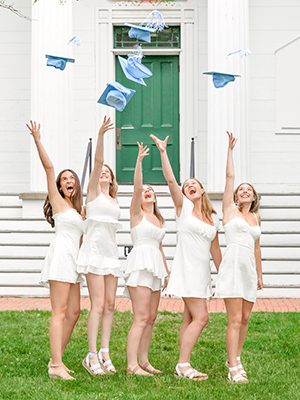 It was a day that, just two years ago, might have seemed further away than usual to an MHS sophomore; at the time, COVID had ground all community activity to a halt. This resilient class of '22 dealt not only with the ordinary rigors of high school, but also the anxieties, alterations and responsibilities that came with going to school in the era of COVID-19.
While all members of the class of '22, collectively, were the stars of the day, a number of classmates placed their own personal stamps on graduation exercises. Among them, Paul Narkewich performed a rich, stirring rendition of the National Anthem, followed by four speakers who addressed the assembled: Class President Deeya Yadapadithaya, Salutatorian Nimai Kini, Valedictorian Kelsey Quint, and Class Speaker Lauren Schofield.
To see the class of '22 together for graduation was an encouraging sign that the world was returning to a semblance of normalcy — and that despite the worst the pandemic had thrown at them, these Medfielders were no worse for the wear.
Hometown Weekly extends its congratulations and best of luck to these unique students.