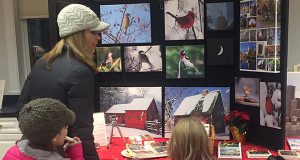 The Cultural Alliance of Medfield (CAM) is inviting artists, designers and craftspeople to apply for the fourth annual Holiday Stroll as part of the annual town-wide Carol Sing and Tree Lighting, sponsored by the Medfield Employer and Merchant Organization (MEMO). The Holiday Stroll is scheduled for Friday, December 7, from 4 – 9 p.m. The deadline for applications is August 10. Applications are free and available online at www.MedfieldCulture.org. Artists from any community are invited to apply, and need not be Medfield residents.
Approximately 40 artists will be juried in to display and sell their work at one of three indoor locations (United Church of Christ, Medfield Library, Zullo Gallery). All locations are within a two block walk.
"Last year we counted more than 1,600 visitors to the event and we look forward to introducing new artists each year," said CAM President Jean Mineo. "Artists tell us what a wonderful experience it is to show in Medfield. They comment on the sense of community they see when people meet each other, and on the level of engagement about the art work."
The Cultural Alliance of Medfield is a non-profit organization formed to nurture, support and promote cultural initiatives in Medfield. Supporting and promoting artists is at the core of its mission.
CAM is a volunteer-led organization, and relies on individual donations and corporate sponsorships to produce the Holiday Stroll. Individuals wishing to support the event may donate online at www.MedfieldCulture.org or mail a check made payable to the Cultural Alliance of Medfield to 3 Alder Road, Medfield, MA 02052.