By Lauren Schiavone
Hometown Weekly Staff 
Summertime typically means sunshine, beach trips and barbecues.
But what about bubbles?
Who can resist chasing after and popping bubbles on a sunny day? To that end, Mr. Vinny the Bubble Guy was welcomed to the gazebo on Friday evening, July 22.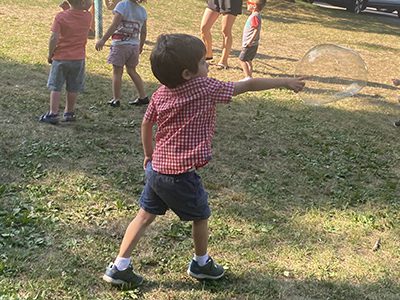 Children and adults grabbed a seat on the lawn, and library staff graciously passed out bottles of water and freeze pops to everyone who braved the heatwave to come to the gazebo. Supported by the Friends of the Medfield Library, this event was all about feeling like a kid again — and it delivered.
Mr. Vinny started out in entertainment, making puppets inspired by Bread and Puppet Theater. Also a member of the local group Toe Jam Puppet Band, he spends his days amusing children and young-at-heart adults with fantastic, out-of-the-ordinary experiences — such as enormous bubbles that fill the entire lawn.
For his visit to the library, Mr. Vinny made his own bubble solution from water, dish soap, and glycerin. He let it soak for 24 hours to make the perfect consistency. Then, his DIY bubble wand got a little help from the wind to form bubbles in different rainbow patterns, while his humor turned the bubble-blowing into an all-out performance. Light-hearted jokes were part of the atmosphere as Mr. Vinny broke the assembled into small groups by age to make sure that everyone got a chance to pop some bubbles.
Of course, he knew that adults would appreciate a moment to be youthful, too, and allowed them their own time to blow bubbles, sending moms and dads running and skipping, chasing the orbs across the field — summer fun at its best at the Medfield Library.
For more exciting events at the Medfield Library, stay tuned with their event calendar at https://www.medfieldpubliclibrary.org/events/