By Lauren Schiavone
Hometown Weekly Staff 
Sunday gifted us beautiful weather — the best July has to offer — and the sun motivated families to get to Farm Pond in Sherborn for the 38th annual Sand Sculpture Contest. Shovels and pails in hand, everyone secured plots and started building. Concepts ranged all over the place, from the traditional, to the silly, to sea-life and nature themed. Hosted by the Friends of Farm Pond (FOFP), the event is one of many yearly town traditions that focus on FOFP's message of stewardship and enjoyment of Farm Pond.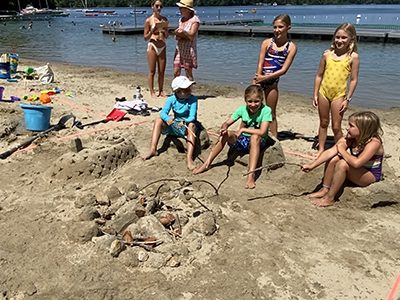 Rankings were categorized by specialty awards, as well as an overall top three. Builders competed for title of champion along with prizes, including gift cards for doughnuts, ice cream, movie tickets, and the coveted grand prize, the Golden Shovel.
When asked about the criteria for the sculptures, FOFP's president joked: "We need to up the criteria! The sculptures are getting more sophisticated." The level of competition was entirely up to participants, however; FOFP displayed a fun, welcoming atmosphere for all to simply enjoy themselves. "People come prepared, [and] we mark off squares in the morning. Lifeguards always do a sandcastle, families sign up… this year, I've already seen so many amazing ones."
Rankings for special prizes included: Best Teamwork - "Castle Island"; Most Creative - "Under the Sea-Horse"; Best Ocean Scene - "Coral Reef Island"; Most Magical - "Chloe and Kate's Castle-Topia"; Funniest - "The Throne"; Most Realistic - "Volcano"; Best Sea Animal - "Whale"; and Best Emoji - "Um Actually Nerd"
The first-prize-winning entry, "Camping Fun", a campfire scene complete with living art, took home the Golden Shovel. Competitors posed in sculpted chairs and sat roasting detailed, sandy marshmallows at the campfire — sticks and leaves were scavenged from the beach to add flair to the scene, as well.
Lifeguards of Farm Pond won second place overall for their Minions sculpture. Third place was a tie between "The Grizzlies" and "Dragon Castle."
Events like these help to raise funds, allow volunteers, and expand the support of FOFP to make Farm Pond the best it can be. More is information available at www.facebook.com/FOFPSherborn