By Daniel Curtin
Hometown Weekly Contributor
During the fall, it's common for people across the country to spend their Sundays sitting down on couches, watching football games between teams like the Panthers, Chiefs, and Giants.
Families on the fields surrounding Dover-Sherborn High School, however, spent their Sunday watching a different kind of football - one with teams named the Bandits, Cobras and Grasshoppers. The fields at the high school were alive with activity as small children ran back and forth in blue uniforms - some hanging all the way down to their wearers' knees - as they chased after soccer balls.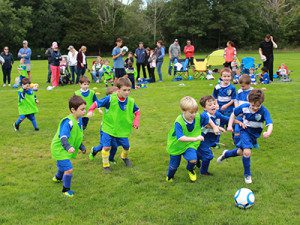 It is youth soccer season in Dover and Sherborn. Over the course of ten Sundays throughout the fall, kids in grades pre-K through 1 gather at the field once a week to start learning how to play the beautiful game. Players started out doing different drills that had them working on dribbling and learning basic skills of the game.
Charlotte Phillips is the director of coaching, overseeing soccer programs in town for kids in grades pre-K all the way up through eighth grade. With the youngest boys and girls, though, it is just as important to keep them entertained as it is to teach them about the sport of soccer.
"If they leave the field with a smile on their face and they are like 'yeah, I want to play soccer,' then I think that's your job done," Phillips said. "That is the thing you have achieved for that week, and that is the goal."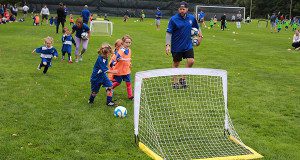 Parents, grandparents and members of the community watched as the future soccer stars of Dover and Sherborn raced back and forth, sometimes having more fun chasing each other than actually going after the ball.
"It brings back a lot of memories from when I was a child," said Greg Donohue, who was with his wife, watching their son and daughter. "Kids get out there and make friends and have some fun."
Jillian Davis, a junior at Dover-Sherborn High School and a member of the varsity soccer team, was on hand as a volunteer. Davis and other members of the boys and girls varsity soccer teams help coach the young ones by sharing their passion and knowledge of the game with the next generation soccer players.
"Sign your kids up for soccer," Davis said. "They might not like it the first two weeks, but they really do enjoy it towards the end. And even if it might not be their favorite sport, the friendships that you make throughout are so important, especially with the community and older kids."