Sherborn's Pine Hill Cemetery is very much alive.
By Stephen Press
Hometown Weekly Editor
Among nature preserves and hidden wooded locales in the middle of nowhere, we often forget that all of our communities feature quiet, green spaces - typically centrally placed ones - that house an impressive collection of bird species. I'm not speaking of public parks or ballfields, but rather cemeteries. From Vine Lake in Medfield, to Old Westwood Cemetery, to St. Mary's Cemetery in Needham, to Walpole's Terrace Hill Cemetery, Hometown Weekly's communities boast a number of burial grounds that serve not only as places for reflection, but ideal locales to spot local birds.
Today, I've come to Pine Hill Cemetery in Sherborn to appreciate a place that, according to locals in the know, provides a perfect spot to see the area's feathered assortment.
More than anything, though, I've come to Pine Hill to pay my respects to a man I never knew personally - one of those aforementioned locals in the know, in fact - a reader whose deep understanding of the birds made him legendary in Sherborn circles. Mr. Eliot Taylor, say his friends, could call in a whip-poor-will from these very woods. Taylor himself recorded over 55 species that he had lured by imitating their calls, an exhaustive list that included owls, warblers, tanagers, cardinals, and meadowlarks, among many others. He discovered this special talent in his youth.
"Every sporting goods store sold duck and crow calls, and I had heard of people luring birds by whistling," Taylor wrote in his essay, "How Do People Become Bird Watchers?", which appeared in Bird Observer in 1973. "I looked all around and made absolutely sure that I was alone — even at 14 I knew that people shouldn't be seen whistling at birds."
I was lucky to learn of Eliot Taylor from his dear friend, Margo Powicki, who wrote me and sent along not only her fondest memories, but also excerpts of his writing. "[Pine Hill Cemetery] was one of his favorite places to visit and remember those who were long gone," she noted in her letter, "as well as enjoy the peaceful surroundings and birdlife."
Indeed, Pine Hill is exactly the birder's haven that Taylor describes in his writing, and it is no surprise. Aside from being verdant and lush, Pine Hill is also remarkably quiet. A walk here feels less like a jaunt through a wildlife preserve - where the residents, I find, have come to expect your arrival on some level - and more like you've accidentally stumbled on to a friendly stranger's property. Whereas the inquisitive looks of reservation birds seem to ask "who's this?", those of the Pine Hill birds seem to ask "what are you doing here?" It's a subtle, but important distinction; neither example is particularly bothered by human presence, but the latter seems slightly less habituated to it.
I catch just a small glimpse of Pine Hill's diverse residents, but it's an impressive one. It begins, very appropriately, with a pair of mourning doves darting above me as I lock my car and begin slowly walking between the plots.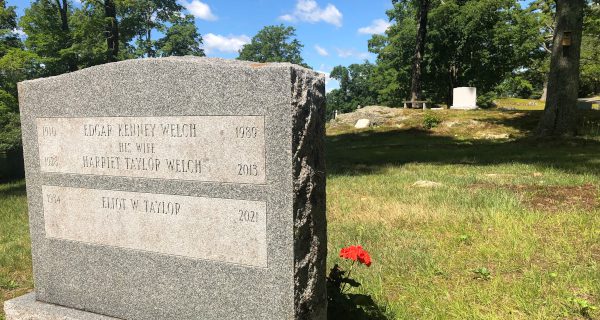 Cowbirds and robins hop from headstone to ground, foraging and occasionally checking in on their human visitor. Ahead, I hear a red-bellied woodpecker.
As I arrive at my destination, a red-shouldered hawk cries dramatically overhead, while a doe and a buck show up to watch me from the woods.
Two amorous downy woodpeckers frolic in an oak tree, not the least bit concerned with my presence.
Above the tree-line, a bird of prey, perhaps the red-shouldered hawk I heard earlier, folds its wings and dives out of sight.
The more I let the silence of Pine Hill envelop me, the more I see and hear.
Eliot Taylor was perhaps correct in pragmatically thinking people shouldn't be seen whistling at the birds, but I'm also quite certain he was equally right in his compulsion to communicate with them in the first place.
In his poem, "Pine Hill Thrushes", Taylor concluded: "It's darker now and I must go, / Towards home I slowly trod / But I'll return some other eve / To the Thrushes, the Heavens and God."
How does one draw his own conclusions about a kindred spirit he never knew?
"He truly will be missed," Margo concluded in her letter to me.
Taking in Eliot Taylor's resting place, teeming with an avian assortment he would surely relish pointing out (and perhaps calling closer) in my company, I am especially sorry I missed him.