[ccfic caption-text format="plaintext"]
By James Kinneen
Hometown Weekly Reporter
The World of Wellesley (WOW) and Massachusetts Bay Community College had their Martin Luther King Jr. Breakfast last Monday, bringing songs, dances and speeches to a tightly-packed library atrium.
The Wellesley High School cheerleading team performed their Missy Elliot-inspired routine, which won awards at a Boston dance contest and inspired World of Wellesley president Michelle Chalmers to tell the crowd: it "makes you wanna get up." Just a six-person team, the squad was noted for being hugely diverse in terms of race, gender and home addresses of the students. Later, their captain, Shyann Chalmus, also performed a solo routine set to a gospel song.
The keynote speaker was Claudia Fox Tree, who interspersed a slide show about indigenous rights and history with MLK quotes highlighting the disastrous effects of inequality and racism. Fox Tree dedicated her speech to Nathan Philips, the Native American involved in the Covington Catholic incident, which she noted was one of the few times outside of Thanksgiving when an indigenous person was in the news.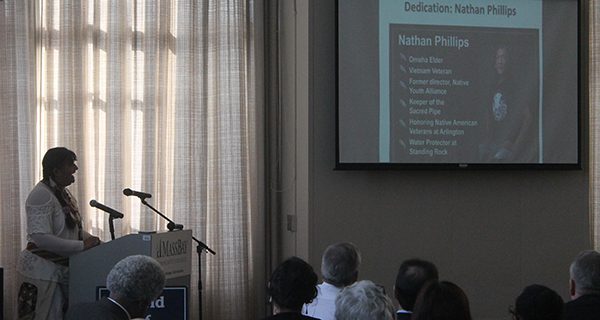 While many of Ms. Fox Tree's causes, like changing Columbus Day to Indigenous People's Day or eliminating indigenous people as school and sports team mascots, were well-known, many other issues were not.
For example, she informed attendees that while the practice of putting Indian children into boarding schools is gone, it has been essentially replaced by the practice of placing Indian children into foster care. There is also a push to eliminate the Massachusetts state flag, which features a bow-wielding Native American. Fox Tree also called for schools to stop using names like "Colonials," as it "celebrates [Native peoples'] destruction," and for teams to refrain from scheduling games against opponents with such names until they are changed.
She also noted that scalping was invented by Europeans to guarantee bounty payment for killing indigenous people.
On a more upbeat note, Fox Tree spoke of indigenous contributions to modern society and asked that everyone in attendance tell a friend five facts that they learned from her speech. To fulfill that promise, it should be noted that her tribe, the Arawak, are responsible for the words for "hurricane," "iguana," and "caiman," as well as the practice of barbecuing and the invention of the hammock.
To further generate discussion, every table had note cards placed on it that questioned attendees' first memories of seeing an indigenous person in the media, and how it affected them.
This was just one inspiring event World of Wellesley put on for MLK Day, but the group's work will not end with the holiday.
Fighting racism, after all, must be an everyday occurrence.
For more information about World of Wellesley and their upcoming events, visit www.worldofwellesley.org.