The Walpole wrestling team grappled with some large but outdated electronics as part of the fundraiser to raise money for the team.
By James Kinneen
Hometown Weekly Reporter
Walpole wrestling coach Steve Hile noted that with the season hopefully launching in April, he'd like to see his guys get back in the weight room to get some exercise and build some team camaraderie. On Saturday, his team's camaraderie building activity was standing in the cold outside of Walpole High School and unloading people's cars full of electronics, while their exercise consisted of carrying giant box TVs and old computer monitors that were likely made before they were born.
Now in her third year as president of the Walpole Wrestling Boosters, Ann Grant explained that this was the third year they ran this fundraiser, where people could come and dispose of their old electronics for a price. Essentially, the wrestling team subcontracts a company that specializes in disposing of these old electronic items, and up-charges people a little bit to make some money for the team.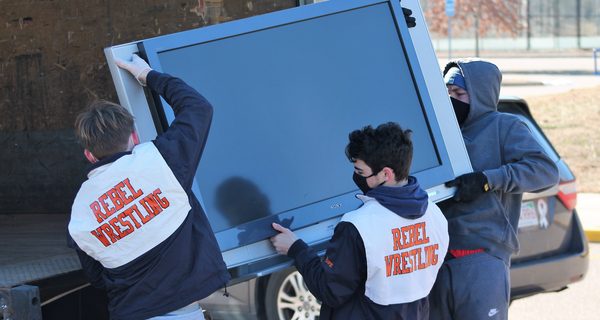 When most people think of fundraisers, they probably think of bake sales or prize raffles. But Grant explained they like this fundraising method instead, because it helps the community; it keeps electronics out of landfills and gives people a chance to get rid of old electronics right after Christmas, when they may have gotten newer ones as replacements.
"We decided to do this as a fundraiser because we wanted to give back to the community rather than selling cookie dough and having people get stuff they don't need," she explained. "We thought that right after the holidays, when people had stuff cluttering up their houses, we would give back to the community and have them be able to come here in one fell swoop and get rid of their electronics."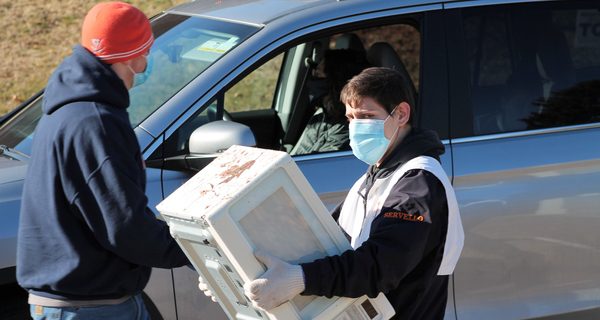 While she wasn't sure how much money they would raise this year, in the first year it was held, the event raised $2,500, while last year it raised over $5,000. Because they had to turn people away when the large truck the wrestlers were loading with electronics became full last year, this year, she added a second truck, which she hoped would increase revenue. She also put a lot of work into advertising the event on local yard sale social media sites, so that people from other towns would know they could come to the event Grant noted is "always well received by the community."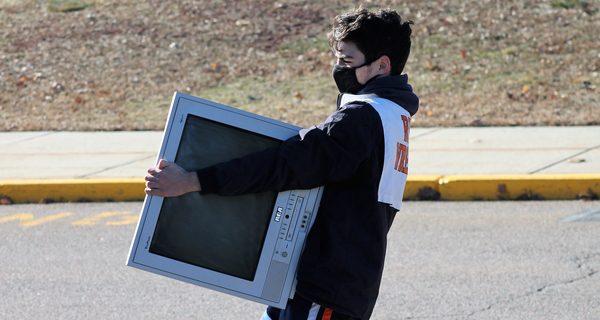 Grant explained the money covers things like hotel fees, dinners and uniforms, but that expenses should be less this year because tournaments are unlikely to be held. The team got brand new uniforms last year; unfortunately, those uniforms have the high school's old mascot name on them. Grant said that the school committee told them uniforms would be replaced on the regular uniform replacement schedule, so they're not a huge issue right now. "If we had the money," she acknowledged, we would replace them." She did point out that she'd like to know what the new name is going to be before any uniform change, however, so they could emblazon the new name on them.
But with all this fundraising effort, will there actually be a season? Coach Hile was unsure. While he noted the uncertainty surrounding the sport, he also had a unique idea for a possible solution. With so much scientific consensus around the idea that fresh air and sunlight are good for minimizing COVID spread, and with the bleachers providing ample space for social distancing, he'd like to roll the mats onto the football field, and have some meets there.
"The season's been pushed to the 'Fall 2' season, which is April 26 to July 3. 'Fall 2' would be other sports, like gymnastics, so we're optimistic, but it changes every day. Football season will start in February and end on April 25, and then we start on April 26. So, it will be summer wrestling. We'll keep our fingers crossed … but I'd love to see them move the mats and have some competition on the football field. That would be cool."
Last year, Walpole wrestlers Manny Rosado and Don Muho qualifyied for the New England Championships just a day before everything was shut down in March. With five seniors graduating, if the season happens, the team will need to replace some key pieces.
"We lost our five guys. Our five seniors last year that were everything for us. But we have a strong group coming back that have all come up through the youth program: Connor Hope, Colin Hile, Alex Takacs, Sam Grant, Henry Morris. These guys are all seniors that should make a splash."
Hile said none of his wrestlers had expressed that they were going to opt out due to fear of COVID, but acknowledged that with the season running into the summer, there was a possibly it might be interfering with other club sports. "It's not going to help recruiting this year," he said. "We're going to be light on our numbers for sure. I don't know if we will have a full squad."
Some coaches have considered asking for a reduced number of weight classes to deal with that issue, but so far nothing has happened. But while they'd like to start thinking about filling spots and improving as a squad, Hile said at this point, the team is really just hoping for a season.
"Basically, this year, we are just trying to get our season in. It's going to be a shortened season. I don't think there are going to be any tournaments, there will likely just be dual meets, probably Bay State only. Let's just pray for a season at this point."