Each pallet is adorned with the lacrosse related hashtag Lisa Raeke's son came up with: '#GoalsforGreyson.'
By James Kinneen
Hometown Weekly Reporter
Walpole thirteen-year-old Greyson Beauregard suffered a traumatic recreational accident on October 31, that left him unable to walk. With that leaving his family immediately facing both medical bills and a need to radically alter their home to fit his new needs, some close family friends have organized a pair of fundraising efforts for him, and the Walpole community has responded.
Greyson's friend, Evan McGrew, has been creating Christmas trees out of wooden pallets, complete with the hashtag #GoalsforGreyson written on them. To this point, he has raised over $13,000, and has a wait list of likely well over 200 people - as his mom, Mia, explained: "we stopped counting."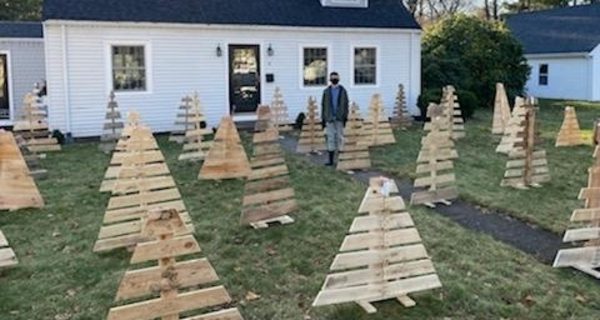 She explained that the pallets have a special meaning because building things is one of Evan and Greyson's favorite activities.
"Evan builds stuff" she explained. "Him and Greyson build stuff together. And Evan decorates a lot for Christmas. Last year, he had the idea to make them just for our yard, but he never did it. And then this year he said 'hey Dad, let's make these Christmas trees.' And then Greyson got hurt, so he said, 'let's make them for Greyson and sell them.' And it was that simple."
It might have been a simple decision, but that doesn't mean it was easy work. Evan, his mother, his father and his grandfather have been crafting the pallet trees for nearly nine hours a day, making a large amount of them on school's Thanksgiving break. Luckily, they have gotten some help from Walpole at large, with people dropping off pallets for them to carve, and Greyson's lacrosse coach lending a hand.
"At the beginning, Evan thought 'we'll sell twenty or thirty,' and then it just blew up. We had people contacting us saying, 'I've got pallets here, let me drop them off at your house.' And then the more popular it got on Facebook, people reached out to us - like Greyson's lacrosse coaches, who came and helped us one day - and then a church's outreach division contacted me. In the beginning, it was just Evan, my husband and my dad (Evan's grandpa) and me. We probably made 150, maybe more. We had two solid days of 8 a.m. to 5 p.m. making them, just the four of us. The Chamber of Commerce came to us and said they're in all the businesses all over Walpole, which is so cool. It's been amazing having the community come together so much."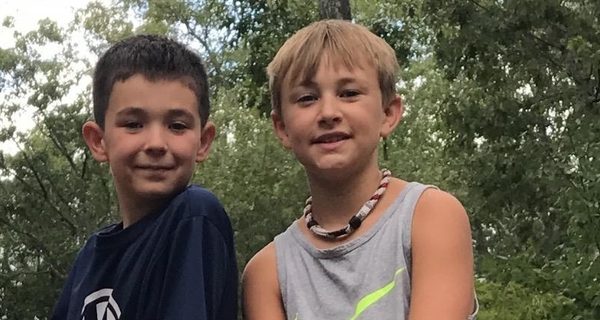 Evan's pallets have been featured on both Fox and CBS, but another friend of the Beauregard's has raised even more money than the pallets have. After consulting financial planners to make sure raising money for them wouldn't affect the Beauregard families' insurance or alternative sources of aid they may seek in the future (as well as getting the families' permission), Lisa Raeke (who grew up with Deborah Beauregard in Norwood and whose children are the same age, with her deeming them "very close, almost like siblings") set up a GoFundMe page for the family, under the name "Goals for Greyson," a name her son came up with as a nod to Greyson's lacrosse background.
"Once we found out that he was unable to walk, it was immediately apparent to us that there were going to be a lot of costs involved for them - not just for his personal care and all of the mobility equipment he is going to need, but also all of the retrofitting they're going to need to do to their home to make it accessible for him," she explained. "Obviously he's only a thirteen year-old boy and his needs are going to change over the long term as he grows and explores other ways to be independent and whatnot, so it was immediately apparent they were going to need a lot of financial assistance that just would not come via insurance. The GoFundMe was probably the quickest and easiest way for us to address that need and also to organize the outpouring of requests we were getting from the community members asking how they could help and where they could donate."
Raeke noted that the family will need more help over the years as Greyson deals with his injuries, noting that "the goal over the long run is to keep the fundraising going. His needs are going to be ongoing throughout his entire life. The services in terms of just the physical rehabilitation and the care and attention he's going to need to keep his strength and mobility over the long term is really significant, and there are significant costs that come with that and while insurance might cover a portion of that to get the full complement of services he may want or need over time is going to be an out-of-pocket expense."
Still, Raeke acknowledged the Beauregard family is going to need money immediately, since they live in a colonial and will need both a ramp to get into and a chair to help Greyson get up the stairs to the second floor of his house. While many members of the Walpole community have given to the fund, she did acknowledge that the next step would likely be to start looking at businesses that could make a larger financial donation.
"I think that's probably our next step. Right now, it's been a word-of-mouth social media campaign, so we're getting a lot of donations just from individuals or families in the community. The next step would be to reach out to larger businesses - not just Walpole, but greater Boston or even nationally - that might be able to provide support and or grants that would be useful for Greyson and the care he's going to need over the long term. That needs to be kind of a well-thought-out, concerted effort, because you want to be very careful in protecting the family's privacy and the information you're sharing, and those conversations are touchy at this point in time. So we're just taking this in a step-wise fashion, in a way that's shows the family support, but is also respecting their privacy at this point in time."
So far, the GoFundMe page has raised over $93,000, which is separate from the money Evan McGrew and his pallets have raised. So while it would be nice if a large corporation could write a check for a huge financial donation that could cover Greyson's needs, through families making (by and large) small, individual donations - and a thirteen year old buddy working all day in his driveway to craft Christmas decorations to sell for his injured friend - over $100,000 has been raised for Greyson Beauregard.
It might not be enough to support Greyson's needs for the rest of his life, but it is certainly admirable.