The Endean Trail begins just to the right of Dog Rock, which makes parking a bit tricky.
By James Kinneen
Hometown Weekly Reporter
At the Tweeter Center, I once watched Jerry Lee Lewis sing "Great Balls of Fire" to about a hundred people who mostly ignored him, played on their cell phones and tried to stake out their spots on the lawn for when the "bigger" music festival acts came along. Even knowing his questionable background, watching the remnants of "The Killer" try to drum up enthusiasm from a young and unenthused crowd by standing up and putting a leg on the piano was viciously depressing.
See, there's a unique melancholy that comes from seeing a bar that used to be the hottest of happening joints suddenly find itself empty on the weekends; a performer that was once widely revered now performing for a handful of people; or even a once-bustling business struggling to keep its doors open, that you don't really get from watching immediate failure.  
In many ways, Walpole's Endean trail gave me that same feeling, because it feels like a trail that used to be a big deal but just plain isn't anymore. It's overgrown, the boards covering the muddy parts are often broken, and it's littered with signs that while many people must have once used it, these days, nobody does.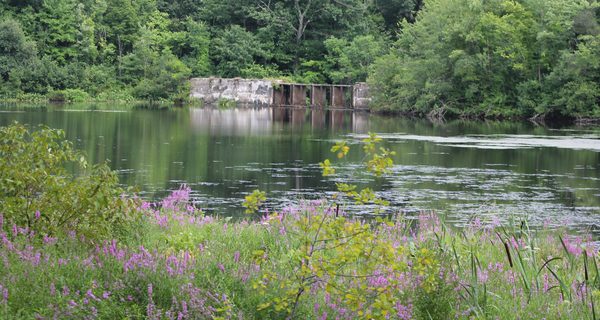 If I had to guess, I'd say the main issue is that it's really hard to get to. After watching a Youtube video from 2012 in which Gary Riggott talks about the trail and how you can park at the Dog Rock, I headed there despite being mildly concerned about whether the rules of parking had changed in eight years, and very concerned my car was going to roll backwards and get crushed. Still, I risked it and headed to the right of the rock, and down the trail.
I had read a review of the trail complaining that along the boards it was overgrown with thorns and poison ivy. The thorns were present and the trail was definitely overgrown, but I didn't see any poison ivy. That was only a day ago, though, so look for a retraction if I start itching.
The first thing I saw was a broken treehouse or homemade deer blind. It was fun to imagine what it was used for, but sad to see that someone had once spent this much time building it, only for it now to be just a neglected piece of rotting wood that you wouldn't spot if you weren't paying much attention.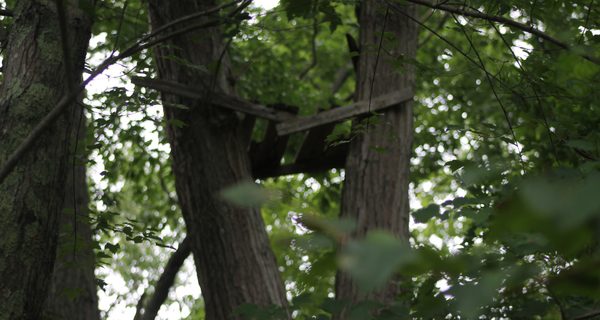 The second big thing you see on the hike is an abandoned well. While there are many small, plastic, fake wells in people's yards, this was apparently a legitimate stone well with a giant hole that must have at least once been a source of water. It was neat to see, just because falling into an abandoned well is such a television staple (at what point should Timmy's parents have stopped leaving him under the care of a collie and started watching their own kid?), that it was interesting to see it could actually happen. I briefly looked at it, but did not investigate all that much because I didn't want to fall in. Everybody cared about saving baby Jessica when she took a tumble; nobody would care about saving 31-year-old James if I did the same.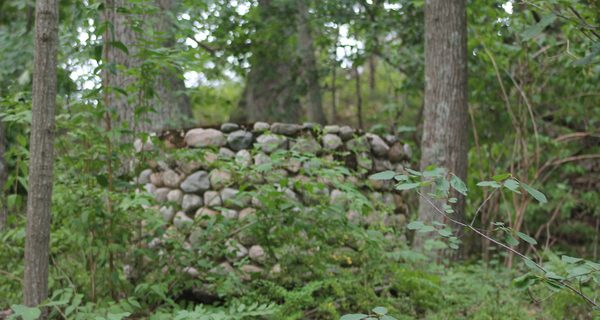 At one point, you hit the Plimpton Pond Dam, which was clearly the highlight of the trail. According to a little research, George Plimpton (who lived way before and was unrelated to the "Paper Lion" writer) restored the once-ruined dam (then tried to charge Walpole for the electricity) and further developed a farm around the area. Apparently, Plimpton was quite the social climber in both New York and Massachusetts, and tried to get people like Teddy Roosevelt to visit Walpole until his death.
You can walk on top of the dam, but I opted not to because it seemed like a high-risk, low-reward activity. Still, it's fascinating to think of how Plimpton was once a big deal, with his own dam; now he's gone and it's just a graffiti-covered wall of cement. It doesn't have even half the information about it online that a rock spray painted to look like Snoopy does. Yes, a dam from the early 1900s is barely acknowledged in Walpole, but a rock that was spray painted to kind of look like Snoopy gets front-page media coverage for having a mask drawn on it. To quote Charlie Brown himself, good grief.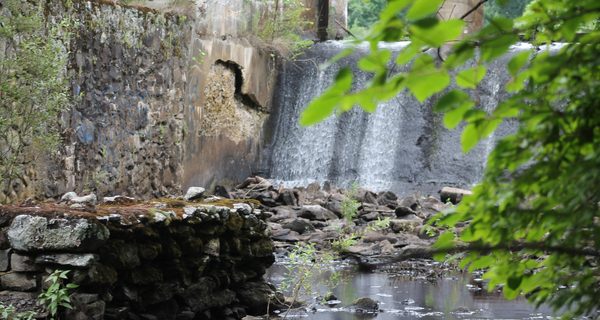 Maybe an Eagle Scout can put up some plaques or old photos to show what the area used to be like, to drum up some attention for the trail. Hopefully then it will get some foot traffic again and hiking it won't feel so sad.