Jeff Thompson gives the crowd a brief timeline of the project during Wednesday's ceremony.
By James Kinneen
Hometown Weekly Reporter
In the middle of a pandemic, with $8,000, Norfolk County Agricultural High School (Norfolk Aggie) produced $50,000 worth of food for local food pantries and families in need using an entirely volunteer workforce, outdated equipment and just a fraction of the open space the school has at its disposal. On a rainy Wednesday afternoon, the school sought to both celebrate the project's success and look to its future.
"Aggie Abundance," the Norfolk Aggie COVID Victory Garden project that aims to "grow and provide fresh and local produce during a time of food shortages and great need," originally started as a project to grow pumpkins (for the Haunted Hayride) and garlic, before Lisa Collins and Jeff Thompson shifted the program to address food insecurities during COVID-19.
With $8,000 to use, Thompson put out an email looking for volunteers, and got some students to help, which provided a great opportunity for them to learn about growing food.
"We basically put out a couple of emails," he explained. "At first, we weren't really allowed to bring students on campus. It wasn't until we figured out that if we practiced social distancing and follow the Mass Department of Agriculture's Resource for COVID-19 farm stands and farm crops that we could bring them on campus with social distancing, masking, and all that stuff, and they could help volunteer in the field. They did a fantastic job; nobody got sick. We were able to give them extra-special educational opportunities here to learn how to grow their own food. So it was a win-win situation for the kids, when they finally got here."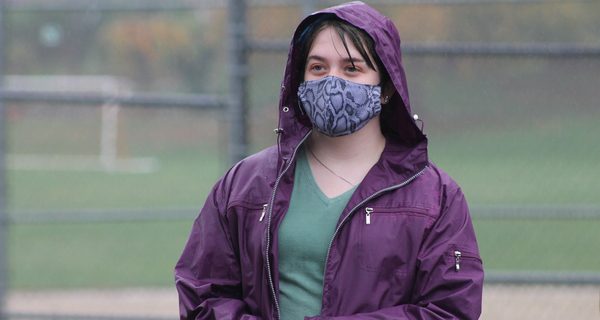 But while you may think that as an agricultural school, Norfolk Aggie has fields of crops hidden behind its sports fields, you'd be wrong. Outside of some crops in the greenhouse, an apple orchard and some chestnut trees, they don't grow much food on campus. So, when it came time to grow the crops in the victory garden, they were missing some pivotal pieces of farming equipment. Which pieces?
"We were missing all the pieces, really," Thompson explained. "I mean, we have some equipment here, but it's really outdated. Half of it had to get fixed before it got used. It was a constant struggle to keep up with watering needs. What we teach in the school about sustainable farming is to use drip irrigation, to use a bunch of automated systems, and to make it a lot easier on ourselves without wasting water. But this summer, this was all done by hand, at a tremendous effort to water an acre-and-a-half field. We're hoping to expand onto the other side, where there's easily another acre and a half. We hope to be able to feed twice as many families."
Yes, the all-volunteer workforce used garden hoses, and even went so far as to actually hand-weed the garden. While the agricultural students might have understood how much work the project would be, Lisa Sullivan noted one group found it surprising just how hard the crops were to grow: the academic teachers.
"For the vocational teachers, you're outside doing this kind of thing all the time. But from the academic teachers, you would hear: 'Wow, this is a lot of work!' And it's like 'Yeah, it is!' If you volunteer three or four hours a week, that's one thing, but if you do it nine hours a day for five or six days a week, that's something else."
Still, the results were worth it. Using only organic fertilizers and pesticides, the garden produced over 1,000 tomatoes, 350 peppers, 300 cabbage heads, 350 cucumbers and more, which added up to enough food for 4,000 families that was given through weekly farm stands, as well as the Dedham, Norwood and Walpole Food Pantries. And for the Aggie, some of the food even went to the students they knew would be struggling with food security themselves.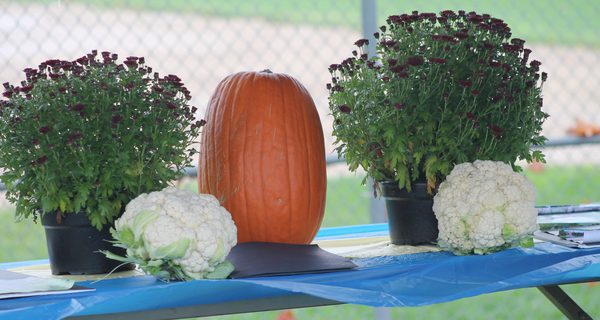 "As luck would have it, my classroom and Jeff's classroom were right next-door to each other, so a lot it was us talking before school about how to deal with the pandemic, and deciding we both know a lot of families that have lost income, and a lot of families at our school. We gave plants away for students with gardens at their homes, but not every student has a yard or has a place where they can plant a garden, so to support those families, we felt it was important to have this garden. So, in addition to the food pantries, we had families from campus drive here every week and pick up food. We're an agricultural school, and when you're in a pandemic, I just feel like that's what you do. Support your community in the way that you know how."
The future of the project is a bit up in the air, with the school waiting to hear back about whether they've received a grant to expand it. If they get that money, they will be able to expand the project in a variety of ways - from paying the students for their work, to diversifying their crops, to upgrading their equipment and refrigeration capabilities.
"We would definitely like to diversify and have a higher range of crops, as well as some high-end crops for a farm stand, as a source of income. And because this was an organic process that came out of Jeff and I having a conversation, it wasn't like we sat down with the food pantries and asked 'What are your needs?', so I had the food pantries all fill out a good-will form about what worked well for them, what didn't work well for them, and how we could improve. Dedham has a big food storage capacity, but Walpole has none. We only have one refrigerator for the whole vocational cluster, so a part of the grant was for refrigeration so we could grow more crops and store them until the food pantries are ready."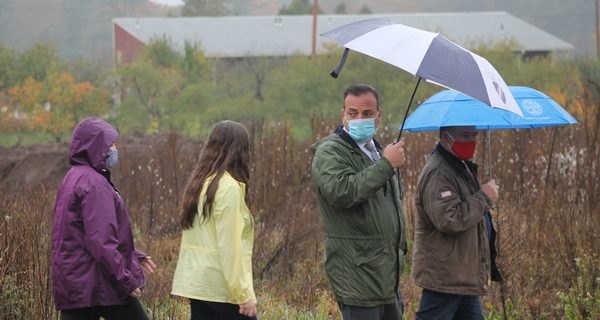 On Wednesday, Representative Paul McMurtry was on hand to tour the garden, and everyone in attendance received a goodie bag of fresh produce to take home. It's unclear if there's anything he can do to help them obtain the grant, but even if they don't receive it, the Aggie produced enough food for over 4,000 families in the middle of a pandemic using garden hoses and hand weeding. It's hard to think, if the pandemic is still around next year, that they couldn't do it again.