Six-foot social distancing rules be damned; the Needham defense didn't give Walpole's players any room to breathe.
By James Kinneen
Hometown Weekly Reporter
If the idea of eliminating the opening tipoff and baseline inbounds plays, or not having offensive rebounders on the line during free throws was supposed to limit the amount of close contact between players to prevent the spread of COVID-19, the message must not have made its way to the Needham Rockets boys basketball team. On Tuesday night, the Rockets' stifling defense was so effective that until a Gianluca Gonser hook shot with just under three minutes left in the game, the Walpole basketball team had only managed to score thirteen points. The issue was a combination of poor shooting from Walpole and intense defense from Needham.
The first quarter really set the tone for the game. Sam Hughes and John Hood had blocks for the Rockets while Tim Reidy added a steal. Needham showed a zone, some full court pressure and plenty of man-to-man that started at halfcourt, and were very effective in each different defensive tactic. Walpole scored on a Haidar Faraj putback late, but the story of the first quarter (halftime is gone due to COVID) was best exemplified by the end of it. Reidy had a beautiful pass to Patrick Toolan for a layup, then immediately stole the inbounds pass from Walpole, although Needham couldn't score off the turnover. The Rockets led, 13-3, after the first quarter.
Bad free throw shooting doomed Walpole's chances for a comeback. If the danger of playing such aggressive defense lies in the number of fouls you can commit and free points you can give up at the free throw line, Walpole didn't shoot well enough to cause the Rockets any concern. After Drew von Klock hit both his free throws, Walpole fell into a lull while Needham kept taking the ball and scoring in transition. At 20-7, on three straight ensuing possessions Walpole was fouled. Out of a possible six points on free throws from Pat Flynn, TJ Farrell, and Drew von Klock, Walpole only managed one point. A beautiful floater from Reidy ended the half 24-8 Needham, and the Rockets were firmly in control.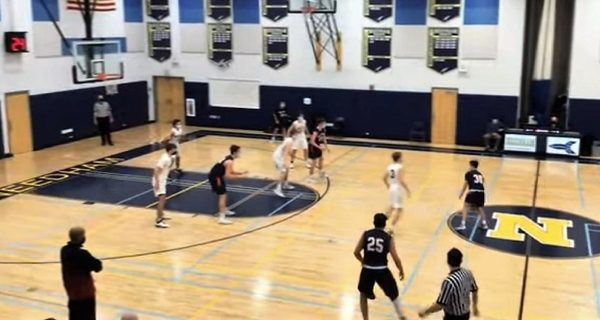 In the third quarter, Needham unveiled their 1-3-1 zone, which led to some easy points. The Rockets were too much for the Rebels in the fourth as well, leading 43-13 until some left-handed hook shots from Gianluca Gonser made the score closer until it ended at 54-20.
With the win, Needham is undefeated on the year at 3-0. Coach Paul Liner noted that his team's intensity in practice and the multiple different defenses they play is what led to the strong performance.
"Our defensive effort versus Walpole started in practice," he explained. "In practice, we teach the players to play multiple defenses and our players have a strong desire to continue a long tradition of tough Needham defense. We have a philosophy of 'win the practice.' Our practices are intense and I believe that intensity carries over to games."
When asked whose performance this year has really stuck out to him, he pointed to his seniors.
"We had a great 65-58 road win Saturday afternoon against Natick. The senior tri-captains all had outstanding games and showed great leadership that was grounded in a 'next play' mindest. Tim Reidy had 17 points and 5 assists. Matthew Fernandez scored 15 points and Pat Toolan added 11 points and 10 rebounds. Sophomore Nick Petronio played outstanding defense and added 9 points and 5 assists."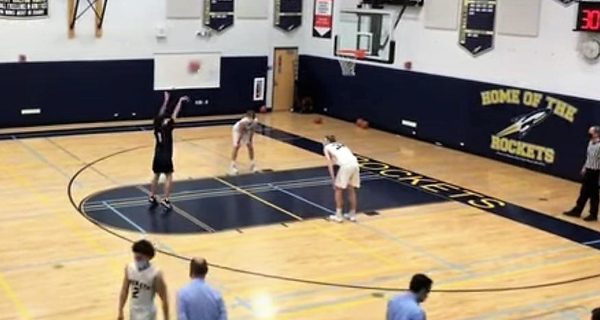 As for the still mascot-less Walpole High School Basketball team, coach Oliver Vil wasn't making excuses for his now 1-1 team's performance, even when offered them. When pressed on whether his team's offensive woes were a result of not having gyms open to practice jump shots and free throws, both of which his team really struggled with, Vil instead pointed to his team rushing their shots and Needham playing outstanding defense.
"Our offensive performance had a lot to do with us rushing our shots and rushing to make a play. Needham also play solid defense, which contributed to us rushing. I think every team in the Baystate has been impacted by COVID in some form or another. We were impacted very early on in the season (the week before holiday vacation). Some schools and programs are suffering through it now. It's the unfortunate card that we have been dealt … We all are making the best of it."
As for any positives on the night, Coach Vil pointed to the play of Gianluca Gonser.
"The player who performance stuck out was senior forward Gianluca Gonser. Gianluca had great presence rebounding the ball and had a team high with eight points."
But after a rough night, Coach VIl wanted to acknowledge that the most positive thing his team has done so far this year may have come off the court. Earlier in the year, Walpole basketball held a sneaker drive that led to them donating a record number of sneakers to the Brockton Boys & Girls Club.  
"I wanted to share with you that last week members on the Walpole boys basketball donated over 400 pairs of sneakers to the Brockton Boys & Girls Club. During the holiday vacation, Matt Byrnes and Tommy Gaba had a sneaker drive in the Walpole High School parking a lot, where 400 pairs of sneakers/shoes were collected. This was the most sneaker donation the Boys & Girls club received in a small period of time."