[ccfic caption-text format="plaintext"]
By Michael Flanagan
Hometown Weekly Sports Editor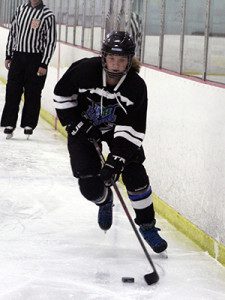 Entering Monday's matinee rivalry contest with Dover-Sherborn/Hopkinton, the Medfield/Norton High girls varsity hockey team had absolutely zero room for error. In order to receive a bid to the MIAA state tournament, the Lady-Warriors (7-9-2, 4-5-1) needed win all of their final three contests in order to finish the season at .500, the minimum for tournament qualification.
Meanwhile, DS/Hopkinton came to Rodman Arena short on bodies with only 10 of 19 rostered players suiting up. Nevertheless, the Raiders (4-12-0, 0-10-0) gave the Warriors quite a bit of scare through two periods and refused to go down without a fight.
Despite outplaying DS for the majority of the first period, the game remained scoreless with a little over five minutes to play and the Raiders getting an opportunity to take the lead on the power play. However, Medfield had other plans as a dominant penalty kill with sustained zone time in the DS end. With the sustained zone time came the result Medfield had been striving for throughout the period as senior captain Lauren Sleboda fired home a one-time feed from fellow captain Laney Ockerbloom for a short-handed goal, drawing first blood for Medfield with 4:28 to go. Medfield killed off the remainder of the penalty and entered the first intermission with their one-goal lead intact.
At 3:36 of the second period, Ocklerbloom tallied her second point of the day when the senior tucked a backhanded shot home via the five-hole of DS goalie Kristin McCluskey to double Medfield's lead to 2-0.
Medfield continued to carry the majority of the play for the remainder of the period, but it was DS who would strike next. With 1:10 remaining in the period, sophomore defenseman Annika Yanoshak fired a wrist shot from the point that found its way through a series of bodies and into the back of the net to cut the deficit to 2-1 for the Raiders at the end of two periods.
Still clinging to their one-goal lead, sophomore forward Taylor Guindon gave Medfield some breathing room by burying a wrist shot from the high slot to double the lead to 3-1 with 2:28 remaining. DS called a timeout and yanked McCluskey for an extra attacker, but Ockerbloom delivered the dagger with an empty netter with just under a minute to seal the deal for Medfield, and the Warriors kept their postseason hopes alive with a hard fought 4-1 win.
At the time of print, Medfield will travel to Falmouth for the MJT Memorial Tournament for games against LaSalle Academy (RI) and Falmouth/Boston Latin, needing a pair of wins to earn a spot in the state tournament.
For funny and incisive sports analysis, follow Mike Flanagan on his personal Twitter at @fLAno0.