[ccfic caption-text format="plaintext"]
By Michael Flanagan
Hometown Weekly Sports Editor
After skating to a 0-0 tie with Ashland on Saturday, the Dover-Sherborn High School boys varsity hockey team has earned a pair of 4-1 victories in two of their last three games, taking down Holliston and Minuteman Regional to finish the regular season at 11-8-1 (6-6-1). The win over Holliston last Saturday clinched a spot for the Raiders in the Massachusetts State Tournament.
In their tournament-clinching win over the Panthers, DS saw goals from senior forward Joe Paolatto (two), senior defenseman Johnny Schroeder, and senior forward Colin Murray, as the Raiders opened up a 4-1 lead in the third period following the goal by Murray to prevail by the same margin.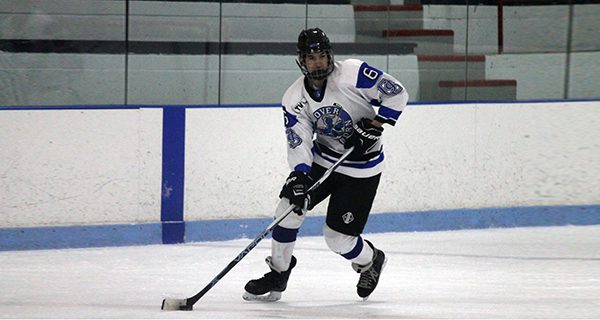 Following the win over Holliston, DS suffered a tough 4-3 loss to Oakmont Regional on Wednesday evening, but rebounded in Friday's make-up game with Minuteman Regional with a 4-1 victory to finish the regular season on a winning note as they get set for tournament play. After Minuteman tallied a goal less than a minute and a half into the contest, the Raiders responded through the hard work of the Paolatto brothers, Joe (senior) and Matt (sophomore). After Joe drew a tripping penalty midway through the period, Matt converted on the ensuing power play by smacking home the rebound of a Johnny Goudreault shot from the point to tie the game at one. Less than a minute after Matt's goal, Joe flew down the right wing and was tripped by the Minuteman defenseman. Paolatto returned to his feet with the puck still under his control and came in on a mini-breakaway where he fired a shot over the left shoulder of the Minuteman goaltender and into the back of the net to give DS their first lead of the game at 2-1 with 5:54 to play in the period. The Raiders tightened up defensively and entered the first intermission up by a goal.
Midway through the second period, junior forward Cole Condon gave the Raiders some insurance with a goal on an odd-man rush to give DS a 3-1 lead. With time winding down in the second, Joe Paolatto added his second of the night on the power play to give DS a commanding 4-1 lead heading into the final period of play. Senior goaltender Owen Webb shut the door in the third period and DS held on for the 4-1 victory.
The Raiders will now enjoy a much needed couple days of rest before getting back to work and competing in the State Tournament next week.