The Patel brothers pose in front of the large number of toy donations they collected.
By James Kinneen
Hometown Weekly Reporter
In 2020, kids saw their favorite events cancelled, their contact with friends severely limited, and their big family gatherings moved from in-person to online (to say nothing of potential lost family members). Considering the year also brought record unemployment numbers and mass small business closings, there seemed to be a perfect storm for children being devastated by a disappointing Christmas morning, at a time they needed a great one most.
Looking to remedy this situation and make sure as many kids as possible have a great holiday, Stephanie Patel's three sons, Lukas (11), Sameer (11), and Ravi (4) held a toy drive that collected over 400 toys for Storytime Crafts and the Dimock Center in Roxbury.
"2020 has been a tough year," Stephanie explained. "We really wanted to spread some joy, and this was a great way to do it in a COVID-safe manner and really pull together to help provide for those who need it the most, this year."
If you live in Needham, you may have received one of the flyers the Patel boys dropped in your mailbox, or you my have dropped off a toy on their front porch. But while the Patels didn't do much advertising outside of some social media posts, their drive expanded far beyond just Needham. They had donations from as far as California and Ireland.
If you donated money (they raised around $2,450 dollars), you should know that the Patel boys (Lukas and Sameer, Ravi was the toy organizer) appreciated getting to shop with it. No, they obviously didn't get to keep anything, but Stephanie Patel explained they enjoyed picking out the toys to buy and figuring out how far they cold stretch the money.
"My eleven-year-olds loved shopping the Black Friday and Cyber Monday sales, looking for the best deals to spend the monetary donations on," she explained. "Then we also gave about a thousand dollars to a local toy store to do some shopping for us in Needham, and they gave us a twenty percent discount."
With two eleven-year-old boys doing the shopping, Patel made sure to sort the toys into categories, so her sons knew to get items that someone other than an eleven-year-old boy would appreciate.
"When someone donated money, we made up a ticket. So, let's say mom and dad donated one hundred dollars. I would give it to the kids and we kind of came up with some general categories like arts and crafts, games, puzzles, books or dolls and we'd give the ticket a category and say look for the best deals. What's going on Black Friday? What's going on Cyber Monday? How can we get the best quality toy? They had a lot of fun with that, because it's like, 'we get to look at all the Legos and see what would kids really like.'"
One of the unique things about the Patel toy drive was the ability to drop off toys. Due to COVID-19, many toy drives moved to financial donations only, which took a fun tradition (buying a toy to donate for the toy drive) away from many families. Because of this, Patel said she received thank-you notes from families for allowing them to continue their tradition, by allowing toy donations in their toy drive.
While this was the biggest, this wasn't the first Patel family drive. They have organized them in the past, for items like coats and school supplies.
"My boys and I have done little drives in the past. We've previously collected school supplies before the start of school. We've done winter coats and jackets for a school in Chelsea. I'm a former teacher. I love helping kids and helping schools, and for this year my eleven-year-olds were so excited about it. It really engages them, and we really wanted to help people this year, because it's been a really long year, and as a family we're missing our family, so this was just a nice way to fill that hole a bit."
Because of the sheer amount of boxes they received, Stephanie pointed out that she gave a gift card to both her delivery drivers and garbage men, for all the extra work they were putting in to accommodate all the online ordering.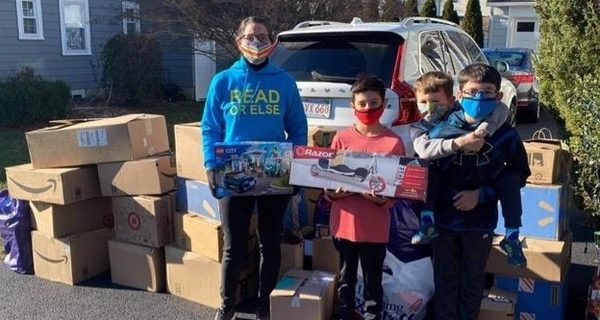 The Dimock Center has been very appreciative of both their efforts and their toy donations.
"The Patel family has been working hard to spread holiday cheer this season!" Raquel Rosenblatt, the Chief Development Officer of the Dimock Center in Roxbury wrote to them. "These brothers organized a toy donation drive in partnership with Storytime Crafts so they could help Dimock families in need have a joyful holiday. We are so thankful for your support!"
But for Patel, it was the Needham community for which she was most grateful. She noted many times how unbelievable the support for the toy drive was, from people constantly asking her how it was going, to family members and friends donating, to random strangers sometimes bringing three boxes full of toys a day.
"We're just so impressed with how the community helped out and supported us, and really wanted this drive to be as much of a success as we wanted it to be a success. In a year of such sadness, it brought us great joy."
On Christmas morning of an especially devastating year, it brought even more joy to others.