Needham Community Theatre (NCT) will open its 2017-2018 season with the production of "Oliver!", a musical based on Charles Dickens' highly acclaimed masterpiece about a young orphan boy caught up in the troubles and turbulence of 19th century city streets. The production is directed by Marianne Lonati and musical direction by Alan Rodi.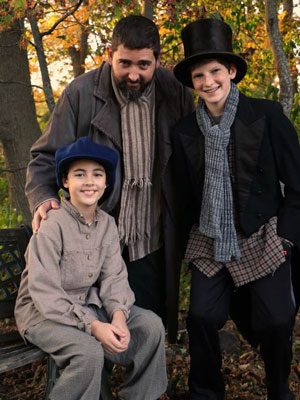 A talented cast, including Needhamites Joshua Batsevitsky as Oliver, Eli Bailit as the Artful Dodger, and Michael and Julie Bailit playing Mr. and Mrs. Sowerberry, will Oom Pah-Pah down the stage, delighting audiences young and old. Other Needham cast members include Sabine Budd, Mike Cooperman, Carol Denker, Ryan Droney, Ava Feuer, Benjamin Gilman, Lauren Inker, Tessa Jones, Becky King, Brian King, Liam King, Daniel King, Rob Pellitier, Elizabeth Shwartz, Corbin Seidel, Spencer Seidel, DE Springer, Nadia Tess, Amiya Tess, Jeremy White, and Arlan Zbarsky.
NCT's "Oliver!" will run from November 17-26 at Newman Elementary School's Carlton Auditorium on 1155 Central Ave. Tickets can be purchased at needhamtheatre.org or at the door: $18 (children/students); $24 (regular adult admission); $15 (group rate for 10 or more).