A woman looks at some of the work Arlene Black Mollo completed while vacationing on the Florida Keys and various Caribbean islands.
By James Kinneen
Hometown Weekly Reporter
Through November 7, the Zullo Gallery will be hosting "In the Moment: Watercolor Paintings by Arlene Black Mollo", a "retrospective of images that express the feelings of the moment each painting represents." The focus of the exhibit is, as Zullo Gallery Board Member and lifelong friend Susan Parker states: "the life work of a truly remarkable watercolorist. Many people paint in watercolor, but they do not paint with the kind of verve and immediacy that characterizes the work of Arlene Black Mollo."
The show is a wonderful opportunity to share the legacy of Mollo's work and also supports the Arlene Black Mollo Scholarship Fund at Emmanuel College. The scholarship was established after Arlene's passing in 2019. All net proceeds from the sale of artwork in the exhibit will go to the fund, providing assistance to a student in the Emmanuel College Art Department, with preference given to female students studying watercolors.
One of eight children raised in Norwood, Mollo lived a fascinating life. A visual artist and educator, Mollo held a Ph.D. in Law, Policy and Society from Northeastern University with a concentration in arts cultural policy. She earned a graduate degree in art education from the Massachusetts College of Art in Boston and a bachelor degree, with distinction in Fine Art, from Emmanuel College in Boston. In high school, she participated in a foreign exchange program in the Philippines, a cultural experience that fueled her lifelong love of travel.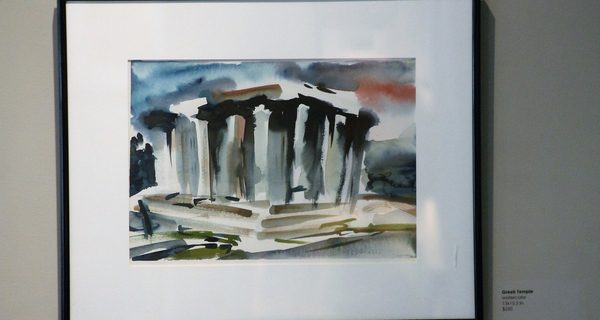 Mollo believed in lifelong learning, education, and promoting creativity and inclusivity. Early in her career, she taught K-12 art in the Medfield Public Schools and served as the Chair of the Fine and Performing Arts Department here in town, a role she cherished. Before her retirement, she was Professor and Chair of the College of Visual and Performing Arts at UMass Dartmouth. She enjoyed additional roles as a docent at the Isabella Stewart Gardner Museum and taught art classes at Rhode Island School of Design and at the Museum of Fine Arts in Boston. Mollo co-founded the Norwood Arts Association, juried countless art exhibitions and participated in her communities in myriad ways to support the arts. Arlene and her husband, Peter, raised two daughters - Westwood resident Jane Mollo Singh, and Sarah Mollo Zengo, a Medfield resident, are both proud to share their mother's artwork and creativity with the local community.
The Zullo Gallery location is particularly meaningful, as Mollo had displayed paintings there in the past. Beyond that, she celebrated her grandchildren's school art shows at the gallery, as well as supported their love of art with special classes such as photography and drawing. Mollo could often be seen at her home on Cape Cod, conducting impromptu art classes with grandkids, grand-nieces and nephews, encouraging them to use different media for creative endeavors. "We are thrilled to share my mother's beautiful and joyous legacy through her artwork - especially here in Medfield where my Mom loved teaching in my younger years," said daughter Sarah Mollo Zengo. "Her use of white space in her paintings is quite unique and refreshing. It's an exquisite show that we hope others enjoy."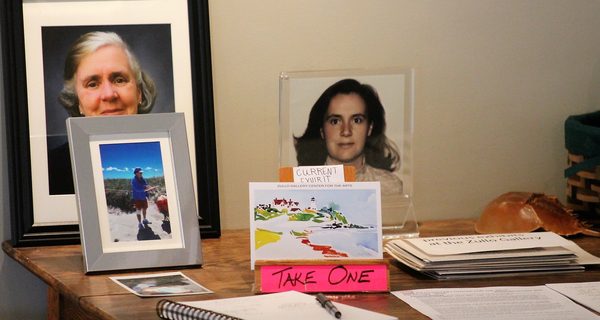 While her adventures and accomplishments are numerous, it was her extensive travelling that provided the inspiration behind so much of Arlene Black Mollo's art. Mollo preferred to paint outdoors or en plein air, where she could paint vistas and landscapes that were right in front of her. Parker explained that Mollo's ability to capture the atmospheric conditions on location was truly remarkable.
Mollo's husband, Peter, talked about how she would often attract crowds with her painting, which caused the occasional complication as her jovial personality challenged the timing of the dwindling natural light with which she had to work. "Arlene worked swiftly and expertly," Mollo explained. "She painted with quick strokes, and outside light changes rapidly. So to capture the moment you really have to work intensely, focus intensely and get the color on paper. If you pause when that's going on you kind of lose the image you were looking at, at that point of time. Did people stop and watch? Yes, all the time. That occurred no matter where she was. And she was a very friendly person who loved people, so sometimes it was difficult to say to the person, 'Please, I need to finish this at the moment, but we can catch up later.'"
Some of Mollo's artwork involved fighting the natural elements of the outdoors, which can sometimes be seen, and were sometimes encompassed into, her paintings. "There are at least three or four paintings, maybe more, that specifically have raindrops in them," Peter added. "She let the drops stay there; she didn't touch them, and they're right in the painting itself."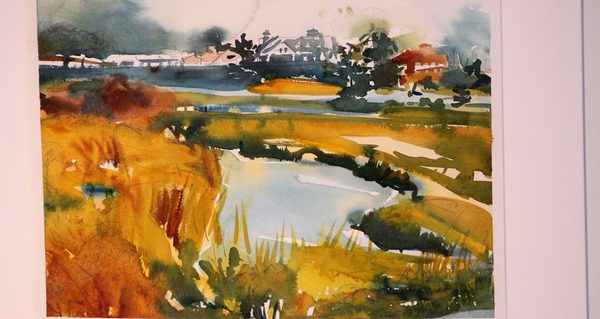 A one-woman show was something Mollo had always hoped to achieve. To carry on her legacy and create the "In the Moment" exhibit, Parker and Zullo Gallery Director Bill Pope went to Falmouth and looked through Mollo's home studio to select more than 50 matted and framed pieces for display. Parker explained that all the paintings in the studio were intriguing and compelling, and that "the opportunity to look at all that work was, in a way, sort of like flipping the pages of a diary" that brought up all sorts of memories of walking the Cape with her friend and the trips about which she spoke.
Similarly, Peter explained, "to Arlene and to me, in many ways, a painting is a time capsule that captures a moment, almost frozen in time."
The paintings span from the 1970s to 2016, and Peter Mollo noted that visitors to the exhibit will get a very clear sense of how Arlene Black Mollo evolved as an artist over her lifetime. As it chronicles a nearly fifty year span, the exhibit shows how Mollo's style went from more realistic in her early days to more abstract images, best exemplified by her Key West paintings and those from Nobska, near her home in Falmouth, which he identified as seminal works in realizing the progression.
If you don't see her paintings at the Zullo Gallery, you may still run into artwork from Arlene Black Mollo during your travels. Her work has been displayed in the US, Canada and Europe. While she displayed her art all over the country, she also graciously gifted paintings for weddings and birthdays to close friends and family. Perhaps most impressively, her designs for stained glass windows have been used in churches such as St. Thomas More in Braintree, St. Anthony in Cambridge, the Casco Village Church in Maine, and the U.S. Coast Guard Academy in Connecticut. Her tireless art advocacy also led to multiple philanthropic community contributions including a sidewalk art display around the Falmouth Library that remains on display today.
With all that said, given the breadth and depth of the work on display, this is a Zullo Gallery exhibit Medfielders won't want to miss.
The Zullo Gallery is open Saturday and Sunday from 12-5 p.m. More information and a visual portfolio are available online at arleneblackmollo.com.