[ccfic caption-text format="plaintext"]
By Katrina Tummino
Hometown Weekly Correspondent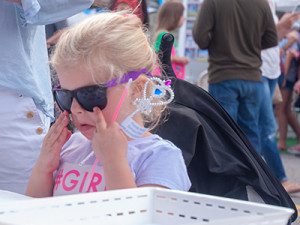 Early September typically calls to mind the changing of seasons and school starting, but for those living in Medfield and its surrounding towns, the early beginnings of fall also bring a much-anticipated, community-oriented event: Medfield Day.
On September 15, residents found themselves surrounded by seemingly endless activities, refreshments, and games while strolling through downtown Medfield's surrounding streets. Numerous tables, manned by local businesses and community organizations, lined either side of North and Frairy Streets, providing parents and kids with different activities including ring tosses, corn-hole, and face-painting.
When asked about their favorite parts of the day, Emily McKechnie of Medfield excitedly replied "the henna!"
"And face-painting," her mother, Tara, added. "Which we haven't done yet, but that's what's coming next."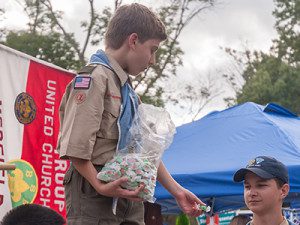 Other favorites among young residents included blow-up mazes and inflatable slides, which were grouped on an open field adjacent to the streets. Running straight from the parking lot toward the inflatables, two brothers could barely contain their excitement as they yelled "bouncy house!" with their dad jogging to keep up.
Although the inflatable mazes attracted families with young kids, Medfield Day proved to be an event for all ages. Many tables around the pond housed high school sports teams, including Medfield High School's volleyball, soccer, and field hockey teams, all garbed in game-day uniforms.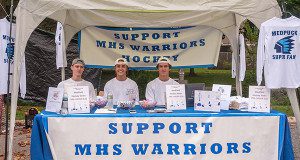 Although the excitement of the day and its attractiveness to all ages caused streets to crowd, the event's sprawling setup allowed for quieter areas to emerge. It was in those quiet spaces where one could relax by Meetinghouse Pond and enjoy the food provided by the various community organizations.
It was truly a fun-filled and relaxing day for the community.
Photos by Audrey Anderson & Katrina Tummino