The event ended with an optional jump over a choice of stone walls.
By James Kinneen
Hometown Weekly Reporter
On Sunday morning, the colorful foliage of fall in New England was greeted by the majesty of horses galloping through fields of green grass, trotting through piles of fallen leaves, and elegantly leaping over Colonial-era stone walls. It was a picturesque scene straight out of a Heywood Hardy painting, until you looked closer and realized both the riders and horses were dressed as minions from "Despicable Me."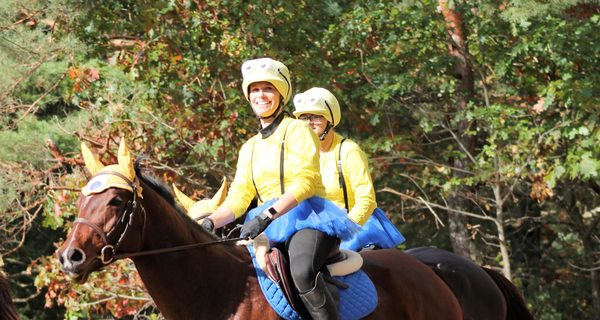 Such was the unique mix of historical reverence and modern-day fun of Sunday's Norfolk Fall Hunter Pace, which saw 180 riders and horses make their way from the Norfolk Hunt Club in Medfield to Springdale in Dover and back. A hunter pace is unique in that it's not a race, but there are still winners. Essentially, the idea is to try and ride the nine mile course as fast as one would during a fox hunt, and the winner is the person who comes closest to that (unknown to them until the end of the race) time.
"You're to ride the country as the correct pace for what would be a fox hunt, which is what our club is," Norfolk Hunt President Lisa Lewis explained. "Where there's the right place to gallop, you gallop, where you should trot, you trot."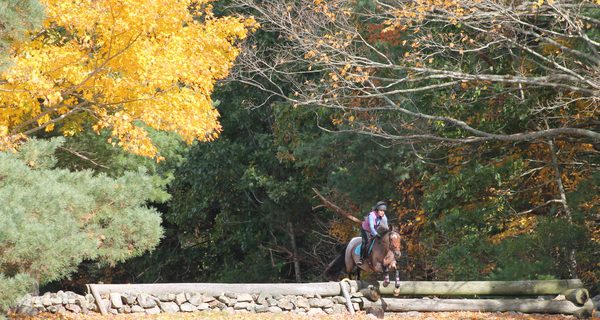 It should be noted that while it is a fox hunting club - they have fox hunts, and they raise foxhounds - their fox hunts are not "live hunts," but instead are (and always have been) drag hunts, where the dogs chase the scent of an animal, not an actual animal.
But the Norfolk Hunt Club isn't just good to foxes - it's also great to the people of Dover and Medfield. Lewis noted that as she both helped people park their trailers and manned the front gate in case a horse broke free and tried to head for the exit, she continually had to turn local spectators away. Due to COVID, the club had to cancel its annual polo event, which disappointed many locals. It also had to disallow any spectators from watching the hunter pace. Because of this, Lewis had to turn back many of cars that either drove by and thought the row of trailers meant a polo match was happening, or sought to pull in and watch the hunter pace.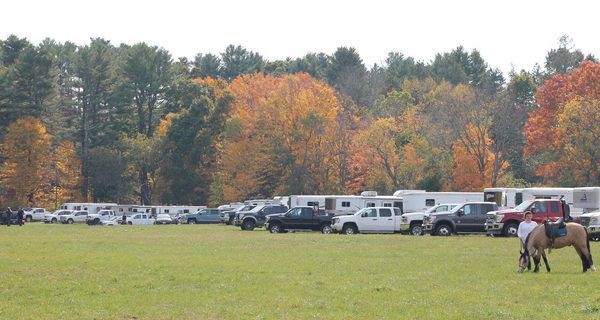 Katie Estes, who ran the registration, noted that there were riders ranging in age from eleven to some in their mid-seventies, and that she knows the riders came from CT, RI, MA, NH and even took the ferry over from Martha's Vineyard. Why did they come so far, and why was the event sold out for two weeks in advance? Because it's a really nice course, among other reasons.
"Every rider that has come through is so happy to get out, and these trails and the land here is really special," Estes noted, "so they really enjoy it. That's why they came this far to experience it."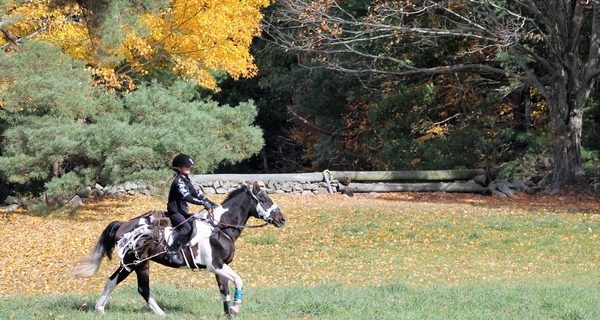 Lewis explained that the area where the event both started and ended was the "Steeplechase Course" where steeplechases were held after the land was acquired in 1927. Because the cost of maintaining the area is - ahem - steep, she also encouraged people to donate as a "friend of the racecourse." While you'd be doing them a favor, the club has done the town many, by purchasing so much green space. This idea, that the club acquired land to be used and maintained for riding, was a common one, as Lewis explained.
"Dover and Medfield are such an equestrian-focused community, and that has a lot to do with the hunt," Lewis explained. "It's part of the reason why we have so much open space. Powisett Farm was donated by a Hunt Club member. This land was bought by Hunt Club members back in the early 1900s. There's a stable right on Center Street in Dover where a lot of our members board and other people can board too, and then we have a kennel where we keep the foxhounds, right off of Center Street in Dover. But those properties, two other properties people are riding through today, and this property were all bought by Hunt Club members, and we work hard to preserve them for equestrian sport, and dog walkers. For the local community, you can ride about 80 percent of what people are riding through today, but two or three of the farms aren't open to the public."
While COVID killed the spectator aspect of the event, it had an unexpectedly positive result: more skilled riders. Katie Estes noted that because so many show riders have had their events cancelled, they are more willing to go to a hunter's pace than they normally would.
"A lot of horse show people that wouldn't necessarily do hunter paces like this are coming out because so many of the horse shows are cancelled. Both eventing (dressage, show jumping and cross country) and show jumping - a lot of the competitions have either been cancelled or kept to the minimum."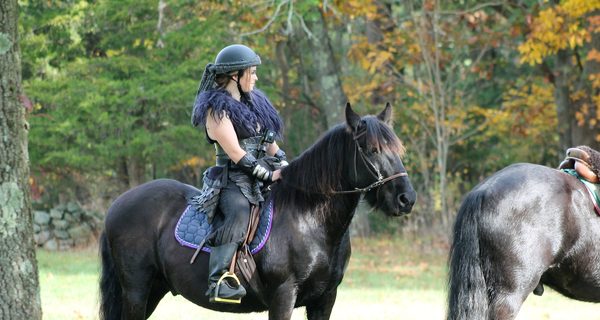 The winners of the "first flight," whose optimum time to match was 1:49:48, were Sarah Murphy and Kelsey Buckley, with a time of 1:48:42. The winners of the "second flight," whose optimum time was 1:56:29, were Brianna Touzkian and Kris Low at 1:57:06. The winners of the "Hilltoppers," whose optimum time was 2:18:05, were Sarah Morenz and Susan Mysliwicz at 2:18.38.
But the crew from Martha's Vineyard, Anne Parsons, Danielle Mulcahy, Sarah McKay and Sofia Campos were the team that won the prestigious "Best Costume Award" for their medieval look.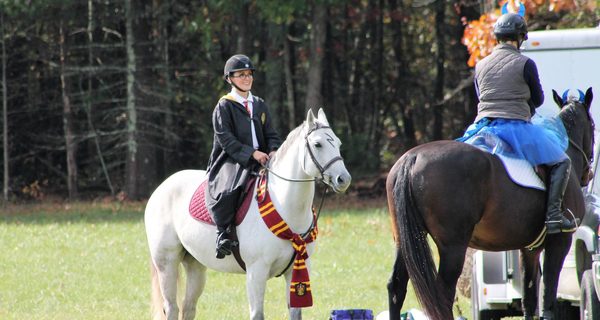 There were some strong contenders, though, ranging from a Harry Potter-inspired group to some ballerinas who wore tutus, hippies with flowers tied to their horses tails, and a couple of Wonder Women.
Despite all the pomp and circumstance people generally associate with equestrian events, it would be hard to view the hunter pace as anything other than just plain fun. While it's unlikely a "best costume" award is ever going to be added to the Olympics, it sure made the sport, which is so often unjustly maligned as being stodgy and snooty, seem like a blast. Hopefully, the next time the Norfolk Hunt Club holds its next hunter pace, there will be spectators around to see it.