The Dover Historical Society has announced that Caryl Farm, which includes both the Benjamin Caryl House and the Fisher Barn, will reopen for the rest of the fall season, beginning Saturday, October 6, and continuing until the end of November. The Caryl Farm will be open on Saturday afternoons from 1:00 p.m. to 4:00 p.m., and also by appointment.
The opening was originally delayed by the discovery of a serious infestation of powder post beetles in both buildings. Although the Society had hoped and expected to be able to complete eradication of this problem by the end of the summer, it has become clear that it is both far more extensive, and therefore expensive, than they are currently able to deal with. Given the beetle's upcoming dormancy during cooler weather, it is deemed safe to reopen while the Historical Society assembles the necessary resources to completely eradicate the destructive situation.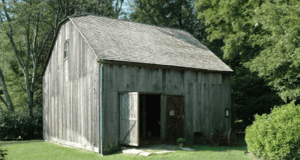 The Benjamin Caryl House was built in 1774 by Dover's first minister, Benjamin Caryl, and lived in by his descendants until the last, Ellen Miller, who died in 1898. Her estate was acquired by her executor, George Ellis Chickering, and left by his will in 1920 to the Town of Dover, under the care and control of the Dover Historical Society. The Fisher Barn, also built in the 1770s, was originally located on Centre Street. It was saved from demolition by the Historical Society in 1998, dismantled, and moved to the Caryl House site in 2000. Ownership was transferred to the Town with a similar responsibility agreement. The Town and Historical Society are proud of the nearly 100-year collaboration allowing the preservation and operation of these significant historical buildings.