If you'd wandered the halls of Westwood High School in the early part of October, you would have heard a lot of Spanish being spoken. During that time, the school hosted 13 students from Spain. Spanish teacher Eileen Flanagan and Dr. Kathy Lee, who chairs the foreign language department, arranged the trip. The students lived with local host families for more than two weeks.
"It's a chance for our students to meet these real teenagers who are really speaking the language and are immersed in the culture," said Flanagan.
Aaron Garcia is one of the students who made the trip despite initially being hesitant. In the end, his mother strongly urged him to reconsider, and he couldn't be happier she did.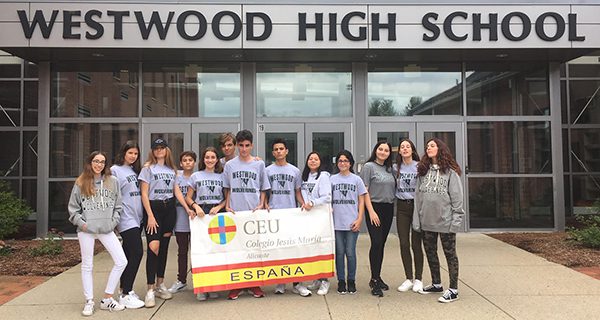 "I love this country," Garcia said, calling Boston a "very big city" in comparison to his home in the city of Alicante. Among Garcia's many local experiences, he made particular mention of the opportunity to go apple-picking.
While Garcia's mother was eager for her son to go on this adventure, the same could not be said for student Claudia Beneyto.
"I was so excited for the trip," she said, "but my mother was scared." Eventually, Beneyto's father convinced his wife of the value of the program and that their daughter would be safe.
"It's been super cool and exciting," Beneyto said. "This school is super different. I'm having a great time."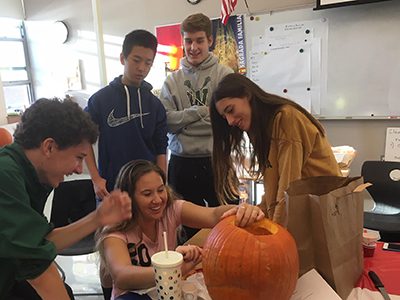 The program is important for the Westwood students as well, exposing them to the Spanish culture and native speakers of the language. The visiting students spent time in a number of different classrooms. One student was scheduled to miss a day of school but changed plans because she didn't want to miss the day the special visitors would be in her class.
Westwood 10th grader Josh Minsky summed it up as a "cool experience" to meet these peers from "across the world."
Those Spanish students are, of course, learning a lot while here. Some of the things we take for granted have been some of the most eye-opening for them.
For Garcia, he quickly learned that the traditional Spanish greeting of a kiss on either cheek is not at all as common in the United States.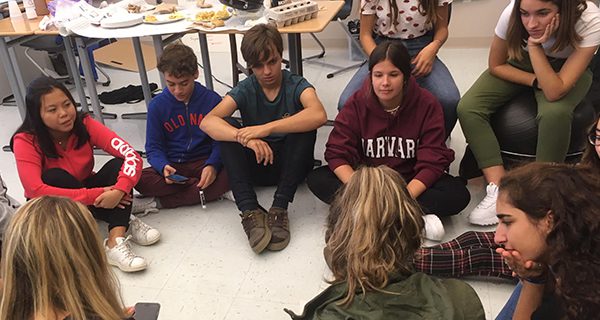 When asked about her favorite things here, Beneyto answered, "Squirrels." Many of the students agreed that furry little creatures were a rare treat for them, despite being ubiquitous and often troublesome for those who live here. On a day trip to the Boston Common, the students took countless photos of squirrels.
While the visiting students shared their experiences inside the school, that changed once the day ended and they went "home" to their host families. Each of them will return to Spain with their own unique stories to tell from that home life. One generous family even took a student along on its weekend trip to Disney World in Orlando.
Vanessa Ruiz is the teacher from Spain who helped arrange the trip and accompanied the students. She used to work with Dr. Lee, and that pre-existing relationship laid the groundwork for this exchange program.
"For a lot of these kids, it is not only their time first here, but their first time going anywhere without their family," Ruiz said. "When they're here, they are living and eating with these kids and their host families. They're speaking English and being independent."
Ruiz added that the experience gave the students a glimpse into suburban life in Westwood, in addition to what they got to see in Boston and Washington D.C. The group spent a weekend in the nation's capital as part of the trip.
All of the teachers also talked about how important it is for them to continue to learn from each other.
"We need to continue to develop these relationships," Dr. Lee said. "We're constantly learning from one another."