By Daniel Curtin
Hometown Weekly Reporter
Westwood Police Officer Brad Pindel led a talk on bus safety at the Martha Jones on Tuesday morning, June 12, to young children getting ready to make the transition to elementary school.
Pindel has been the school resource officer in Westwood for the last 14 years and has been giving this talk on bus safety to countless children in Westwood over the years.
Parents and young children sat in the gym listening to rules on how to be safe while waiting for the bus, sitting on the bus, and getting off the bus. Pindel gave a talk followed by an instructional video on proper bus etiquette and safety.
Suzi Orsillo, one of the mothers present at the talk, credited Officer Pindel for getting the kids eager and excited to learn about bus safety.
"Officer Pindel is such a gift to the kids in this community," commented Orsillo. Having him as a physical presence in front of the children, in addition to the movie, made the event a "great learning, hands-on, piece."
Some of the advice on bus safety included little tips. For example, children were told to get to the bus stop on time to avoid rushing, and to make sure never to go near the wheels of the bus, behind the bus, or to a location where the bus driver can't see them.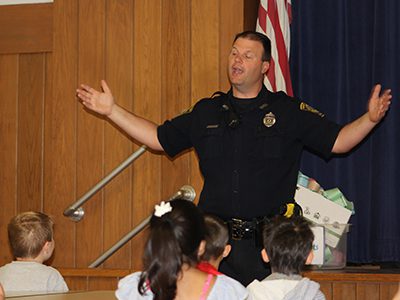 Pindel credited the role the community plays in helping with organization and making sure the kids get the proper guidance.
"Early childhood development has done a phenomenal job in organizing it and getting the word out. It really is a community effort, and it just shows what can happen when everyone works together," Pindel said. "It's a small program, but I think it's important to a lot of kids."
In addition to the talk and watching the informational video, the kids later boarded the bus and practiced some of the lessons they were just taught.
Principal Donna Tobin at the Martha Jones knows that it is very important for young children to know how to act on the bus in case an emergency ever occurs.
"It's really important that they get these lessons before they are actually riding the bus. Hopefully, they'll come back into their minds during any type of emergency, or if the bus driver needs cooperation," Tobin said.
Officer Pindel feels that it's very important to build a good relationships with these kids at a young age so they know that police officer are there to help them and are approachable figures.
"It's very rewarding. The fun part is I'll see them the next year when they're in kindergarten and I'll be walking down the hallways and they'll recognize me," Pindel said. "It's a good way to get an introduction to them and try and reduce some of the worries people have around having police officers being schools."