As always, the mechanical bull was a huge hit at the All Night Graduation Party.
By James Kinneen
Hometown Weekly Reporter
On top of prom, the boat cruise, field day, the senior fashion show, and graduation parties in general, because of COVID-19 restrictions, last year's Westwood High School class of 2020 didn't get to experience the annual All Night Graduation Party (ANGP). Marking the first cancellation in over thirty years, Westwood Community in Action (WCIA) was instead able to adjust and honor the Class of 2020 with more COVID-friendly celebratory events, like a drive-in movie, a "grad walk" featuring individual senior portraits hung on the football field fence, and neighborhood parades that allowed the community to line the streets of Westwood to cheer the graduates on as they drove to the high school.
But since it's quite honestly irreplaceable, thanks to some creative thinking, constant adjustments, hours of reimagining, and old-fashioned hard work from the WCIA's ANGP Planning Committee, on June 6 of 2021, the All Night Grad Party returned to Westwood High.
Well, to the Westwood High parking lot, mostly.
Westwood Community in Action is a nonprofit organized over thirty years ago by parent volunteers to raise funds, plan and organize the All Night Graduation Party as a safe, drug and alcohol-free celebration for seniors on graduation night. Having to constantly pivot their 2021 plans as COVID restrictions changed, WCIA volunteers met nearly weekly and discussed how they could accommodate mask-wearing, limiting line sizes, and encouraging social distancing. Eventually, enough restrictions cleared that the 2021 ANGP Planning Committee realized the party could go on, but with some changes.
"We have such a wonderful committee" ANGP Planning Committee Chair Jennie Conway explained, "full of really great people who just kept pivoting, pivoting and pivoting, like 'okay, if we're not going to be able to do this, then what about this, and we're not going to be able to do this, so what if we do this?'"
The main decision the ANGP Planning Committee made that separated this year's colorful luau themed event from past ones, is that they would hold most of the party outside and come inside for late night events - like the Chinese food buffet, hypnotist performance and showing of the senior video.
With ninety-five percent of seniors participating, graduates could run through an inflatable laser tag obstacle course that would actually have been too big to fit inside the gym, visit a psychic, listen to the DJ's music while dancing in the streets, get a caricature drawn of themselves and friends, ride a mechanical bull, make some crafts for their college dorm rooms, visit the candy or ice cream bars, and participate in many more activities.
One upgrade from past years came to the casino games section (where students could win donated gift cards). It used to be poker-only, but due to its popularity with prior graduates, the casino expanded to a variety of table games in 2021, which Planning Committee Chair Jennie Conway said both the seniors and the volunteer chaperones clearly enjoyed.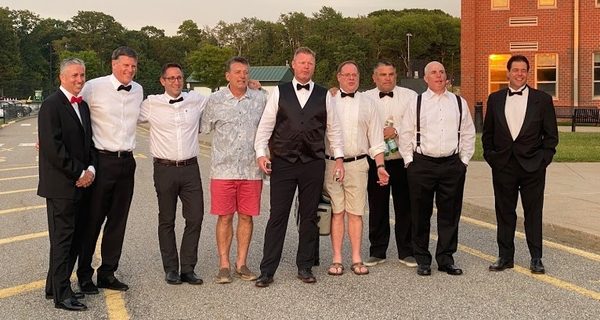 "Typically, we have just done poker, but this year we did more casino games and that was a huge hit. A bunch of dads came in in their black jackets and ties looking really professional, but they were just Westwood dads. The blackjack and roulette tables were full all night, and all the dads who participated said, 'I would totally come back and do that again, that was so much fun.'"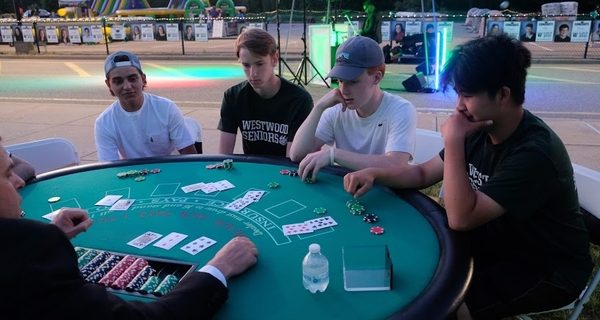 Other changes were not as popular, particularly for for an 'all night' grad party. This year, the party started an hour earlier and ended at 2:30 a.m. instead of 5 a.m. - although Conway noted that ending a few hours earlier was not a huge deal since the last hours of previous parties could be tough, due to kids getting tired after a long graduation day.  Instead, the main drawback of having the event outside was that, while Conway applauded the "carnival style" decorations they were able to put up outside, it wasn't the same as seeing the high school drastically change overnight. 
"Typically, the WCIA volunteers decorate with using a theme, and the high school gets transformed overnight. We weren't able to do any of that type of thing, so we decorated outside in a different way. It was more of a fun, carnival type of feeling, since you're outside and we used a lot of lights. We didn't decorate in the same way. We were able to have lots of the same activities, but the transformation of the inside of the high school didn't happen. That takes months of preparation and putting together decorations and a lot of very creative people building scenery, and we just weren't able to do any of that."
Conway applauded around 130 volunteers, many of whom are not the parents of seniors, as the committee tries to keep senior parents from chaperoning their kids' All Night Graduation Party (which the seniors appreciate). But in an email to Conway, it was the Westwood seniors that hypnotist, Jim Spinnato wanted to rave about.
"Having been fortunate enough to perform at thirty-plus shows every June to celebrate graduation, I can honestly say that the students at Westwood have been my absolute favorite," he wrote. "Always a fun, polite and enthusiastic crowd, not to mention the incredible graduate volunteers on stage. It's the one school that I look forward to performing for every year."
Dealing with ever-changing COVID restrictions, the uncertainty of whether long-running sponsors would be able to help given all the issues COVID-19 created for businesses, and a host of other issues, the ANGP Planning Committee likely dealt with many long and sleepless nights to give the class of 2021 their All Night Graduation Party.