By Lauren Schiavone
Hometown Weekly Staff
Beth Swinning carries the spirit of Shark Week everywhere she goes.
"The librarians at the public library visit us to get the kids ready for summer reading," The Martha Jones Elementary school librarian revealed. "We worked together for this visit to get everyone excited for Shark Week!"
Swinning and her family host Shark Week celebrations every year to boost enthusiasm and learn more about the ocean -- and she visited Westwood Public Library on Thursday, July 28, to share the love with a special Shark-themed storytime.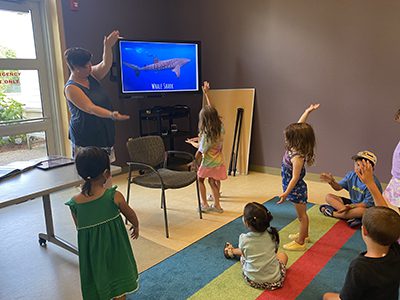 Children made themselves comfy and listened to Swinning's animated narration of shark picture book, "I Am the Shark". The book explained various sharks' relationships to the ocean, and even gave a lesson in self-confidence as a great white shark ponders what it is, exactly, that makes him so great.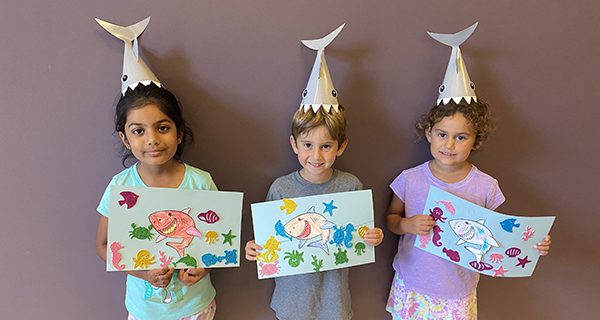 Swinning also composed a fun song for children to remember all the sharks and their unique individual abilities. Sang to the tune of the infamous "Baby Shark," it recalled various trivia, such as the fact that lantern sharks are the smallest and can fit in the palm of one's hand.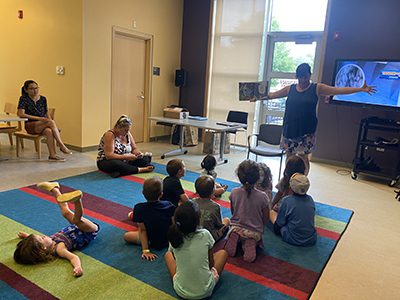 Kids clapped their hands, flashed their great white smiles and celebrated Shark Week together enthusiastically during the visit.
The creative kids were given cutouts of sharks to color. The renderings ranged from realistic to silly. Soon, they were creating entire ocean scenes. Families thanked Swinning and the Westwood Library staff on their way out, and went home with shark party hats, beautiful ocean drawings, and heads full of valuable knowledge about these denizens of the deep.
For more information on summer reading and other library events, visit https://www.westwoodlibrary.org