When one of the stories talked about feeling extreme joy; the performers were very animated in their portrayals of the emotion.
By James Kinneen
Hometown Weekly Reporter
On Saturday afternoon, Westwood's Hale Reservation played host to a Juneteenth celebration featuring The Playback Experience's performance of "Celebrations of Freedom: Let's Talk About Race", as well as some student-led discussions from a trio of Westwood High Class of 2021 graduates from the LTARaCE (Let's Talk About Race, Culture and Ethnicity) Program.
Because this was the first Juneteenth program put on at Hale, you may think it came as a response to the recent passing of the bill to establish Juneteenth National Independence Day as a federal holiday.
Westwood METCO Director Lateefah Franck explained, however, that for months before the bill was signed, she had been looking to partner with Hale for a while, and saw a Juneteenth celebration as the perfect opportunity to do it.
"Not knowing that was coming down the pike, I had been talking with [Hale Executive Director] Eric Arnold about ways to partner the METCO program and Hale, and we thought 'wouldn't it be wonderful to have a celebration in the spring?' So, as we began talking about that, Eric had also been working with Will C from Playback Theatre, so the three of us met, along with Inclusive Westwood, and started thinking about doing something, I thought we could have a Juneteenth celebration, since it's mid-June and the weather will be nice."
After speaking with some of the LTARaCE students and watching a few of Will C's performances online (where people knew they were being recorded), Franck realized aside from being entertaining and informative, Will C's work stands for some of the same things as LTARaCE. For example, Will C did not want any event recorded on video or any of the personal stories people shared at the event shared outside of it - which is also one of LTARaCE's norms regarding their discussions. Additionally, the very nature of how the program works (question, thought, answer, create a skit) lends itself to the holiday. "For me," said Franck, "Juneteenth is about reflection and celebration, and then action, so I think Playback Theatre is perfect for that mission."
LTARaCE members Hermela Haile, Samira Lopez, and Jania Joseph ( two of which will head to UMass, with the third going to Boston University in the fall) noted that they felt the laid-back, outdoor, family-friendly atmosphere would be more welcoming and allow people to open up more about such a heavy topic. Being unfamiliar with what Playback Theatre, though, the majority of the day's attendees likely had no idea exactly what they were in for.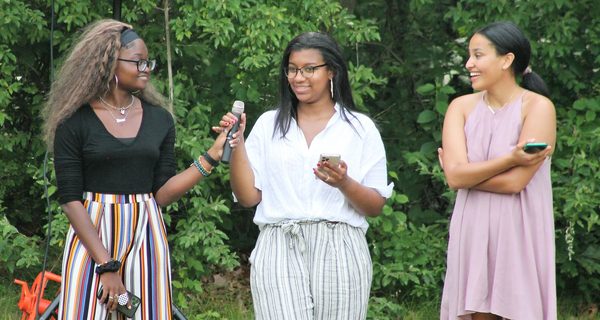 Essentially, Playback Theatre is a community-building improvisational show in which a host (in this case, Will C) asks audience members questions, and after a volunteer offers their answer, the acting troupe creates a skit based on that answer - although the skits were often more about capturing the essence of the story than completely acting it out, with Will C asking the person who volunteered their answer after every performance: "Did that speak to your feelings?"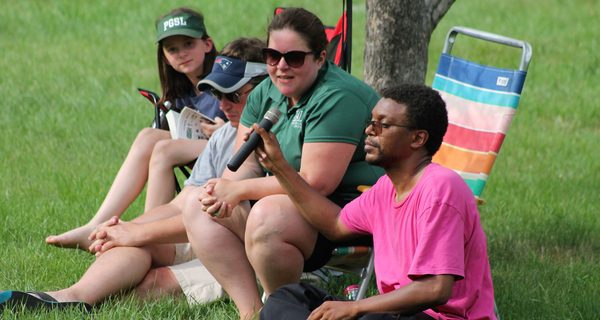 Based on a Juneteenth performance Will C developed with the Oakland Freedom Theater, this was actually the first performance by this exact lineup of actors, some of whom were former University students of Will C, while others were actors he'd worked with before in different companies. Will acted as the performance's host, grabbing a microphone and jogging around Hale's grass (he could have called people to sit closer to him, but wanted attendees to feel comfortable if they were nervous about COVID and still wanted to practice social distancing), asking pointed questions to the audience and seeing who was willing to share their answers.
While I won't share answers or the skits that were created from them, Will C's questions included: "When did you notice race would play a role in your life?", "What emotion does Juneteenth make you feel?" and "When have you felt proud to be the race you identify with?"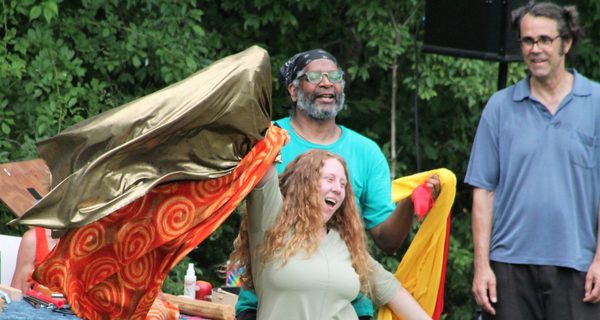 While the Playback Theatre performances were more individual (in the sense that, for the most part, Will C asked the question and only one person publicly shared their answer), when the trio from LTARaCE took the stage, they showed some of what they tend to do in that group. Audience members were split into groups and asked similar questions to be discussed together, before the girls asked if any group would be willing to share their answers.
Since so many Juneteenth celebrations, particularly in the Northeast, are new, it's tough to say what types of celebrations will become longstanding traditions and what will fade away. But if difficult discussions remain an essential part of the holiday, with its combination of a laid-back atmosphere, entertaining show and deep conversations about sensitive subjects, Hale's Juneteenth theater event may be here to stay.