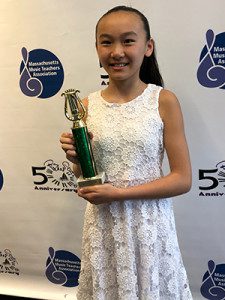 Emily Ma, an 11-year-old fifth-grader at Martha Jones Elementary, won first place at the Massachusetts Music Teachers Association's Bay State Contest in May, and also performed at the Carnegie Hall in New York City in June. The MMTA Bay State Contest is a major state-wide piano competition in its 50th year, and features the most talented and advanced pianists in the state.
Emily performed at Carnegie Hall as a winner selected by the American Fine Arts Festival. Emily played Claude Debussy's "Arabesque No. 1" and Joseph Haydn's "Sonata in B Minor." She has been playing piano for seven years and studies at the Merry Melody Music Academy with renowned piano teacher Vivian Tsang.
"Winning Bay State and playing at Carnegie Hall made me believe that I can achieve anything I set my mind to," said Ma.