[ccfic caption-text format="plaintext"]
By Rama K. Ramaswamy
On Thursday, November 2, Wellesley spellers congregated at the Sprague School gym to compete and raise funds at the 28th annual Wellesley Education Foundation (WEF) Spelling Bee. The bee raised over $60,000 in funds that will directly benefit education in Wellesley.
The winning word for the championship round, after seven tantalizing knockout rounds of sequential spelling, was "legerdemain," from the 15th century Middle French, meaning "conjuring tricks." The winning team was Wellesley College, with members Christine Dolan, Vicki Mutascio, and Ann Stout. According to WEF Co-President Susan Ryan, "they really wanted this win after competing year after year for the Ruth Humphries Trophy! I'm really happy for them that they won this year".
Speakers for the evening included WEF Co-Presidents Erica Recht and Susan Ryan, Bee Co-Chairs Rebecca Cahaly and Eunice Groark, and WHS English Department Head Natasha Goddard, who took a few moments to address and highlight how important WEF grants are for education.
WEF Co-President Erica Recht and Co-Vice President Victoria Ostler shared the following sentiments: "Everyone from the Wellesley community and our WEF board members did an incredible job putting this event together. One of the many reasons this event is so rewarding is that it allows adults and younger teens to compete in a completely supportive environment; the brain activity and excitement that goes with the WEF bee is just as stimulating as a physical competition on the sports field and participants not only interact but cultivate lasting friendships." The bee's marquee sponsors, who returned this year to ensure success, were Wellesley Bank Charitable Foundation, Babson College and Wellesley College. The WEF co-presidents were also grateful for the return of these marquee sponsors, who, as they said, "provide substantial and continued support for the Bee, year after year."
Sportscaster Mike Dowling, formerly with WCVB Channel 5, reprised his role as emcee. "[The bee] continues to be the best community event of the year with so many volunteers and participants contributing to the continued high quality of Wellesley public education," said Downling. "And it's so much fun!" Dowling also was rooting for the middle school and high school teams, who were at times, toe-to-toe with professional [adult] bankers, newspaper editors, college professors, high school English teachers and PTO parents, to name a few.
Round one was won by the Town of Wellesley Advisory Committee team for spelling "ekistics" correctly. Round two was swiftly taken by Wellesley College for spelling "rocaille," and Round three went to the WHS National Honors Society team for spelling "equinoctial" without making the common mistake of adding an "x." Round four was a swift win by Upham School's PTO team for the word, "punya." The Friends of Wellesley METCO team found round five rewarding by landing the word "naphtha" - team "METCO Marvels," indeed. The Wellesley United Soccer team scored their winning goal in round 6 with "bureaucracy," and the School Committee Alumni team won the "second chance raffle." Lastly, round 7 was won by the WHS PTSO team for "froufrou."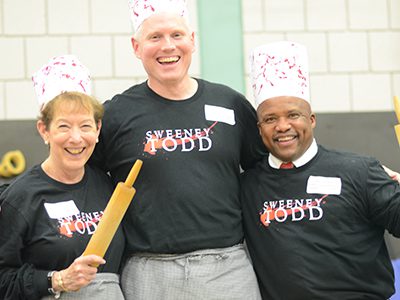 For the championship round, the first word that felled several teams was "netiquette," or as we understand it, common parlance for the under-twenty crowd. The second championship round word was sheer "ecocide" for five out of the seven teams spelling "prolegomenon," which resulted in the Darwinian selection of all teams except Wellesley College and WHS Honors Society. The two teams were tied for next two words, "liliaceous" and "ocicat," but Wellesley College finally emerged victorious. The WHS National Honors Society team members were Christine Yu, Dillon Hourican, and Shin Kim.
Attendees agreed that the bee is always exciting, but one of the big highlights of the event is the creativity of the WMS teachers. They "went big" and "brought it," as acknowledged and unanimously selected by the judges for the "Spirit Award." This is the third year in a row that they've won this coveted prize. The WMS teacher team called itself the "Spells Angels," adopting the guise of a biker gang. "They tried to intimidate me," emcee Mike Dowling joked.
Drew Bourne, WMS health and fitness teacher, "comes up with clever ideas every year," said his teammate and fellow health and fitness colleague, Kari Sciera. "We have more fun than the kids! And it's for WEF, which means kids and teachers always win!" WHS English Department Head Natasha Goddard was the third member of team "Spells Angels."
"The Spelling Bee night is always special, and this one was no different," WEF Spelling Bee Co-Chairs Rebecca Cahaly and Eunice Groark concluded. "It was simply wonderful to see so many teams from all parts of our Wellesley community come together to have fun and raise money for our schools! The energy in the room was incredible and it was such fun to see the range of teams participating in this fun event! All in all, it was another successful and truly fun evening."
WEF's mission is to invest in programs that enhance, enrich and maintain educational excellence and foster innovation in the Wellesley Public Schools. To learn more or make a donation, visit http://www.wellesleyeducationfoundation.org.