By Rama K. Ramaswamy
It was a rainy morning, but Wellesley College's 570 members of the class of 2017 gathered under tents, along with their teachers, parents, and famous alumni to, as Secretary of State Hillary Rodham Clinton instructed, "go forth, be great. But first, graduate." This was Clinton's third address to the women of Wellesley College; the first was in 1969 and the second in 1992.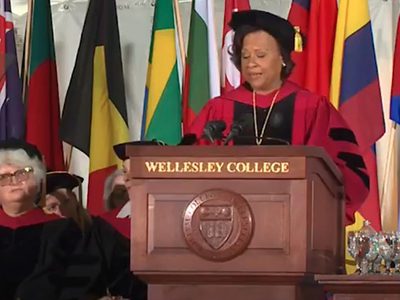 Amidst concern regarding who this event was really about - the graduates or another critique of national politics, as outlined in the student-run college editorial, The Wellesley News (goo.gl/7Rh3fh) - Clinton urged this year's crop to seek, speak about and defend the truth while letting her audience know how she really felt about the current administration.
Clinton labeled President Trump's new budget proposal "an attack of unimaginable cruelty on the most vulnerable among us - the youngest, the oldest, the poorest and hard-working people who need a little help to gain or hang on to a decent, middle-class life … Let's call it what it is, it's a con. They don't even try to hide it."
Although a few graduating seniors said that they would have been surprised if Clinton had not made a few political comments, they also acknowledged that she covered a smattering of "everything." She cautioned the soon-to-be-graduates about the potential parallels between the Nixon era and current Trump Presidency and echoed sentiments of her 1969 student commencement address, when she encouraged her fellow graduates to make "what appears to be impossible, possible." Clinton added, "it's often during the darkest times that you can do the most good."
One Wellesley graduate said that her favorite part of Clinton's speech was when she quoted Vaclav Havel, the dissident Czech playwright, who wrote an essay called "The Power of the Powerless."
"And in it, he said: 'The moment someone breaks through in one place, when one person cries out, 'The emperor is naked!' - when a single person breaks the rules of the game, thus exposing it as a game - everything suddenly appears in another light,'" related Clinton. "What he's telling us is if you feel powerless, don't. Don't let anyone tell you your voice doesn't matter. In the years to come, there will be trolls galore - online and in person - eager to tell you that you don't have anything worthwhile to say or anything meaningful to contribute. They may even call you a nasty woman. Some may take a slightly more sophisticated approach and say your elite education means you are out of touch with real people. In other words, 'sit down and shut up.' Now, in my experience, that's the last thing you should ever tell a Wellesley graduate."
"As Wellesley students, we arrive here believing in a future that respects women's potential and accomplishment," said Casey Butler, 2017 class co-president, in a statement. "But as graduating seniors, and at this moment in history, we look to Secretary Clinton, our sister, as someone who will inspire us to make that future now."
To read Clinton's speech in its entirety, visit http://goo.gl/T00ROq.