[ccfic caption-text format="plaintext"]
By Geena Matuson
Hometown Weekly Staff
Quite a drama is taking place at Walpole Footlighters Playhouse, where the company is presenting Neil Simon's "Lost in Yonkers" now through May 21.
The 1991 Pulitzer Prize-winning play revolves around a small family living in 1942 Yonkers, New York - three generations of deceit and misguided family values colliding under one roof. Through both comedic and heartfelt confrontation, the characters grow both personally and together as a whole over ten months in this 140 minute performance.
"Yonkers" features an immensely talented cast so well rehearsed that one forgets they're not truly peering into the lives of a typical dysfunctional family. Two Walpole High School students, Riley Mulroy as Jay and Colin Wilber as Arty, carry such weighted roles, it was all the more impressive they are so young. Moving from a comedic opening conversation with lines like "I once saw her try to blow out a candle and halfway there she sucked it back on" to an emotional and teary-eyed outburst about their mother, a conversation between the two opens the play with high energy.
The boys' performances are immediately followed by the entrance of their father, Eddie, portrayed by Matthew T. Kinney, grounding the production in New York with his accent and comedic twist on the dialogue.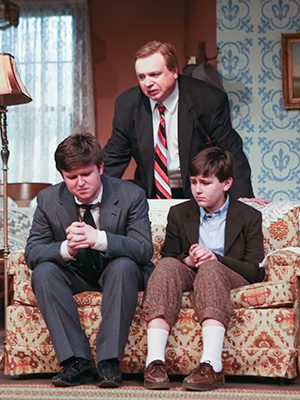 Soon thereafter, the boys' aunt Bella, played by Melissa Pinzari, enters the living room and has the audience falling in love with her endearing manner and style. As the family matriarch, Grandma Kurnitz, portrayed by Karen Wadland, enters the scene, the cast's demeanor changes to one of fear. Wadland holds her own as Grandma Kurnitz to such an extreme, it's hard to think of her portrayal as "just a character." The heavy energy between characters Bella and Grandma, Bella's mother, was palpable, and truly set the stage for the drama that lay ahead.
After relationships between these characters are established, enter Ken Golner as the boys' uncle Louie, brother to Bella and son to Grandma Kurnitz. He carries his street-wise bagman role so well - accent, mannerisms and-all - audiences might just wonder what he's really carrying in that black satchel. He's both a "savvy businessman" and that lovable bad guy, bringing comic relief to the family aura. And, while referenced throughout but only making her appearance in the second act, Cynthia Small joins the family as aunt Gert. Her role may not have been central, but her talent was truly great, both inhaling and heavily exhaling as she delivered her lines.
It's truly uplifting to witness the growth of a family in a little over two hours, and the play was expertly directed by Peter Bradley. Working with the Footlighters since his first run as actor in 1971, Bradley has starred in a variety of performances, including 1978 farce "No Sex, Please, We're British," and has directed three other productions. Bradley grew up in Walpole and attended Walpole High School, where he threw himself into theater, auditioned, and had fun with acting as a hobby while growing a career and a family. After working with the company on and off through several decades, Bradley rejoined eight years ago as Publications Manager on the Footlighters Board of Directors.
The Walpole Footlighters company began in 1924, making this its 93rd year running. In 1957, the official Footlighters Playhouse was established, the company now thriving on ticket sales and tax-exempt donations. The company itself is comprised of a core Board of Directors with an often-rotating cast. In fact, five new members joined in the last year, and they are always casting for new talent. Its system is sound: each year, the Play Reading Committee selects its plays for the next season, usually three per, year including one comedy, one drama, and one musical. Each play holds eight performances spanning across three Fridays, three Saturdays, and two Sundays. While the company mainly produces family-friendly shows, they're "not afraid to be edgier or include contemporary works that we believe our patrons would find intriguing," noted Bradley. These more contemporary or "edgy" works could include a farce about society and relationships, such as recent production "Don't Dress for Dinner," a French comedy about extramarital affairs.
The company creates a strong atmosphere of community engagement, and one Walpole native commented that he started coming to Walpole Footlighters plays last year and had so much fun, each time he and his wife bring more and more friends.
The theater is also the sometimes-home of Walpole Children's Theater, which also holds performances in the space.
Housed in its own theater, the Walpole Footlighters Playhouse is located on 2 Scout Road in East Walpole. Performances of 'Lost in Yonkers' will continue to run May 12, 13, 19, and 20 at 8:00 p.m., with a Sunday matinee on May 21 at 2:00 p.m. Tickets are $20 and may be obtained by calling (508-668-8446) or on the Footlighters website at www.footlighters.com.