In what might be Hometown Weekly's most extreme understatement of the still-young 21st century, we at the paper are confident in saying the last 365 days won't soon be forgotten.
With a world-stopping pandemic, contentious US presidential election, and demonstrations for racial equality dominating headlines around the globe, it won't be surprising if 2020 joins the likes of 1968, 1917, 1848 and 1789 as years historians consider especially momentous in the course of human history.
It's also no surprise that these big-picture stories reverberated at the local level as well, with even the most global of issues taking on the unique characters of these small towns we call home.
While we couldn't possibly fit everything we'd like, the following are some of the stories that made headlines in 2020.
Estelle and the world's most expensive drug
"Estelle Lemieux and her parents have lived in Walpole since moving from Florida two years ago," wrote Amelia Tarallo. "In the living room of their house are a couple of balloons from her second birthday, just a few days ago. Like many two-year-olds, Estelle loves Paw Patrol, her favorite characters being Everest and Sky. She has taken to the New England standard of 'running on Dunkin' and loves her morning egg wraps every day. She adores her grandparents and her Aunt Mimi. She's wearing a leopard print shirt that matches her perfectly sassy personality. 'She calls me Amy,' her mom says, shaking her head and smiling. At two, one of her favorite things to do is to get the mail. 'Wheels, mommy, wheels,' she calls. Within seconds, her mom, Amy Lemieux, has set her daughter up with her wheelchair, and Estelle is off.
"Estelle has spinal muscular atrophy (SMA). The disease is caused by a mutation in the SMN1 gene, which reduces the amount of SMN protein. This particular protein is necessary for the survival and functioning of motor neurons. Without them, children with SMA are expected to never walk and in some cases, lose function of other mobility. According to the Muscular Dystrophy Association, the earlier the onset of symptoms, 'the greater the impact on motor function.' For years, it has been a waiting game for children with SMA and their parents as their children's ability to move on their own lessens. But recent discoveries in medicine have possibly changed the game.
"On August 28, Estelle received Zolgensma. Since then, she has been doing physical therapy three times a week to get stronger. As of the end of December, Estelle is off steroids, making her almost completely done with post-treatment care. Since receiving the dose of Zolgensma, Estelle can now roll out of a sitting position and can do her own version of the army crawl. In June, the Lemieuxs will travel to Florida to attend their first SMA conference."
Walpole's Schlittler starts against Red Sox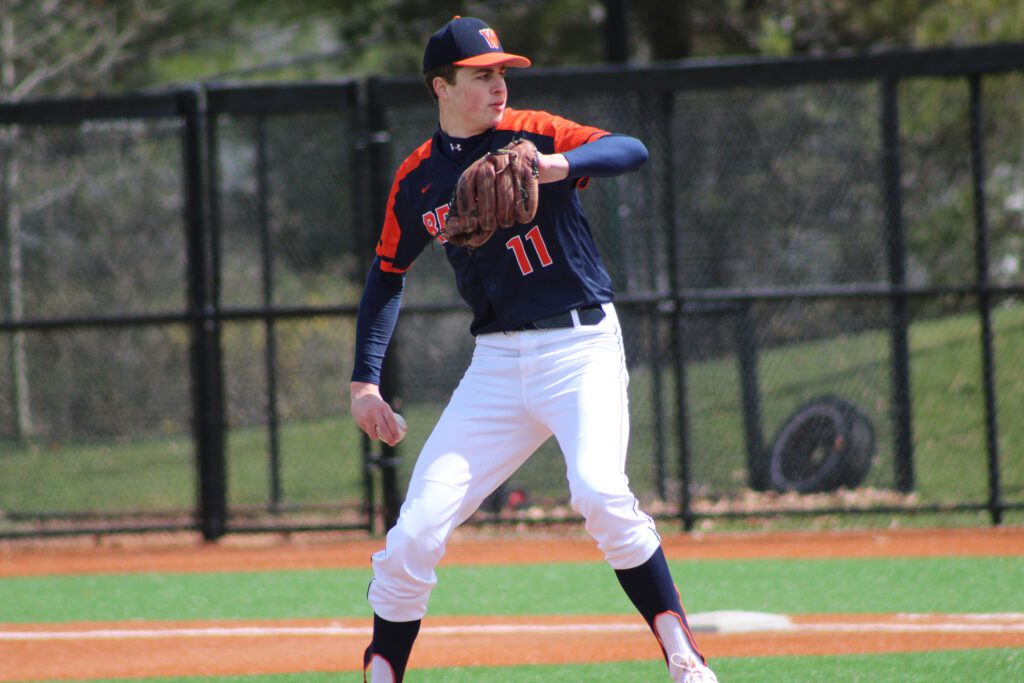 "Northeastern owns one of the best recruiting tools in all of Division I baseball: an annual exhibition game against the Red Sox in Fort Myers during spring training every February," reported Mike Flanagan.
"After leading Walpole High baseball to back-to-back Super Eights during his junior and senior seasons, Cam Schlittler entered his freshman year at Northeastern this past fall looking to make an immediate impact for the Huskies on the mound. It took almost no time at all for Schlittler to make his presence felt for NU, pitching a scoreless inning against Alabama on February 16 before earning the start against the Red Sox on February 21 to kickstart his collegiate career.
"After working a scoreless one-two-three top of the first against the Red Sox, Schlittler was given the remainder of the afternoon off. While short, Schlittler says he could not have scripted a more memorable start to his collegiate career and that Friday's exhibition contest will be a memory he always holds onto."
Hometown communities wrangle with coronavirus
"Earlier this year, officials in the United States became aware of the ongoing COVID-19 coronavirus in China. Knowing that it was inevitable that the virus would reach the United States, officials began creating plans and preparing for various scenarios to handle the illness," reported Amelia Tarallo. "In the past few weeks, Hometown Weekly communities have found themselves preparing for the worst, with town officials trying to find the best possible ways to prevent the spread of the virus.
"Though no diagnosed cases have arisen just yet, the town of Walpole has been diligent in trying to prevent the spread of COVID-19. Like other communities, Walpole is prescribing several methods to avoid the virus. 'Residents can limit the spread of the virus by practicing good hygiene and social distancing (6 feet is recommended). It is highly recommended to avoid crowds and to wash your hands with warm soapy water. Hand sanitizer is also a good preventative measure but it does not take the place of handwashing,' wrote Walpole Health Director Melissa Ranieri. 'Residents should be mindful to avoid touching handrails and other high contact services when traveling. In order to limit the spread and contact we ask all residents who are sick to stay home.'"
KoC stays charitable despite COVID struggles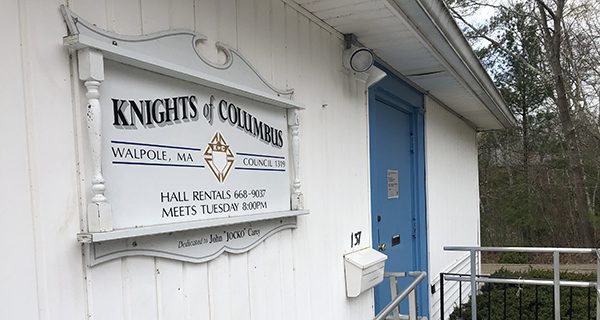 "Like many groups in America, the Knights of Columbus (KoC) are facing new challenges because of COVID-19 and the social distancing rules enacted because of it," reported James Kinneen. "But while the inability to meet in groups, hold functions, recruit potential members during Mass, and engage in other traditional KOC activities has forced them to adapt in unique ways, the Walpole branch has not stopped the charitable giving for which the Knights are known.
"Because people cannot gather in large groups, the Walpole Knights of Columbus weren't able to have their St. Patrick's Day dinner, their Lenten dinners, or rent out their hall on Stone Street for things like Zumba classes. That has had an impact, as Grand Knight Frank Mosher explained, on the money coming into the group, which they donate to charities.
"This hasn't stopped the Knights from going forward with their charitable endeavors in other forms. Mosher explained that the Knights 'make money to give away money,' exemplifying this call to charity. In fact, the group recently raised $500 for the Walpole Community Food Pantry, and some members are personally helping the pantry with distribution."
Local seniors graduate amid pandemic
"Graduating seniors around the country have watched as traditional celebrations, graduations, and even their final days of school have been cancelled as a result of COVID-19. But like everyone, they have grieved, persevered, and created new ways to celebrate amid the ongoing situation. It is no different in Hometown Weekly's communities," reported Amelia Tarallo.
"2020 marks the 146th graduating class of Walpole High School. Of course, this year's circumstances were a bit different than those prior. Walpole High School Principal Stephen Imbusch recognized the enormous list of senior traditions and events that seem to have been swiped away with the wave of the COVID crisis. 'The last few months of senior year are meant to be a time when students enjoy being at school with one another before they commence the next stage of their lives. So many high school events - prom, senior dinner, senior picnic, Film Festival, Dance Company, spring drama, spring sports, spring concerts, Pops Night, NHS induction, Awards Nights, etc. have been ripped away from these kids,' said Imbusch. 'They were robbed of so many things. However, they are superb human beings, and they have handled this disruption to their lives with dignity and with the resolve that I have come to expect from the class of 2020.'"
Walpole gathers in support of police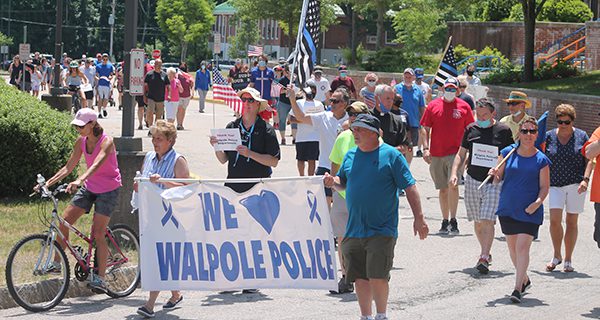 "Around the country, it seems like the police are struggling to find allies," wrote James Kinneen.
"While the police might not have many vocal supporters on a national level at the moment, they had plenty of them in Walpole on Saturday afternoon. Following a town meeting that saw a 3 percent budget increase for the Police Department, despite the ninety-degree heat, hundreds of supporters either walked or drove from the high school to the police station in support of Walpole PD.
"Across from the station, following a moment of silence for those officers lost in the line of duty and the COVID-19 pandemic worldwide, Fr. John Healy from the Blessed Sacrament Church said a prayer. Then, the Pledge of Allegiance was recited, and eighth grader Alex Richardson sang the National Anthem.
"Event organizer Jim Govatsos then spoke about how disturbed he was with the anti-police sentiment he has seen across the country, and how he wanted to organize the march to show how much the town appreciates their police department."
Residents debate mascot change, vote succeeds
"Last Tuesday night, the Walpole School Committee held a virtual forum where Walpole residents, town employees and students made their case why Walpole High School should keep or abandon the Rebel name. Shown on Walpole Media cable access and live-streamed on their Rebel TV YouTube channel, 74 residents signed up to give a three-minute talk about whether or not it's time to 'retire the Rebel,'" wrote James Kinneen.
"While less than 74 people ended up speaking, there were far too many arguments and opinions to catalog them all. However, a number of points came up again and again, with various speakers either bolstering or dismissing them.
"On Thursday evening, the Walpole School Board voted unanimously (9-0) to change the high school's "Rebel" mascot. The decision comes two weeks after a petition was started to change the school's mascot amid racial tensions and worldwide Black Lives Matter protests. A counter petition was also started to keep the nickname."
Walpole boys hockey presented with trophy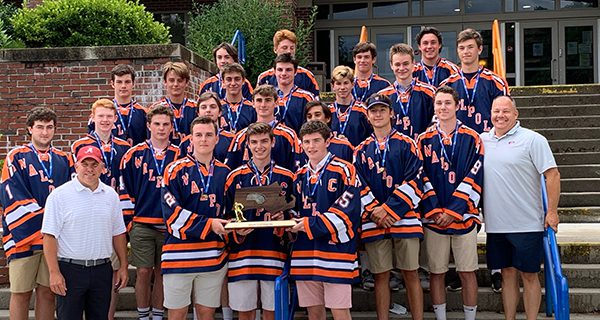 "It was the first good news that Walpole High School boys hockey had received in about four months. The team would be presented with the MIAA Division I trophy despite its state championship contest at TD Garden against Belmont being cancelled due to COVID-19," reported Mike Flanagan.
"After months of thinking about what could have been while in lockdown, the Walpole boys were finally given some sense of recognition for their achievements as the group gathered at the high school on July 22 to be presented with the MIAA championship trophy. The team sported their away blue and orange uniforms and posed together for pictures, accompanied by head coach Ron Dowd.
"It certainly was not the way these athletes hoped to finish their season. For senior captains Liam Fisher, Marc Hirshom and Matt Donnelly, this certainly was not the ideal way to conclude their high school athletic tenure. Despite that, Wednesday's presentation of the trophy is at least some sort of positive recognition for the greatness these athletes achieved during their final months as a WHS athlete. This group will always be remembered for their grit, determination and resiliency."
Hometown Weekly voters head to polls
"While record numbers of Bay Staters voted in the November 3 election by mail due to COVID-19, scores of voters still headed to the polls on Tuesday to vote in person at a wide variety of locations. But while every ballot had the same options printed on them, every town's voting locales were a little bit different, whether due to the location itself or the people professing their beliefs outside," wrote James Kinneen.
"By far, the town with the most people holding signs was Walpole, although the supporters by district varied widely. The Fisher School was strongly pro-Trump, with a large group of men supporting the incumbent (including having an enormous Trump sign and a pickup truck with some Trump flags) compared to a very small number of Biden backers.
"On the other hand, Blackburn Hall had a large pro-Biden contingency, mainly consisting of women who were sitting in lawn chairs and covered in blankets."
Aggie donates $50K worth of produce
"In the middle of a pandemic, with $8,000, Norfolk County Agricultural High School (Norfolk Aggie) produced $50,000 worth of food for local food pantries and families in need using an entirely volunteer workforce, outdated equipment and just a fraction of the open space the school has at its disposal," reported James Kinneen. "On a rainy Wednesday afternoon, the school sought to both celebrate the project's success and look to its future.
"'Aggie Abundance,' the Norfolk Aggie COVID Victory Garden project that aims to 'grow and provide fresh and local produce during a time of food shortages and great need,' originally started as a project to grow pumpkins (for the Haunted Hayride) and garlic, before Lisa Collins and Jeff Thompson shifted the program to address food insecurities during COVID-19."