By Bill Lombardi
Hometown Weekly Contributor
In the early 1900s, people worked long, hard hours, and with the lack of nutrition and medicine, life expectancy was short. Many turned to spiritualism for consolation. It became very popular and a large number of psychics were exposed as frauds.
Leonora Piper was considered legitimate.
For more than 40 years, Piper, a famous Boston medium, had captivated the psychic world. She had performed more than a thousand sittings and was probably the most investigated medium in the history of spiritualism. But then, in the mid 1920s, she disappeared with her two daughters. Intrigued by her life, I wanted to know what happened to her.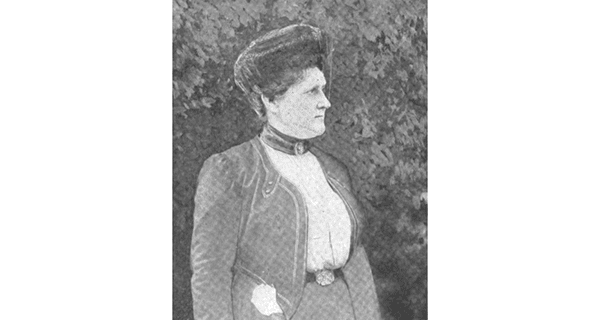 Leonora Evelina Simonds was born in Nashua, NH in 1859. After finishing grammar school, she went to work to help support her parents. Later, she met and married William Piper, who was almost twice her age. He was financially stable. They lived on Beacon Hill at 40 Pinckney Street in Boston. Their two daughters, Alta and Minerva, were born there. William worked as a sales clerk while she stayed at home and cared for them all. They spent many happy hours at the Boston Common and the Public Gardens, a short distance away.
One day while walking down the street, Leonora slipped and struck her head on the pavement. Although at the time it didn't seem serious, later, she began to have excruciating headaches. Physically, the doctor could find nothing wrong with her, so he recommended she see a psychologist. In his office, she fell into a trance - at which time she blurted out events and seemed to possess a strange power. Bewildered, the doctor, a well-known Harvard College professor who was into psychic research, arranged for her to attend sittings with people about whom she knew nothing. Again, she fell into another trance and began speaking as though she was communicating with someone from another world - possibly with someone who had died that she knew in her past. Fascinated but skeptical, the doctor wondered if Leonora might possess some psychic powers. He was very impressed with her when, at one sifting, she announced that his aunt in New York had died. Later that day, when he arrived home, he found a telegram stating that his aunt Kate had indeed passed away.
In a deep trance at her sittings, Piper either spoke or wrote on matters of which she was unaware. During a seance, those in attendence's emotions would grab hold of them. Those involved with spiritualism believed the human soul survives after death, and that one could communicate with the dead.
Sometimes, Piper was unable to enter into a trance, and at times her answers were inaccurate. More often than not, the information she gave was correct and extraordinary.
In the months that followed, she attracted the attention of the news media. The Psychical Research Society in London, the most influential organization in the world on psychics, secretly sent a representative to participate in one of her sittings. He watched as she went into a trance and announced that someone in the room from across the ocean has a relative that just passed away.
When the representative returned to England to give his report on his investigation, he learned a relative had died while he was away. He discovered that it happened on the same day as the seance in Boston. Convinced that Piper did possess unusual powers, the Society made arrangements for her to do some sittings in England. Private detectives were hired to follow her everywhere. Piper always cooperated and allowed the Society to check all her personal belongings to be sure that she wasn't gathering information.
After the death of her husband, William, Leonara moved to 243 Park Ave. in Arlington, MA. Her two daughters were her constant companions and traveled abroad with her. In England, she met many prominent people, including Arthur Conan Doyle, author of "Sherlock Holmes." He was a firm believer in spiritualism and believed, right up until his death, that he was communicating with his son, who was killed in the war.
It was in the mid 1920s that Piper gave a series of sittings and announced that these would be her last. With her two daughters, she left for parts unknown. Out of the spotlight, she was soon forgotten by the press. This is where her trail ended.
I discovered in my research that Leonora and her two daughters had moved into an apartment house at 54 Dwight St. in Brookline, MA. This is where she died in obscurity on July 3, 1950, at the age of 91. She was cremated at the Mt. Auburn Cemetery in Cambridge, and her ashes were buried with her husband, William, at the Mt. Pleasant Cemetery Arlington. At that time, there were no obituaries in any of the national or local newspapers announcing her passing. Leonora had achieved what she wanted: the world had forgotten her
Piper's two daughters never married. Alta, who was more outgoing than her sister, Minerva, often traveled to England to visit. She died a few years after her mother. Minerva, now left alone in the world, died in a nursing home in Jamaica Plain in February of 1972, old and senile.
Leonora Piper, the famous medium from Boston who had international recognition and claimed to have heard voices from beyond had turned a deaf ear to the world. But for millions of believers, as well as non-believers, she gave hope that there was life after death.
Bill Lombardi is a U.S. Marine Corps veteran. He is the grandfather of Emily, Ashley and Zachary Sullivan, and Cayce and Jimmy Lombardi - all Walpole residents.