From posters denouncing fascist ideologies, to ones pointing out the success of gay people throughout history, all the way to calling out white privilege and flipping the 'Cowboys and Indians' mystique on its head, the posters in Lewis's exhibit were very different.
By James Kinneen
Hometown Weekly Reporter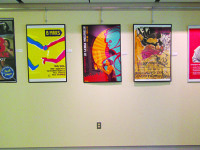 By Amelia Tarallo Hometown Weekly Staff Anyone who has visited the Walpole Library in the last few weeks will have noticed that books are no longer the only thing lining the walls. New to the library are numerous posters that have taken up residence in its halls. These colorful posters are all designed by different artists,...
Read more