By Lauren Schiavone
Hometown Weekly Staff
Beauty is in the eye of the beholder, and artist Adina Troen-Krasnow's "Metamorphosis" is an experience to behold. Troen-Krasnow transformed color and texture, creating a space for reflection and connection in her latest exhibit at Gorse Mill Studios, which has been up since mid-August.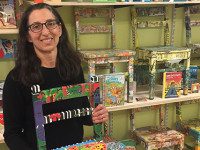 [ccfic caption-text format="plaintext"]
Needham Open Studios is celebrating 21 years as a supportive, inclusive and vibrant community. Members of the community are encouraged to take a self-guided tour from 11 a.m. - 4 p.m. during the weekend of Saturday, May 4, and Sunday, May 5, and visit with 35 new and returning award-winning artists. Many Needham... Read more
Gorse Mill Studios artist Karen Krieger's atmospheric landscape paintings will be on display as part of the Prince and Pilgrim's Winter Exhibition in London from February 22-25 at the Stable Gallery, 174 Kew Road, TW9 2AS, UK (PrinceandPilgrim.com). Krieger's London premier features contemplative work with her signature interplay of mist and mountains, both representational and...
Read more