Jessica Coletti finds a hole between two Westwood defenders.
By James Kinneen
Hometown Weekly Reporter
Playing without their head coach on Wednesday night, the Medfield Warriors were able to take the first set off the Westwood Wolverines' girls volleyball team. And although they weren't able to maintain that level of play in what was ultimately a four set (14-25, 25-10, 25-13, 25-22) Westwood victory, their fight in the last set, with such an unlikely path to victory, deserved to be lauded.
After a long JV game forced a late start, Medfield took advantage of a sloppy Westwood team in the first set. After a reasonably back-and-forth beginning, Westwood got stuck at around thirteen points, while Medfield surged from an 18-13 lead to a 23-14 lead. After a Rachel Parry kill and Westwood struggling to return some Medfield serves, the Warriors took the first set, 25-14.
The second set was where Westwood started looking more like the dominant team that had only been beaten once going into the match. They ran out to a 13-5 lead, thanks to some aces by Meredith Doherty and a few spikes by Christine Cann. Meanwhile, Medfield had a few instance of a soft ball falling between some confused players. Spikes from Emiliy Liu and Yvette Easton had Medfield calling timeout down 19-7, but it didn't do much good as a Chloe Hicks ace and a few blocks gave Westwood the set, 25-10.
The third was more of the same from Westwood. From tied at 6-6, the Wolverines went on a run to make it 15-8. Doherty spiked another ball to the ground, Medfield put a few into the net, and Westwood took the set 25-13.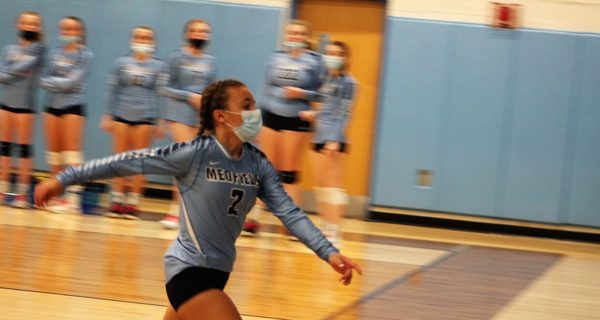 Westwood dominated the fourth set to the tune of a 22-15 set lead. However, it was in fighting back from the brink of a loss to make the match so competitive that Medfield showed a ton of heart.
While being only three points away from a loss, and needing to go on a 10-2 run just to win the fourth set before having to win the fifth to take the match, Medfield didn't give up. It would have been very easy to throw in the towel and start doing homework or just going home for a meal, but instead, thanks to a Rachel Parry spike, a couple of aces and Westwood blinking, Medfield cut the lead to 24-22.
Unfortunately for the Warriors, Shelby McKim had enough of the comeback and popped a shot over Medfield's defense to find an empty spot on the court and end the match in the fourth set.
When pressed on what the team did well in the first set that they couldn't do in the rest, Curtis DeValle focused on the team's passing.
"I would say our passing and serve receiving broke down to an extent, and when that breaks down it gets a little bit harder to get the sets to the hitters. So, then we struggled a little bit to find the court in those second and third games."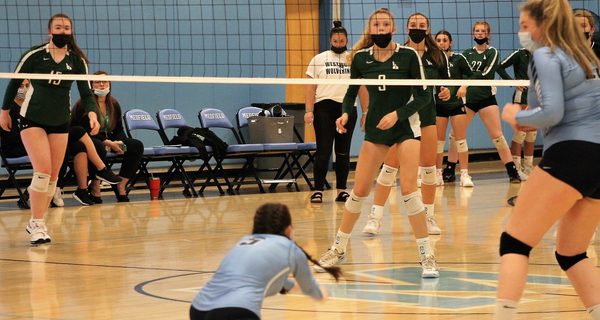 Still, while he pointed to the play of Rachel Parry, Lily Brodeur and Elli Langton as highlights, he noted how proud he was of his team's fourth set fight.
"I was so proud of them. They fought uphill and if they can bring that energy to every game and every set they play, they're going to be tough to beat in the future."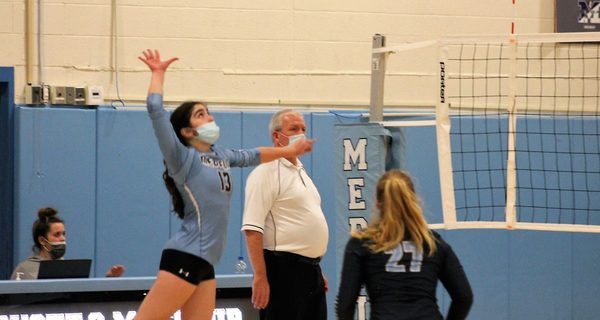 Dropping to 6-10, DeValle said his message to the team was just to try and put in as much effort as they can heading towards the finish line of the season.
"For them going forward I just want them to put as much effort in as they can to really try and finish the season on a high note, and really close out and see if we can make the tournament."
Coach Jenny Murphy of the now 16-1 Westwood Wolverines noted that the big issue in the first set has been a recurring one for the team; they're slow starters.
"We tend to have this unfortunate streak of being a little bit slow to start, so it was kind of just shifting our mindset and getting into the rhythm of our game and taking control of the rhythm."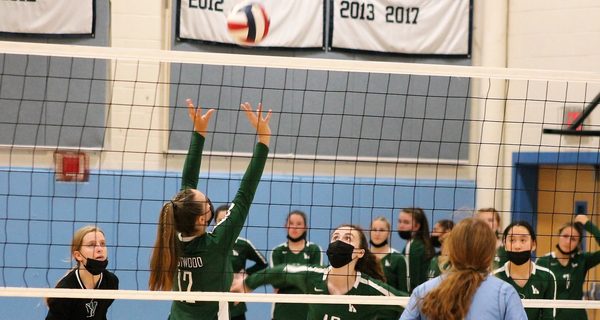 She had told her team before the game not to rely on the game they played the last time they'd beaten Medfield earlier in the season, but to try and use the new tools they'd been developing in practice. To that end, she applauded Cara McManus for doing just that.
"Cara McManus, number 15, was the player of the game tonight. She used some new tools she hadn't before, like she made a lot of tips, which were very effective, and she played strong all around."
Murphy noted she thought the late surge by Medfield may have provided her team a learning opportunity about how to close out games, while DeValle hopes it served as a learning opportunity for Medfield for what can happen when they bring that level of intensity.
With the state tournament just around the corner, both teams will be taking their lessons to heart.