[ccfic caption-text format="plaintext"]
By Michael Flanagan
Hometown Weekly Sports Editor
The varsity girls lacrosse program at Westwood High School has become a defining icon of the school's athletic success over the years, with numerous state championships and players that have gone on to succeed at the collegiate level. In 2017, the expectations have never been higher after the way the lady-Wolverines cruised to a Division I state title last spring.
To put into perspective of how dominant the Wolverines were in 2016, they failed to score more than 10 goals in just one of their games, and they still came away with an 8-7 victory over East Longmeadow. Much of Westwood's offensive production in 2016 came from Andrea Meincke, Jillian Reilly, and Leah Nocera, who have all now departed on to college.
However, despite the losses of Nocera, Reilly, and Meincke, the Wolverines should continue to thrive on offense in 2017, as the program returns two of their top offensive weapons from a season ago in seniors Haley Connaughton and Shea Farrell. Connaughton, a UMass-Amherst commit, showed on multiple occasions last season the ability to take over a game. Duxbury found that out the hard way when Connaughton lit them up for five goals and two assists in Westwood's 19-5 victory in the South Sectional quarterfinals. Connaughton also served an MVP-like role in Westwood's 13-7 victory over North Andover in the 2016 Division I state championship game, potting four goals and four assists.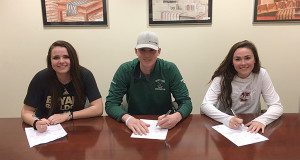 Farrell, meanwhile, who recently signed her NLI to play at Bryant, is known for being an incredible playmaker and set-up man for the Wolverines. If not for Farrell in 2016, the Wolverine snipers such as Connaughton, Reilly, and Meincke surely would not have had the same amount of open scoring opportunities as they did. Farrell should continue to thrive as an assist machine in 2017, but when she does opt to shoot, Farrell holds the ability to pick just about any spot she desires, which should lead to a significant amount of goals for the Wolverines this season.
Two other key returnees for Westwood in 2017 will be senior Georgia Salvatore, who also served as a key set-up man to Connaughton and crew during Westwood's run to a title a season ago, and senior Kaity Healey. The departures of Nocera, Meincke, and Reilly mean that the Wolverines are now going to have to rely more heavily on the services of their experienced seniors, and it should result in a big season in terms of offensive production from both Salvatore and Healey, who both notched assists in last season's state championship game victory.
The 2017 season will mark the beginning of a new era in Westwood High School girls lacrosse, however, following the departure of longtime legendary head coach Leslie Frank, who stepped down last October. New head coach Margot Spatola has been given the reigns to the program and will now be in charge of leading this pack of Wolverines back to success in her first season at the helm.
At the time of print, the Wolverines get set to open up their 2017 campaign against non-conference opponent Noble and Greenough (ISL) on March 29 before a road trip to Bellingham on April 4 to open up TVL play.