By Mike Flanagan
Hometown Weekly Sports Editor
After splitting during the regular season, it was only fitting that the No. 1 St. John's Prep Eagles and No. 2 Xaverian Hawks ended up being the last two teams standing in Division I.
On Sunday, Xaverian and SJP wrote the latest chapter of their long and storied rivalry at TD Garden, this time to decide the state championship.
Tommy Sarni opened the scoring on the power play for St. John's Prep less than five minutes in to give the Eagles an early 1-0 lead. Just 1:54 later, however, a great feed from Jack Silva on a two-on-one allowed Braden O'Hara to tap home the tying goal, evening the game back at one. Xaverian was awarded a five-minute power play with 4:07 remaining in the period following a check to the head by SJP. However, the Eagles were able to make the full kill and this turned out to be pivotal. The game entered the first intermission still tied at one.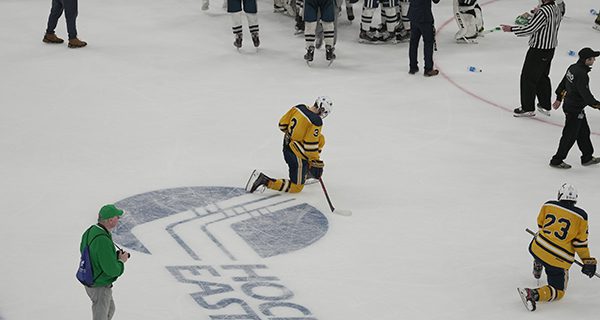 Just 1:47 into the second period, Xaverian took its first lead of the night when Jake Curley buried the rebound off an initial shot by Jack Silva. However, this would be the peak for Xaverian. Following the go-ahead goal by Curley, the Eagles rattled off five straight goals, three of which came off the stick of Sarni, who finished the night with a ridiculous four goals and one assist. Cole Blaeser tied the game with 6:29 to play in the period by burying a rebound on a three-on-two. Aidan Holland gave SJP the lead back for good with a power play goal with 3:22 to play in the period, followed by a beautiful toe-drag and snipe by Sarni with time winding down in the period to make it 4-2 at the second intermission.
SJP locked down their defensive end and forced Xaverian to pull Brendan Flanagan for an extra attacker with 2:30 to play still down two goals. With 1:46 remaining, Sarni buried an empty netter from his own zone to complete the hat trick and seal the state championship for the Eagles. Sarni added another empty netter moments later for good measure as St. John's Prep took Division I by a final of 6-2.
For funny and incisive sports analysis as well as video highlights of games, follow Mike Flanagan on his personal Twitter and Instagram handles @flano0.