Sid Vandrangi lines up a big forehand en route to a dominating victory.
By James Kinneen
Hometown Weekly Reporter
With a steady stream of suit and gown-adorned fans adding a classy backdrop to their matches, the Walpole Boy's tennis team moved to 6-2 on the year with a dominant victory over Weymouth on Friday night - one that saw the Timberwolves drop only one match on the day.
In fairness, the suit and gown crowd was making its way to the football field for the Walpole High Film Festival's red carpet, but those who lingered around the tennis court witnessed some top-notch performances. At first singles, Sid Vandrangi ran his opponent so much, the Wildcat athlete was concerned about the status of his shoes. A few pretty drop shots punctuated a clinical 6-1, 6-2 win, moving Vandrangi to 7-1 on the year, with his only loss coming to Brookline's nationally ranked player.
With his high black socks, flat brim hat and near constant point-to-point commentary, Weymouth's Anthony Lucas was the far more entertaining player on the court Friday afternoon. Unfortunately for him, Walpole's Jake Lowenstein was the far better player on the court, which he proved with a 6-2, 6-1 victory.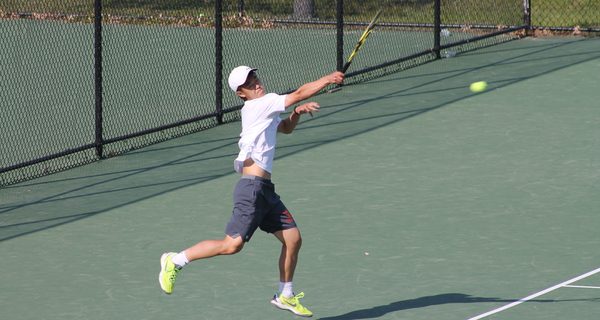 Michael Jung deserves credit for gutting out a third set tiebreak to beat Sashank Tademeti 6-2, 4-6, 1-0 (7-2). Walpole had already won, so it would have been pretty easy for Jung to get lazy void of an incentive to win; credit to him for not doing so.

As for the doubles teams, in first doubles, senior Joe Colbert and Will McClellan won 6-1, 6-2, while the lone Timberwolf loss on the day came in second doubles where Leo Ringler and Dylan Gusmini faltered down the stretch en route to a 4-6, 0-6 loss.
Walpole's doubles team of Ringler and Gusmini is made up of a pair of good athletes who grew up competing in other sports, but weren't tennis players. According to coach Shawn Gough, after losing last season due to COVID, the team has had some trouble recruiting players.
"You're talking about two season of tennis, and we have not had any kind of opportunity to recruit kids, meet with kids, to talk kids into coming out, and to convince kids what we do here," he explained. "We typically get two to four kids from other sports, whether it is lacrosse or baseball, and we got none this year."
This is especially problematic because despite Walpole's status as a storied sports town, many kids don't grow up playing tennis the way they do in other communities. As a result, Coach Gough is concerned what effect this will have on the program's future, years down the line.
"We're not a tennis town, so we don't get kids to come out for tennis until their freshman year, once they realize they're not going to make baseball or lacrosse but still want to do something. So we get a lot of good athletes and by the time they're juniors, we've made them into tennis players. That's what has made us competitive over the years, because we've been in the tournament now, probably fifteen of the last seventeen years. I'm really concerned the lack of recruits the past two years is going to have an impact on us in the future. We're going to be good this year, we're going to be good next year, but after that I'm concerned because those are the two COVID years I really missed out on. We need players."
While that will be a problem in the future, COVID is causing some issues this year, as well. While two years ago Coach Gough credited getting a good tournament seed and building momentum against lesser teams as helpful leading up to their win over Duxbury, because COVID cost the team a few winnable games, this year Walpole will likely enter the Division II tournament in mid June as a lower seed.
"We'll probably enter the tournament with a 9-7 or 10-6 record, which means we'll probably be a lower seed, and right off the bat we'll probably have to play one of the better teams," he explained. "We lost three matches as a result of a shortened schedule, and all three of those would have been winnable matches for us, which would have increased the seeding for us. But still, when you get into a tournament like that, does it really matter when you play the big dog? You've got to beat them sometime."
While Walpole may have been slept on two years ago, even their scrappy choice of not wearing matching uniforms wont let them sneak up on any of the big dogs this year. And even though Walpole will have a tricky path to the championship this year, according to Coach Gough, they're just happy to have a postseason.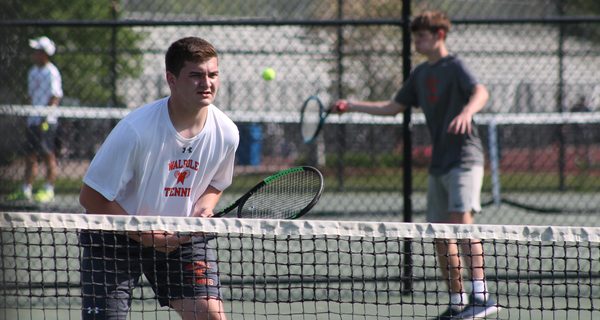 "I'm really happy with the MIAA and their decision to allow spring sports have a postseason, because they were the only ones that missed out last year, and to do everything possible to give these kids an opportunity to compete for some type of a championship is a great thing. It's motivated our kids. Even though we're not as deep as we were two years ago, I think our kids are just as motivated as they were two years ago, if not more, because they had a taste of it. So I think going into the tournament, we'll be pretty excited to play again. I don't know what the outcome will be since we're not as strong as we were two years ago, but I still think we're going to be excited about it."