While the mask etiquette wasn't perfect, every player wore a mask throughout the game (as was required).
By James Kinneen
Hometown Weekly Reporter
Just a few months ago, people would say that they'd be happy to watch their team lose to its biggest rival just to have a chance to watch live sports again. It appears that idea has quickly gone away, as talk radio and cable television have returned to the usual Monday morning quarterbacking and playing of amateur general manager.
But for Walpole United and the Needham Strikers of the eighth grade girls' BAYS soccer league, both players and coaches really were happy just to be able to play against each other - even if the rules under which they played had to be slightly altered.
After the Needham Strikers' 2-0 victory on Saturday morning, the referee actually felt the need to walk over and tell Coach Deanna Moreschi that her team's passing was the best he had ever seen at that age level. Such was the skill level and quick passing ability of the Strikers, though in giving up no goals, obviously their defense was strong as well.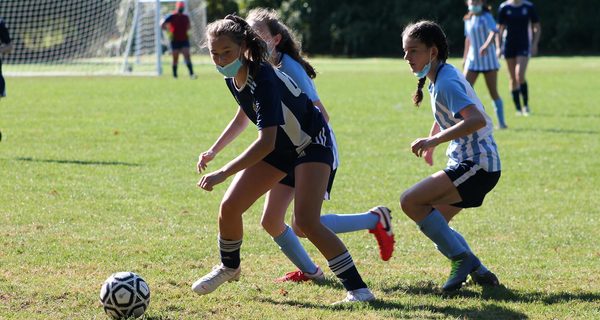 One of the notable things about the game was that the two opposing coaches were very good friends, whose daughters play on the same club soccer team. Even in defeat, Walpole Coach Marc Schultz was happy to have played.
"I love playing against Needham because my team steps up. They're the best, and when we play them, we have to raise out game and it makes our girls better. That's the best we've played this year. I love playing against Deana and Needham."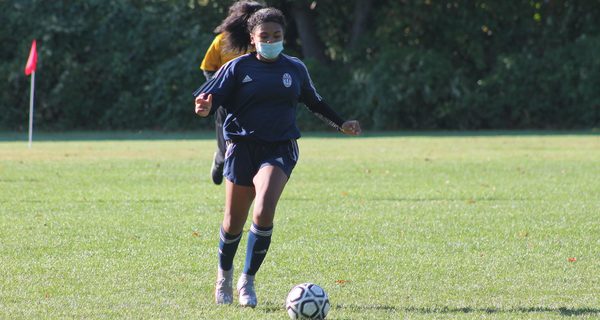 The feeling was mutual from Deanna.
"We also love playing Walpole because Walpole's a very athletic club, a very athletic team, so we always have to work super hard against them," she said. "Mark and I have been doing this for a super long time, and the girls and Mark and I really [take pride in the fact that] they do have a good time when they play each other - It makes a big difference. It's always a really good game. It really is. It's a nice game, good soccer, girls have a good time and they work hard, and that's what, as coaches, we are so proud of."
From a COVID-inspired rules perspective, there are some notable differences. The most obvious issue is that every player is wearing a mask, even on the field. Headers are not allowed, but by far from a strategic perspective, having kick-ins instead of throw-ins is what most changes the game.
"The biggest change is the kick-ins instead of the throw-ins," Schultz explained. "It's a lot easier to play dangerous balls when you can kick it in, instead of the throw-ins. Unless it's a penalty, all the kicks are indirect … you can't make a wall. If someone heads the ball illegally or any other kind of stop in play, it's an indirect kick - unless it's a penalty, then it's direct."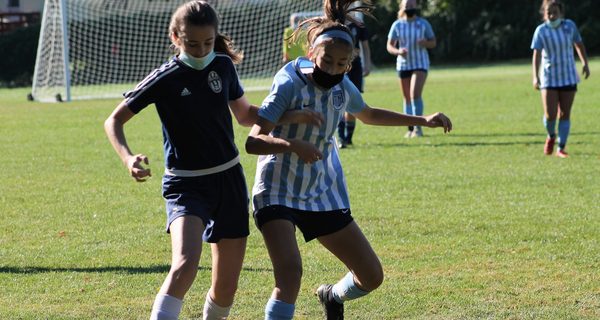 Still, Moreschi noted that she has been surprised how normal the game has been.
"I actually thought it would be harder, but I think everyone's being very reasonable. I think the masks are reasonable, where there were going to be some rules that would be harder, but the big one is the throw-ins. We thought there's no shoulder-to-shoulder, and we figured it would be a different game. But it really hasn't been. I think everyone's been reasonable, and doing the right thing and wearing the masks. And from what I see, everyone's playing it safe."
So far in the season, everyone's just happy to be playing again.