Tommy Fullbrook brushes aside a Brookline defender en route to a dominant 29-0 halftime lead.
By James Kinneen
Hometown Weekly Reporter
After their game against Brookline, the Needham sideline was wearing gold chains, getting stickers put on their helmets, taking pictures with their family members and giving socially-distanced, congratulatory elbow bumps.
"I can be a bit of a stick in the mud, which the players have pointed out before," coach Doug Kopsco explained when asked about the postgame hardware. "So, we're trying to have fun out here. It's a shortened season, these kids have been working for a year and a half, and so we've done a lot: music in practice, the turnover chain, and some of the other stickers and awards we have is just trying to keep it light and fun, to keep the kids having fun playing with their friends."
The Rockets likely didn't need the stickers and chains to have fun on Friday night. After they had no answers for Wellesley in a 34-0 loss a week ago, on Friday, it was their turn to dominate an overmatched opponent, scoring six touchdowns, two two-point conversions and playing their backups for huge portions of what was ultimately a 42-24 victory.
Needham started the game with a failed onside kick, but Brookline couldn't capitalize on the short field and went three and out. After a punt, Will McDonald completed a few passes, but for the most part, the Rockets showed jet sweep action and gave it to Tommy Fullbrook up the middle. This formula led to an easy rushing touchdown, before the Rockets faked to Fullbrook and threw to the motion man for a walk-in two-point conversion.
Needham again went for the onside kick, and again it failed. After a fourth down quarterback scramble, Brookline was stuffed at the goal line on four straight plays, mainly because, in what would be a recurring issue, their offensive line was consistently being pushed back on runs and penetrated on pass attempts. Down just 8-0 at the end of the first quarter, Brookline would get outscored, 21-0, in the second.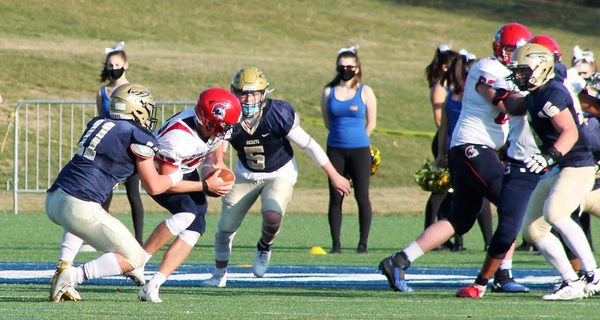 The main problem was the rushing attack of Needham. Tommy Fullbrook had a huge run out of the endzone to kill any field position advantage the Warriors had, before Needham's running backs started spinning out of tackles en route to another Fullbrook touchdown run, and a successful two-point conversion off a playaction pass to the back of the endzone.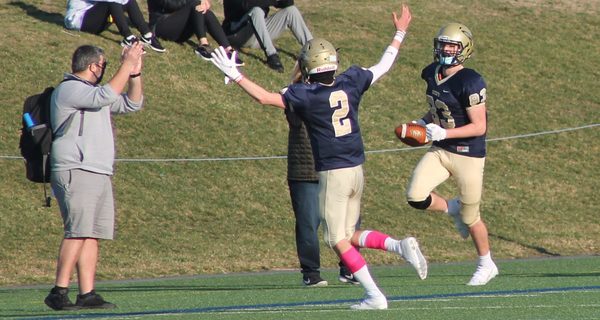 If Brookline's inability to stop the run was frustrating them down 16-0, the successful onside kick from Needham after their second touchdown run had to infuriate the Warriors. After the Rocket recovery, it was Marcus Fuentes' turn to run for a long touchdown, before the Rockets tried and failed to convert an extra point. After another Fuentes touchdown, Brookline threw an interception on their end-of-half Hail Mary and were down, 29-0, at the half.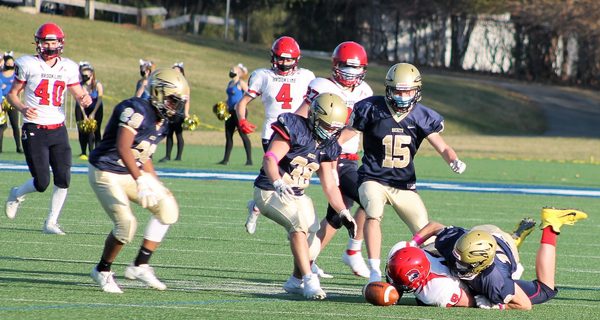 While analytics are making strategies that once seemed insane the norm in many sports, Coach Kopsco explained the first half two-point conversions and unorthodox onside kicks by noting: "We're looking into how to get an edge in a game. I think that's probably the best way I can put it. If we can get an edge from doing it, then we're going to do it. As long as it's within the rules, we like to be aggressive with our play calling and with our scheme."
Needham went to their backups to start the second half, although they brought back their starters after a Warriors touchdown cut the lead to 21. Still, with Needham's ability to run the ball, the game was never in question, with the closest margin being nineteen points, 35-16, late in the fourth quarter. In the end, a late Brookline quarterback run made the game seem closer than it really was, 42-24.
When asked what went so well for the Rockets in their easy victory, Coach Kopsco explained that in this matchup, as opposed to some of their other games, the team came together to play a complete game on offense, defense and special teams.
"We talked about playing a more complete game this week. I thought our defense struggled a little in week one, our offense struggled a little in week two, but this week everything was working. All three phases came together. We worked on that and made sure it was squared away in practice. And our kids stepped up and responded in an unbelievable way."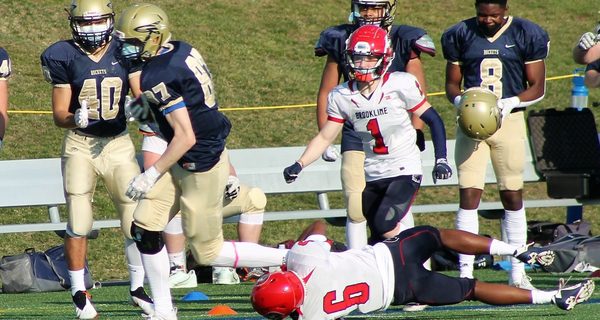 Still, when pressed on whose individual performances stood out to him, it was unsurprising to hear Coach Kopsco name his running backs after such a dominant rushing performance.
"We had some seniors that were scoring. All of our running backs did a great job, our offensive line did a great job. Marcus Fuentes at running back, Tommy Fullbrook at running back, Thomas Lucey at running back, Graham Smith at fullback. Some seniors scoring today really made it a special night."
Noting that his team has a leadership council rather than captains - as the team has a variety of different types of leaders whose voices may not be heard under the old system - Coach Kopsco declared about his now-2021 team: "I couldn't be prouder of these guys, and I'm just happy for them."
With all due respect to stickers, gold chains and music at practice, there's nothing more fun than an easy victory in which a bunch of different players score in front of their hometown fans. And that's just what the Rockets had on Friday night.