Nick Petronio tries to finish a reverse layup in the face of some tough defense.
By James Kinneen
Hometown Weekly Reporter
On Friday night, the Newton North Tigers got their revenge on a Needham Rockets team that had beaten them just a few days before, fending off numerous comeback attempts en route to a 68-54 victory. While that score may make it seem like Newton North had a comfortable lead, outside of the last minute of the game, there was nothing comfortable about the team they were dealing with.
The first quarter was a rough one for the Rockets, who only managed to score seven points while Newton North exploded for twenty. After the Rockets started the second quarter with a turnover, it looked like it was going to be a rough night, but a deep three from Tim Reidy, a Nick Petronio steal that led to a Reidy layup, and a midrange jump shot from Matthew Fernandez had the lead down to six, at 23-17. Soon after, Reidy was fouled and hit both free throws to cut the lead to four, 23-19.
But just when it seemed the momentum had been officially seized for good following this 10-3 run, an attempt to take a charge led to an unobstructed Tiger layup, bringing the lead back up to six. Some pretty stuff from Patrick Toolan on an inbounds play followed, when a fake handoff led to him driving and getting fouled, but it was all for naught, as he missed the first free throw on the one-and-one. Soon after, there was some great effort from Toolan, who both dove on on floor for the loose ball off his own steal and chased down the missed layup in transition, with his putback on the rebound making it suddenly a one possession game, 25-23.
But again, just when it looked like Needham was going to take over, Newton North responded. They hit a turnaround jump shot, which was matched when Needham was fouled on a reverse layup, but an odd choice to switch to a 1-3-1 zone led to an open Newton North three, which they hit to make the game 30-25. In another great showing of effort, Toolan was blocked, but got the ball back and and tipped it to John Hood, who missed himself, but got his own rebound for two, making the game. 30-27. A Newton North player drove by Toolan for two (it looked like he tried to steal it and missed), which saw Toolan slam the ball in frustration on the inbounds, then attempt a wild, acrobatic layup attempt in response. A deep three from Reidy missed, ending the half at 32-27.
After a Newton North "and 1," threes were traded. Nick Petronio then had a tremendous series in which he had the ball stolen from him, but dove to get it back before finding a cutting player to make the game 39-35. After an offensive lull had the Rockets down 44-35, a nice give-and-go from Petronio to Jay Kastantin, as well as a steal from Reidy, ended the third quarter, 44-41.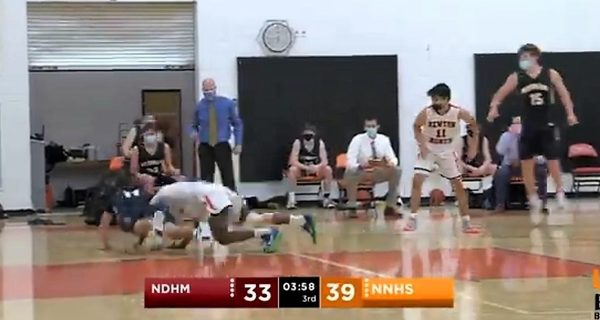 As seemed to happen so often, an "and 1" from Newton North gave them just a bit of breathing room as the game got tight. After the lead was cut to four following a Kevin Coppinger reverse layup, a timely three from Newton North had the team up seven. As the game wound down to under three minutes, Needham stepped up their defensive intensity, with Toolan stealing the ball, then combining with Reidy to knock the ball off a Tiger player's leg. Suddenly, with about a minute and a half left, it was a five point game, 59-54.
But, as was typical of the game, another "and 1" from the Tigers effectively ended any hopes of Needham completing the comeback. Combined with clutch free throw shooting, the game ended, 68-54.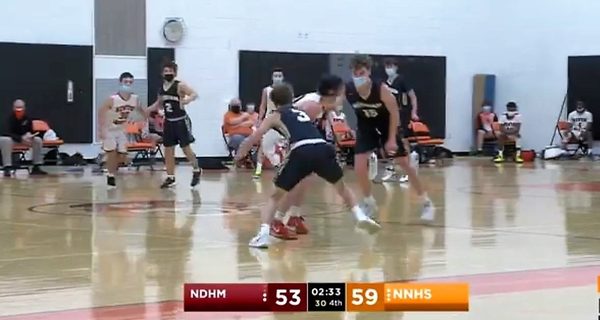 "Played hard" may be the "Miss Congeniality" of sports compliments, so I want to preface the statement that "Needham played hard" by saying I am not using that phrase lightly. Between diving for loose balls, tipping rebounds they couldn't get to, and overall playing at a very high effort level, this team really played hard, and deserves credit for doing so.
For whatever reason, Newton North managed to find the baskets they needed every single time it looked like The Rockets were about to take control of the game.