Coach Tarabelli noted that having his players back from injury played a huge role in the game.
By James Kinneen
Hometown Weekly Reporter
As a general sports rule, when two teams or individuals play each other and one team or individual dominates the later stages of the first contest, that team or individual typically wins the rematch. It doesn't always work out that way, but more often than not, whether because the team figured out a winning strategy, discovered a weakness in their opponent, or just felt that the momentum they built up late in the game could carry over to the next game, the end of the first game tips you off as to who will win the second.
The pattern held last Thursday at Bird Middle School, when the Needham girls' soccer team, which trailed 1-0 for a long stretch of its first game against Walpole only to come back and win 2-1, dominated the Timberwolves in the rematch to the tune of a 4-0 victory.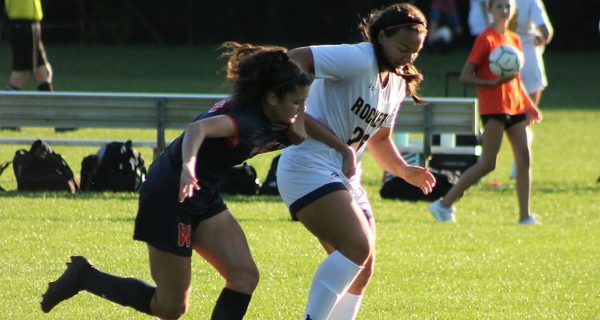 The first half wasn't very close, with Needham applying consistent pressure and Caroline Hood representing a near-constant threat of outrunning a defender on the wing. After the Rockets notched a quick goal on the counter, Hood got behind the defense and assisted a Maddie Ledbury goal. Walpole had a chance to cut the lead on a header, but it was beautifully saved and the half ended 2-0, Needham.
Walpole played better at the beginning of the second half, with Brooke Walonis sending a long shot wide, and another Timberwolf going at net on a deep free kick saved by Needham's goalie.
But, when a Needham cross bounced off Sophie St. George's leg and into the net, it was clear this just wasn't going to be Walpole's night. Kenzie MacGillivray added a late goal for the Rockets, and they won 4-0, sweeping their series with Walpole.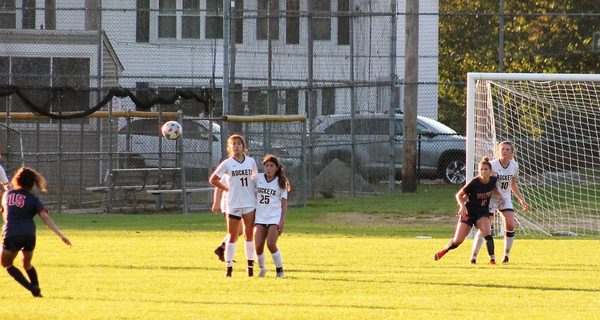 Walpole head coach Callum Maclean declined a postgame interview request to spend more with his team.
When pressed on what was different between the first matchup, where Needham had to claw back from a 1-0 deficit to squeak out a one-goal win, and this one, Needham Coach Carl Tarabelli didn't point to any tactical or strategic change, he just noted that his team was much healthier and playing on a surface on which they feel much more comfortable.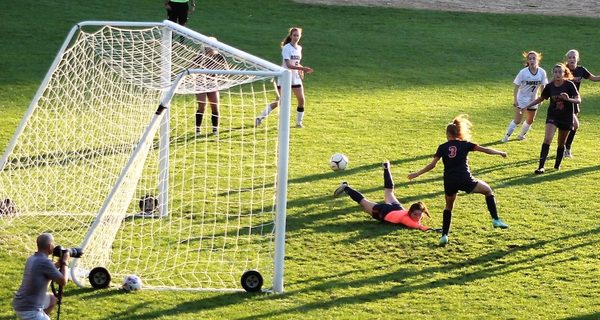 "A couple things were different. They're a very good team and they have some really strong players. But this was the twelfth game of the year, and we finally have all of our players. It's been a long season with the ACLs and for three of my starters, this was the first game they've played, today. So, coming back with some bodies as we end the season is hopefully going to be a little bit of a game-changer for us going forward. And we love playing on grass; we train on grass, and we play on grass. A lot of teams are intimidated by this, but we love this. We're not really a turf team, so we've got to learn how to be a turf team as we go to tournament."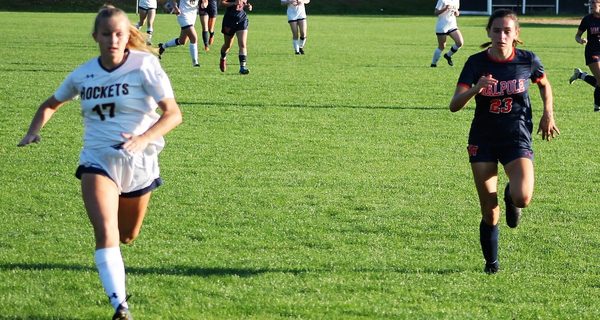 The first matchup was at Needham, but it took place at night under the lights of the football stadium on turf instead of on the grass of Cricket Field, where the girl's team usually plays.
With the Rockets moving to 8-3-1 on the year with six games left in the season, Coach Tarabelli talked about the depth having all his layers back gave the team, while applauding Ava Chiappinelli, saying: "Our freshman, number four in the back, Ava Chiappinelli, is playing lights out, like she's a senior. She had a great game to stabilize everything for us."
With the loss, Walpole dropped to 3-8-2 on the year.